9 min read 
The key financial markets are registering some modest flight-from-risk in the aftermath of North Korea's most powerful nuclear test yet. The Sunday detonation forced investors to again question the wisdom of holding on to equities near their highs for the year while reflecting on allocations to havens such as gold. It's a question they've been presented with repeatedly, after a series of missile launches and increased rhetorical tensions between North Korea and the Trump administration.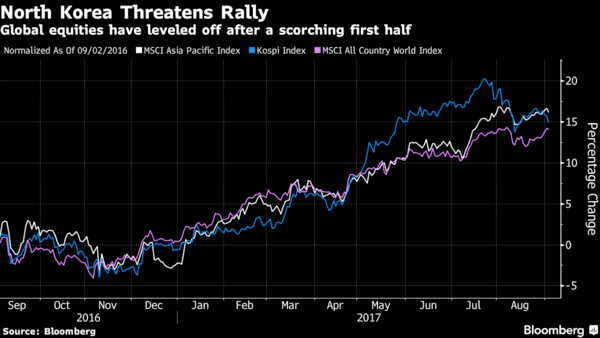 Market players demonstrated that there's no consensus view on how to incorporate North Korea risks into portfolio strategies, with bearish warnings from some quarters contrasting with a call investment bank RBS to buy the won, and domestic South Korean investors being advised to accumulate local shares as foreigners get out.
For an expert, the latest provocation from the North Korean dictatorship marks "a dangerous new phase." He has about a 30 percent position in cash and an allocation to gold, and he's also short emerging-market currencies against the dollar, anticipating a market correction. The Kospi 200 Volatility Index, a measure of price swings for some of the largest stocks in South Korea, jumped 11 percent to 14.78 for the biggest gain since Aug. 11, when markets were roiled by North Korea's threat to fire missiles near the U.S. territory of Guam and President Donald Trump responded with his rhetoric about "fire and fury." Less-risky assets are benefiting from the geopolitical tensions, as they have in past incidents. Gold rose as much as 1 percent, trading at the highest levels since September 2016, while the yen also climbed as much as 0.9 percent. Expect higher volatility and interest in gold!
Draghi Seen Acknowledging Euro Strength at September Decision
Draghi won't miss the opportunity to mention the euro's recent appreciation as he prepares to reconfigure the euro area's stimulus settings, economists say. The ECB president will express concern about the currency's strength, a survey shows. While he declined to address the exchange rate last month at his appearance in Jackson Hole, Wyoming, 67 percent of economists said he will do just that at Thursday's 2:30 p.m. press conference in Frankfurt.
The euro's 13 percent surge against the dollar this year presents officials with a new challenge when they meet this week as the central bank struggles to understand why a buoyant economy has failed to generate sufficiently sustained inflation. With national central bank governors already talking at cross purposes about the currency's gains, it will now fall on Draghi to take a stand. "I expect Draghi to strike a balance between calling some appreciation appropriate — reflecting lower political risk and a stronger economy, while at the same time warning against too-sharp currency movements," said an expert.
Policy makers sounded the alarm in July that the euro could strengthen too much compared with economic fundamentals, the account of the meeting showed. Draghi has already gotten the first taste of his communication challenge when he signaled in a June speech that policy makers will need to adjust the level of accommodation as the economic recovery progresses. Those comments spurred a rally in the euro, pushing the currency past $1.20 for the first time since the ECB announced the launch of its purchase program in January 2015.
Merkel's election opponent – Martin Schulz – failed in TV debate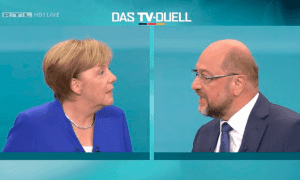 Schulz failed to score a decisive breakthrough in their only televised debate as the chancellor stood firm on her record, insisting that controversial decisions on keeping the country's borders open for refugees and striking a deal with Turkey were right. Trailing badly in the race to determine Germany's next leader, Schulz repeatedly failed to pin down Merkel on issues from pensions and a more socially just economy to Europe's dealings with the U.S. under Donald Trump.
He also struggled to differentiate his policy positions from those of the Christian Democratic chancellor. One flash poll released after the debate found that Merkel won, while a second called it a draw. Schulz said it was a "good night" in a Twitter post. But with the onus on the challenger to land blows and mark himself out, even a marginally better-than-expected performance suggests that his last best chance to claw back lost ground before the Sept. 24 vote may have passed him by. "The expectations on Schulz were low; he exceeded them a bit, but he didn't finish the debate as a victor," an expert said. The differences between the candidates "were not very great," he said, adding: "This won't be enough for Schulz to gain a large number of undecided voters."
Harvey's aftermath
Harvey's massive flooding has displaced tens of thousands of people and destroyed tens of thousands of homes across southeast Texas and Louisiana. Now, reports  highlight Harvey's devastating path has also left as many people without cars. Insurance companies have received at least 100,000 claims for cars impacted by Harvey.
Seventy-five percent of those claims have been for totaled cars, with the number of claims expected to rise. Others estimate Harvey has destroyed up to five times more: An analyst believes 300,000 to 500,000 vehicles were destroyed by Harvey's path — with many of those covered by insurance. If that's the case, it would mean Harvey has destroyed more vehicles than Hurricane Katrina in 2005 and Hurricane Sandy in 2012, which destroyed 200,000 and 250,000, respectively, USA Today reported.
Important events today:
Labor Day – US markets closed
9.30 am – UK construction PMI (August): expected to fall to 51.7 from 51.9. Market to watch: GBP crosses
Trade now
NOTE: This article is not an investment advice. Any references to historical price movements or levels is informational and based on external analysis and we do not warranty that any such movements or levels are likely to reoccur in the future.
In accordance with European Securities and Markets Authority's (ESMA) requirements, binary and digital options trading is only available to clients categorized as professional clients.
GENERAL RISK WARNING
CFDs are complex instruments and come with a high risk of losing money rapidly due to leverage.
77% of retail investor accounts lose money when trading CFDs with this provider.
You should consider whether you understand how CFDs work and whether you can afford to take the high risk of losing your money.