3 min read 
Over the last few weeks, Monero had an excellent performance. The organization is also trying to make an impact in the mainstream economy as under Project Coral Reef, 45 renowned musicians, including Sia, Lamb of God and many more, and five online stores are set to take the token as payment in the holiday season. The coin also became the 9th largest token in the market with a market cap touching $4 billion.
Key Highlights
Though XMR/USD pair started the week with an excellent bull, multiple resistance levels resulted in downward move
The pair is continuously testing the newly formed daily resistance with support at $241
XMR/BTC's value depreciated 27 percent over the week and currently trading around 0.0159 BTC

In the weekly chart, Monero started the week with a steep upward rally, and its value reached $294 from $192 in 48 hours. But due to the peak resistance, it dived but soon found a support level around $241. Though the pair tried to move up again, a new resistance formed at $269 checked any further growth. The support level was also tested multiple times. But the support could not hold the value and ultimately it took a dive until it found support at $220.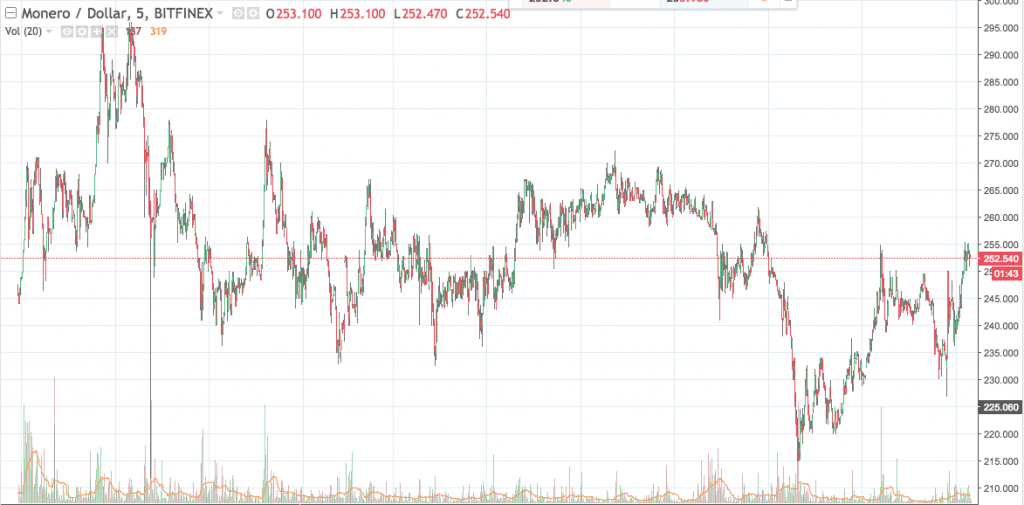 In the daily chart, XMR/USD pair is trying to recover from the recent drip and took an upward turn. But a new resistance level formed at $250 is checking any further growth. With a support around $241, the pair is constantly testing this resistance level.
With the current upward move after the dip, the technical indicators are also moving bullish. MACD is running bullish after a bearish run. Stoch is also moving strong but is beyond the overbuying mark. RSI is currently at 60 percent.

XMR/BTC pair did not have a great run in the past week. The pair had a steep bearish run until the value stabilized in the midweek. Though it tends to go upward in the midweek, ultimately it went down without any substantial gain. Currently, the pair is trading at 0.0159 BTC against the weekly opening price of 0.0219 BTC.
Trade here