Monero is trading at its heights and there is no sign of pulling back. The coin gained more than 13 percent this week and is holding a market cap of above $6.1 billion. Though it slipped a couple of places in the list of the largest coins, it is still soaring high.
Key Highlights
XMR/USD pair jumped 13 percent this week, but after crossing $400, the pair is pulling back
Without any substantial gain over the week, XMR/BTC pair is trading around 0.024 BTC


With a steep rally in the early weeks, XMR/USD pair went up from $323 to $386. The resistance at that level checked the growth thought and pushed the pair downwards. It was quick enough to find support around $355. The support level held the price strongly and also gave a boost to push the price above $400. With a temporary support at 405, the pair tried to hold the peak level, the resistance at $415 acted soon and resulted in a pullback.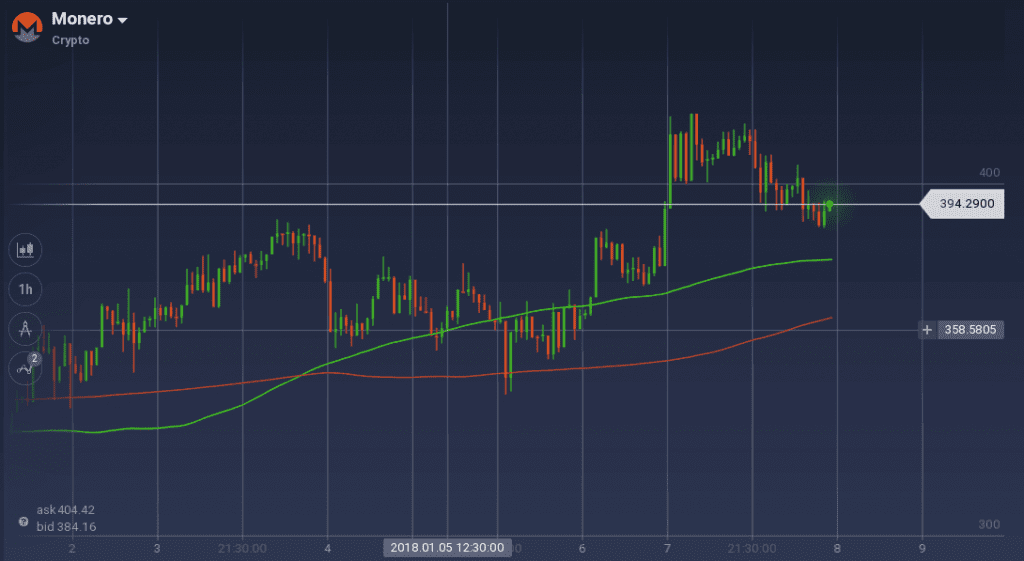 The pair is currently searching for a support level as it is dropping fast. After loosing around 17 percent in the daily chart, XMR/USD is trading around $394 currently.
Because of the recent pullback from the peak, the technical indicators are also pulling back. Stoch currently is recovering from the overselling zone whereas RSI also took a U-turn and is currently at 43 percent. MACD curves are running bearish though, with a substantial gap in between.
Because of the bulls in the week, 100 SMA went above 200 SMA and is still running strong. This shows the dominance of bullish movement. Currently, Fibonacci retracement is bouncing back from 38.2 percent.



There is no substantial gain in the XMR/BTC pair this week. Though the pair dropped to 0.020 BTC recently, it quickly recovered and is currently trading around 0.024 BTC.
[cta_en link="http://bit.ly/2wuz2Vx" name="Trade on XMR/USD"][/cta_en]