Monero was launched to improve Bitcoin's anonymity related issues. After its launch in 2014, the coin became quite popular over the years. It is widely accepted by the community and is today one of the leading coins. Since November '17, the token's popularity skyrocketed, but now the coin seems to have stabilized which is actually healthy if we look at the market's perspective. Its market cap has now reached over $5.3 billion from mere $1.2 billion in the early November. The token is currently the 11th largest coin in the market.
Key Highlights
After weeks of bullish run, XMR/USD is finally pulling back
Multiple resistances formed at $365 and $339 along the week, but the pair also had support around $324 and $300
Without any substantial weekly growth or loss, XMR/BTC pair is currently trading at 0.024 BTC


In the weekly chart, the coin shot up initially to reach above $400 but soon plummeted until the XMR/USD pair found support at $325. Though the pair tried to recover in the midweek, the new resistance formed above $362 checked any growth. The pair tested this resistance level a couple of times by could not breach it. The resistance level also pushed the price down resulting in a huge dip.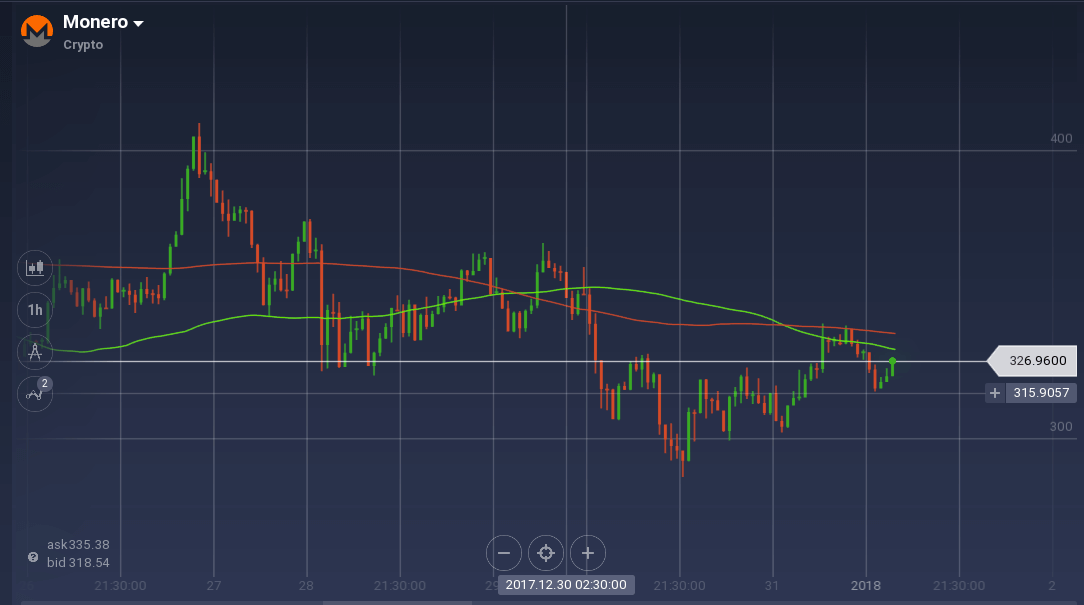 The coin finally found support near $302 after $292 acted as a pivot. The support level is also pushing the price up, but the pair is facing a new resistance at $340.
After a dip, the technical indicators are also rising indicating a recovery in the prices. Stoch is recovering from the overselling zone while RSI is also moving up and currently is at 56 percent.
Because of the recent dip in the prices, 100 SMA went below 200 SMA. The price of the pair is also moving up from 26.6 percent Fibonacci retracement and approaching 38.2 percent.



Against Bitcoin, Monero was traded sideways almost throughout the week without any substantial gain. The pair is currently trading at 0.024 BTC.
[cta_en link="http://bit.ly/2wuz2Vx" name="Trade on XMR/USD"][/cta_en]