8 min read 
Supplying lithium for the electric revolution is getting harder. Producers everywhere have struggled to keep up with demand as electric cars went from almost no sales a decade ago to more than half a million vehicles last year. The battery in a Model S from Musk's Tesla Inc. uses about 45 kilograms (100 pounds) of lithium carbonate. More mines are planned, but difficulties at Olaroz — the first new South American lithium mine in two decades — are limiting funding for new ventures in Argentina, home to the world's third-largest reserves.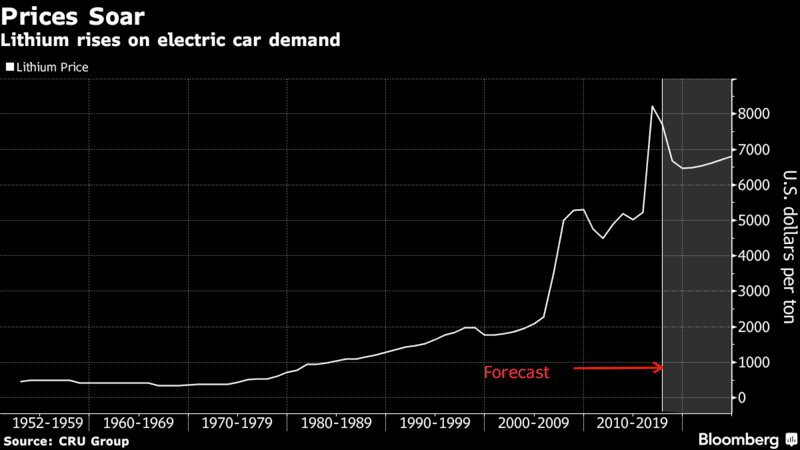 "The uncertainty on the supply side is driving prices up and making investors nervous," said a lithium expert. "We need a new project entering the market every year to satisfy growing demand. If that doesn't happen, the market will be tight." Extracting lithium from the salt flats that dot the arid northern regions of the South American countries is a lot easier and cheaper than digging underground for metals like copper. Producers just pump the brine solution into evaporation ponds, harvesting the mineral once the moisture is gone.
Prices of lithium carbonate, the primary base-chemical produced by the industry, more than doubled in the five years to 2016, according to experts. The material advanced about 5 percent to average $14,250 a ton in July from June. With demand expected to keep rising as electric cars gain a bigger share of the global auto fleet, Argentina and Chile are attracting interest from mining companies because it costs about $2,000 to $3,800 a ton to extract lithium from brine, compared with $4,000 to $6,000 a ton in Australia, where lithium is mined from rock. Still, most projects are expected to struggle to get off the ground. The price is expected to rise even further alongside limited supply.
Trump has plans for Afghanistan
The US-President announced an open-ended commitment to Afghanistan that will put as many as 4,000 more U.S. troops into the nation's longest-lasting conflict and keep American forces there as long as it takes to deny terrorists a haven and bring about a political settlement with the Taliban.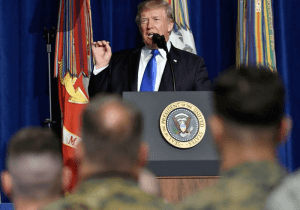 The decision marks a turnabout for Trump, who during the campaign only grudgingly acknowledged the need for the U.S. presence in Afghanistan and promised to eschew military entanglements and nation-building abroad to focus resources at home. "Our nation must seek an honorable and enduring outcome worthy of the tremendous sacrifices that have been made," Trump said Monday in a nationally televised address from the Fort Myer Army base in Virginia. "The consequences of a rapid exit are both predictable and unacceptable." Trump is now the third U.S. president to struggle with how to get out of Afghanistan, a country beset by ethnic, religious, cultural and tribal factions amplified by foreign powers including the U.S. as well as neighboring Pakistan and Russia.
That mixture has stymied foreign armies for centuries. Trump declined to specify the number of troops the U.S. would have in Afghanistan or detail what criteria would be used to determine success. But his strategy gives the green light to a plan by Defense Secretary James Mattis to bolster training and support for the Afghan army with roughly 4,000 additional personnel — a 50 percent increase in the current American military presence. Mattis said in a statement Monday night that several U.S. allies also have committed to increasing troop numbers. Good news for arts manufacturers, probably higher volatility ahead.
Dollar inches higher; Jackson Hole in focus
The dollar inched higher against a basket of currencies on Tuesday, with traders focusing on the annual central banking conference in Jackson Hole this week for insights into the outlook for monetary policy. The near-term focus is on a speech by U.S. Federal Reserve Chair Janet Yellen on Friday at the Fed's annual central banking conference in Jackson Hole, Wyoming.
If Yellen's speech increases market expectations that the Fed will raise interest rates in December, that could prompt investors to unwind bearish bets against the dollar, and lend the greenback some support, said an expert. The greenback has been hampered in recent days by renewed investor concerns about the Trump administration's ability to implement its economic policy agenda. Persistent doubts about the prospects for another FED interest rate hike this year, at a time of subdued U.S. inflation, have also weighed on the dollar.
The common currency has lost some steam after hitting a 2-1/2 year high near $1.1910 in early August. It has, however, managed to pull up from a three-week low of $1.1662 set last Thursday.
An expert said the euro's upside may be limited in the near term even though it has shown some resilience because of the market's caution toward the dollar. "It's hard to see where the additional source of strength for the euro is going to come from," the expert said. Investors are awaiting remarks from ECB President Mario Draghi due on Friday at Jackson Hole, although whether his comments will provide any fresh impetus for euro buying is uncertain. Draghi will not deliver a new policy message at the symposium, two sources familiar with the situation have said, tempering expectations for the ECB to start charting the course out of its monetary stimulus.
Important events today
10 am – German ZEW index (August): economic sentiment index forecast to fall to 17.1 from 17.5. Markets to watch: eurozone indices, EUR crosses
Trade now