3 min read 
This week Litecoin slipped to the 6th spot, in terms of market cap, from the 5th as the soaring Dash took its place. But that does not mean Litecoin had a poor performance. On the contrary, it is also running bullish throughout the week. With a current market cap of $3.8 billion, Litecoin's market cap shot up 11.7 percent this week.
Key Highlights:
Against USD, Litecoin appreciated more than 16 percent this week
The pair is constantly testing the recent resistance level formed at $72
LTC/BTC pair gained 1.1 percent over the week and currently trading at 0.00871 BTC

The weekly chart shows that the bullish movement endured a lot of deep pitfalls along the way. The week started with a sudden buying rage with which the LTC/USD pair reached $71.3 from $61.5. It was also quick enough to dive at $65 where it found a support level. The resistance level $68.6 checked any growth for a while but then a bullish trend took over, and the coin touched $73.
The pair tested the resistance level at this peak for a while but finally dived until it got support at $68. The token is continuously testing the new resistance level formed at $72 along with support at $70.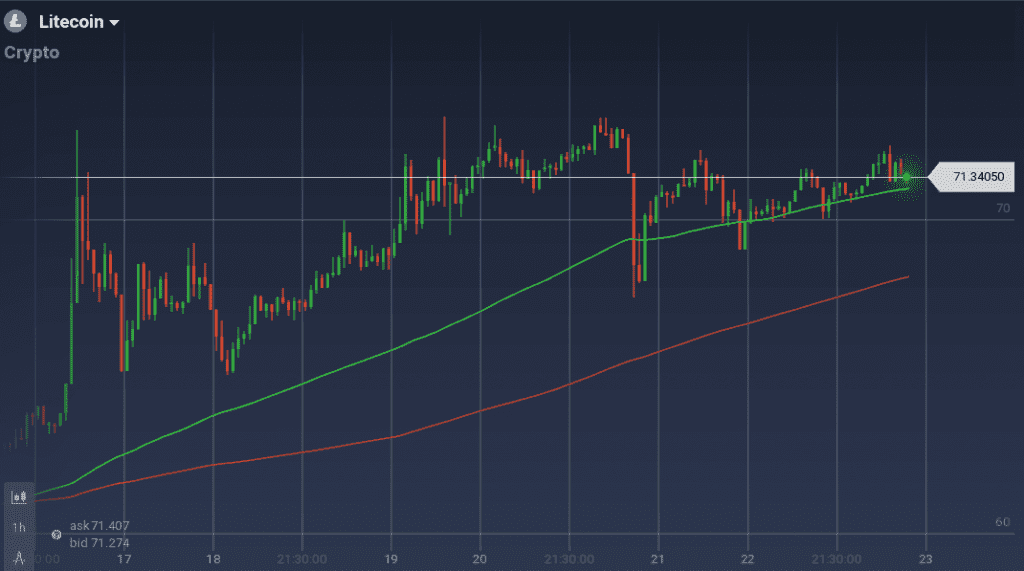 In the daily chart, the coin is moving in a triangular fashion forming two triangles above the trend line. It is testing the resistance level above $72 and is trading around $71 currently.
Due to the recent resistance above $72, the indicators are fattening up with minor signs of any movement. MACD is moving almost flat, and Stoch is moving down due to the up-down movement of the daily curve. RSI is at an optimum 52 percent.
The LTC/BTC pair did not have a substantial gain or loss this week. The pair's value went up from 0.00861 BTC to 0.00871 BTC. This is an appreciation of 1.1 percent.
Trade on Litecoin