After the crash for two days straight, the crypto market is recovering again. Litecoin is also gaining the upward pace and has gained around 2 percent in the last 24 hours. Though the weekly loss of above 21 percent is substantial. Litecoin has also maintained to be the 6th largest coin with a market cap of over $10 billion.
Key Highlights
After the steep bearish rally, LTC/USD is finally moving up but is again facing resistance at $197
LTC/USD pair lost 21 percent over the week but gained around 2 percent in the daily chart
LTC/BTC depreciated around 5 percent around the week and is currently trading at 0.016 BTC


Litecoin started the weekly trading with a strong support at $231. The coin even had a gradual upward pace and reached $269, but the resistance did not allow the coin to climb further. It also pushed the value down, but the coin soon found support at $235.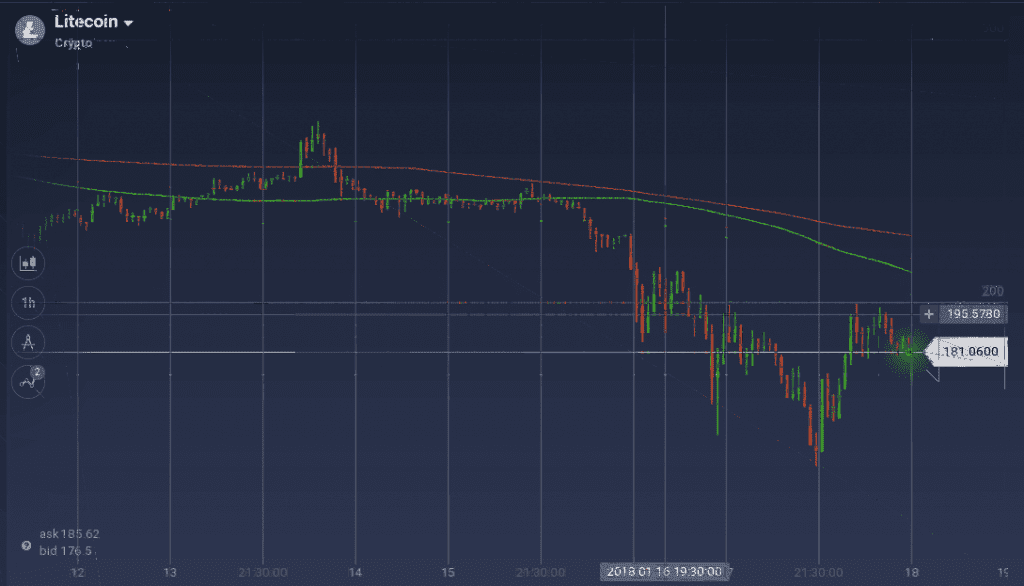 But after trading sideways for a while, the coin started to gain the downward momentum and within mere 48 hours, LTC/USD pair reached below $140.
In the daily chart, there is some positive movement as the pit finally worked as a support and also a pivot. The coin is now trying to recover but is facing resistance again at $197.
As the coin found the support, the oscillators also started to give positive signals. But again due to the recent resistance, they are indicating negative movement. Stoch and RSI both are currently going down, RSI's current value being at 49 percent. Because of the dominating bearish run, 100 SMA is running below 200 SMA. The prices are also approaching the 38.2 percent Fibonacci level.



Against Bitcoin, the weekly loss was not substantial as both the coins were taking the downward run. Still, LTC/BTC pair lost around 5 percent and currently trading at 0.016 BTC.
[cta_en link="http://bit.ly/2ybO8RQ" name="Trade on LTC/USD"][/cta_en]