2 min read 
Popular exchange Binance came under attack these past few days after users found it had unexpectedly gone offline on February 7. CEO Changpeng 'CZ' Zhao took to Twitter to inform users that the shutdown was caused by a database issue, ensuring everyone that all coins on the exchange were safe and intact.
While the estimated time for maintenance operations was originally 12 hours, Zhao announced that Binance would be offline until 4 am UTC, February 9. The delay was due to the large amount of data that needed to be resynced. Zhao continuously posted progress updates every few hours.
Given Kraken's recent similar maintenance outage and the Coincheck hack in Japan, it's understandable why users would be alarmed by Binance's sudden shutdown. Many Reddit users praised Zhao for his professionalism and transparency in handling the situation. Others, such as cryptocurrency enthusiast John McAfee, were not as easily persuaded by Zhao's explanations, accusing the exchange of attempting to cover a hack.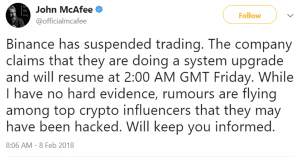 A Twitter exchange quickly ensued, with Zhao politely calling out McAfee for spreading FUD (fear, uncertainty, doubt). Shortly after McAfee's accusations, Binance's official Twitter invited him to check the exchange's Bitcoin and Ethereum wallets to confirm that no coins were affected.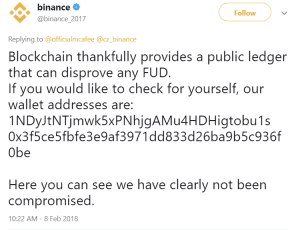 Indeed, the wallets showed positive balances of $263 million and $151 million worth of coins in bitcoin and ethereum respectively.
To further ease traders' nerves, Binance stated it will allow a 30-minute window for users to cancel orders before trading resumes. Additionally, Zhang promised to release a detailed summary on the server shutdown as soon as possible.
Trade crypto now
NOTE: This article is not an investment advice. Any references to historical price movements or levels is informational and based on external analysis and we do not warranty that any such movements or levels are likely to reoccur in the future
GENERAL RISK WARNING
The financial services provided by this website carry a high level of risk and can result in the loss of all your funds. You should never invest money that you cannot afford to lose.