10 min read 
Donald Trump escalated his rhetoric against North Korea to an unprecedented level Tuesday, warning Kim Jong Un's regime will face a devastating military strike if it continues threatening the U.S. "North Korea best not make any more threats to the United States," Trump told reporters in Bedminster, New Jersey. "They will be met with fire, fury and, frankly, power the likes of which this world has never seen before."
Trump's comment came as North Korea, reacting to new UN sanctions against its rapidly developing nuclear weapons program, warned the U.S. it would "pay dearly" for its crimes and said it was examining its plans to strike the American military base of Guam with a missile. It also followed a report in the Washington Post, citing a Defense Intelligence Agency analysis, that Pyongyang successfully developed a nuclear warhead that could fit onto its missiles. "He has been very threatening, beyond a normal statement," Trump said of Kim.
North Korea has routinely used bombastic rhetoric to threaten the U.S., including military bases in Japan, South Korea, Guam and Hawaii. It wasn't clear whether the president consulted with key allies, the Pentagon or State Department before making his comment. It was also unclear whether Trump's "fire and fury" threat meant an overwhelming conventional strike or the use of nuclear weapons. The S&P 500 Index fell to session lows Tuesday, and the CBOE Volatility Index jumped 11 % after Trump spoke.
The comments jolted markets from a summer slumber, with U.S. assets largely little changed for most of the session. The 10-year Treasury yield rose. Crude retreated toward $49 a barrel. Stocks in Asia declined with U.S. equity-index futures. South Korea's benchmark Kospi index fell as much as 1 percent, while the won declined as much as 0.8 percent, falling to a three-week low. Japan's Topix index fell 1.1 percent. It is expected that safe haven assets like Bitcoin and Gold will rise further on these news.
Gold already up
Gold prices already ended higher yesterday as tensions between the U.S. and North Korea escalated. XAU/USD traded as high as $1267.12 an ounce after a sell-off in Japanese shares prompted investors to seek shelter in safe-haven assets.

Gold usually benefits temporarily from geopolitical risks but a strong correction in equities markets could be the missing catalyst that gold needs to break resistance in the $1274-$1271 zone.
Disney wants to own a bigger piece of the streaming pie
Disney announced during its latest earnings report on Tuesday it intends to remove its movies from Netflix. Instead, Disney plans to launch a branded direct-to-consumer streaming service in 2019 starting in the U.S. and expanding globally. CEO Bob Iger told a reporter Disney had a "good relationship" with Netflix, but decided to exercise an option to move its content off the platform. Movies to be removed include Disney as well as Pixar's titles, according to Iger.
Netflix said Disney movies will be available through the end of 2018 on its platform. Marvel TV shows will remain. The new platform will be the home for all Disney movies going forward, starting with the 2019 theatrical slate which includes "Toy Story 4," "Frozen 2," and the upcoming live-action "The Lion King." It will also be making a "significant investment" in exclusive movies and television series for the new platform. The company will also launch its own ESPN video streaming service in early 2018.
The platform, which will feature about 10,000 sporting events each year, will have content from the MLB, NHL, MLS, collegiate sports and tennis' Grand Slam events. To power the services, Disney is buying a majority ownership of BAM Tech for $1.58 billion. Disney bought a 33 percent stake in the company, which was spun off from digital media company MLB Advanced Media, in August 2016. "This represents a big strategic shift for the company," Iger said to CNBC. "We felt that having control of a platform we've been very impressed with after buying 33 percent of it a year ago would give us control of our destiny." Netflix stock dropped more than 5 percent upon announcement of the news.
The beginning of Trump's trade war
The Trump administration introduced a punitive import tax on aluminum foil from China, following a preliminary determination that the country was dumping the product in the U.S. The latest of President Trump's get-tough trade measures, the import tax or countervailing duty of 16.56 percent to 80.97 percent was aimed at offsetting China's unfair trade practices.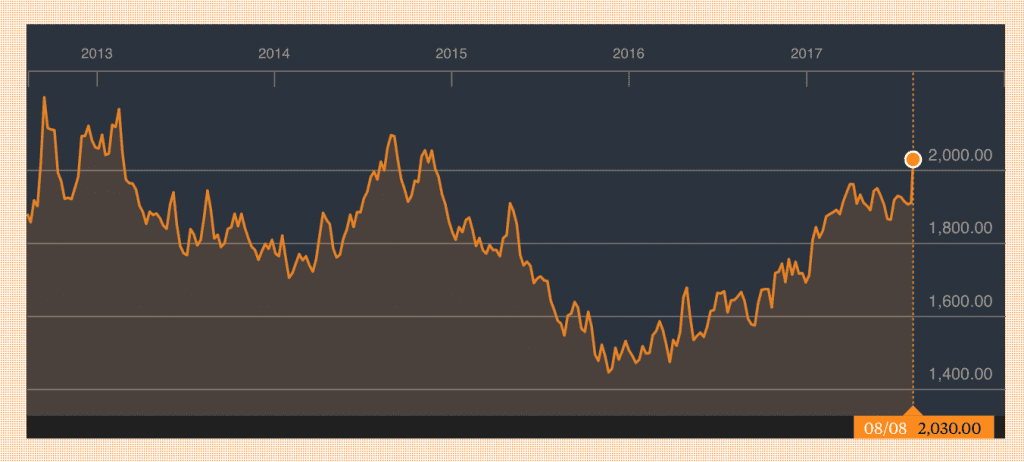 "The United States is committed to free, fair and reciprocal trade, and will continue to validate the information provided to us that brought us to this decision," said Commerce Secretary. "The Trump administration will not stand idly by as harmful trade practices from foreign nations attempt to take advantage of our essential industries, workers and businesses."
Mr. Ross instructed U.S. Customs and Border Protection to immediately begin collecting cash deposits from importers of aluminum foil from China based on preliminary countervailing subsidy rates. In 2016 imports of aluminum foil from China were valued at an estimated $389 million.  "This is an important step to begin restoring a level playing field for U.S. aluminum foil production, an industry that supports more than 20,000 direct, indirect and induced American jobs, and accounts for $6.8 billion in economic activity," an Expert said. "U.S. aluminum foil producers are among the most competitive producers in the world, but they cannot compete against products that are subsidized by the Chinese government and sold at unfairly low prices".
Enforcement of U.S. trade law has been a focus of the Trump administration, following through on Mr. Trump's campaign promise to negotiate better trade deals and get tough with trade cheaters, especially China.
Important economic events:
1.30 am – Australia Westpac consumer confidence (August): previous reading 96.6. Market to watch: AUD crosses
2.30 am – China CPI, PPI (July): CPI expected to rise 0.1% MoM and 1.4% YoY, from -0.2% and 1.5% respectively. PPI forecast to rise 5.4% YoY from 5.5%. Market to watch: CNY crosses
3.30 pm – US EIA crude inventories (w/e 4 August): expected to fall by 1.5 million barrels, in line with the previous week. Markets to watch: Brent, WTI
Trade now
NOTE: This article is not an investment advice. Any references to historical price movements or levels is informational and based on external analysis and we do not warranty that any such movements or levels are likely to reoccur in the future.
In accordance with European Securities and Markets Authority's (ESMA) requirements, binary and digital options trading is only available to clients categorized as professional clients.
GENERAL RISK WARNING
CFDs are complex instruments and come with a high risk of losing money rapidly due to leverage.
77% of retail investor accounts lose money when trading CFDs with this provider.
You should consider whether you understand how CFDs work and whether you can afford to take the high risk of losing your money.