7 min read 
While AAPL shares keep hitting one high after another, the company prepares for another annual event. iPhone 8 is expected to be announced during the presentation on September 12th. Apple stock has recently reached an all-time high of $164 on September 1st, growing 38% YTD. Analytics, however, point out to the fact that in 80 percent of cases AAPL shares lost in value after iPhone presentations, no matter how promising and innovative.
"The trading history over the past four years is a little bit difficult to look at — just what happens when the product's announced to three months after," says Gene Munster, a managing partner at venture capital firm Loup Ventures and former Wall Street analyst. Munster believes that the AAPL stock price will drop 10% in a period of one to three months.
According to rumors, the 'Home' button will be gone once and for all in the new version of the popular mobile devices. 3D identification system will be used in order to determine the rightful owner and unlock the smartphone. Revolutionary new software will give users a chance to enjoy augmented reality features. New iPhones can also boast wireless charges. However, even if the product is as good as advertised, the stock price can still be expected to go down. At least, in the initial phase after the presentation. Several analysts, including Toni Sacconaghi from Bernstein, believe that iPhone8 will become the most expensive smartphone in the history of Apple but will also mark the record number of sold devices.
The period of negative growth, observed throughout May 2015 – June 2016, was abruptly ended with a strong positive trend. In a matter of 15 months the AAPL stock added 69%, outperforming both the market and the industry. Strong iPhone sales and impressive performance of the Service segment are behind the explosive stock price growth, Zacks' experts believe.
Other factors that can be expected to affect the price action include sales of existing iPhone devices, company's performance in developing countries, demand for Apple software products and many more. According to the analysts, iPhone is currently the most important revenue stream for the company. Cutting-edge technologies, implemented in the latest version of the world's most popular smartphone, should impress the public and stimulate the demand even further.
India and China present an attractive opportunity for Apple. Countries with enormous human resources (each of them with over 1.3 billion inhabitants) are extremely lucrative markets for the California-based company. Both nations attract FDIs and welcome foreign manufacturing facilities being relocated to their countries. In fiscal 2016, Apple sales in India grew 50%. The company is also working on setting up its solely-owned retail chain of Apple products. A number of research and development centers can be expected to emerge in India in the coming years. Apple officials believe that China, which is already the second-largest iPhone market, will increase its share in the company's revenue.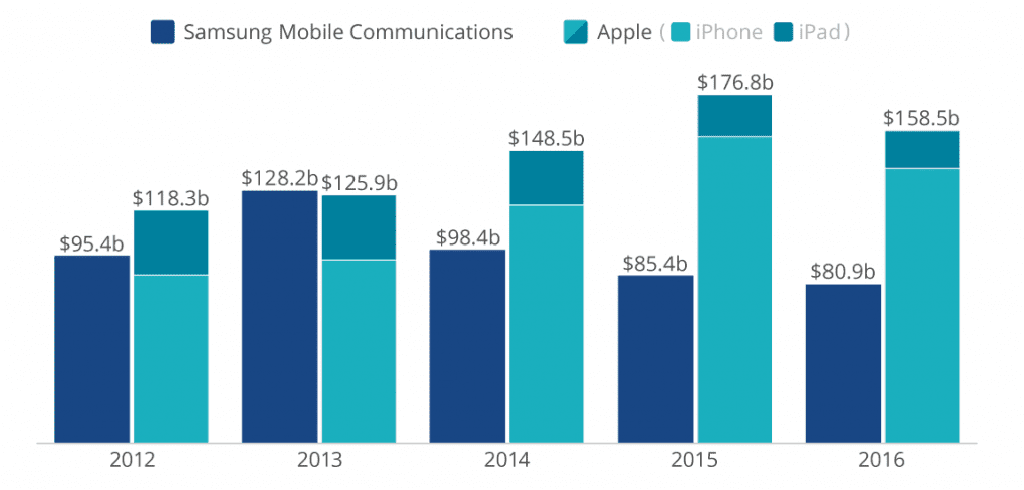 Software products, that include but are not limited to Apple Pay and Apple Music, help to create an ecosystem of products, increasing the average check and thus driving the revenue up. Among other things, Apple is being increasingly involved in the automobile industry. This summer the company confirmed that it was working on a self-driving automotive technology. According to BCG, by 2025 the market of autonomous vehicles will be worth $42 billion. By becoming an early adopter Apple aims to bite off a big portion of this pie.
On the other hand, the troubles Apple may face in the foreseeable future are deemed to negatively affect the stock price and hinder its growth. Tough competition in the mobile segment and an ever-increasing role Samsung plays in it are not adding to the positive prospects for Apple. Legal battles the company fights in several countries, though not critical to the overall well-being of AAPL shareholders, still distract cash and important resources from more important projects.
All in all, the outlook for AAPL shares is positive. The stock price is expected to slightly depreciate just right after the announcement of new iPhone8 but also to demonstrate steady growth in the long run.
Trade on Apple
NOTE: This article is not an investment advice. Any references to historical price movements or levels is informational and based on external analysis and we do not warranty that any such movements or levels are likely to reoccur in the future.
In accordance with European Securities and Markets Authority's (ESMA) requirements, binary and digital options trading is only available to clients categorized as professional clients.
GENERAL RISK WARNING
CFDs are complex instruments and come with a high risk of losing money rapidly due to leverage.
77% of retail investor accounts lose money when trading CFDs with this provider.
You should consider whether you understand how CFDs work and whether you can afford to take the high risk of losing your money.