MIOTA, the token offered by the IOTA foundation, had seen a tremendous growth in the past few weeks. The organization launched a new data marketplace partnering with 20 tech firms including Microsoft and Fujitsu, following which MIOTA's value skyrocketed. The token broke all records and jumped to be the 4th largest coin from the 9th spot in mere two days. The token is now holding a market cap of over $11 billion and with the last 24-hour trading volume is over a billion.
Key Highlights
IOT/USD broke all records this week after touching the peak at $5.5
The pair appreciated 200 percent week-on-week and 15 percent on the daily chart
IOT/BTC gained 107 percent over the week and currently trading at 0.000266 BTC


In the daily chart, the coin had an incredibly steep rise. Though in the early week, the coin was trading below $1.4, it took a huge jump in the midweek to reach a record peak above $5.5. Though there were some resistance and pitfalls in the climb, nothing was strong to stop the bull, and the coin achieved $5.5 from $1.4 in mere 48 hours.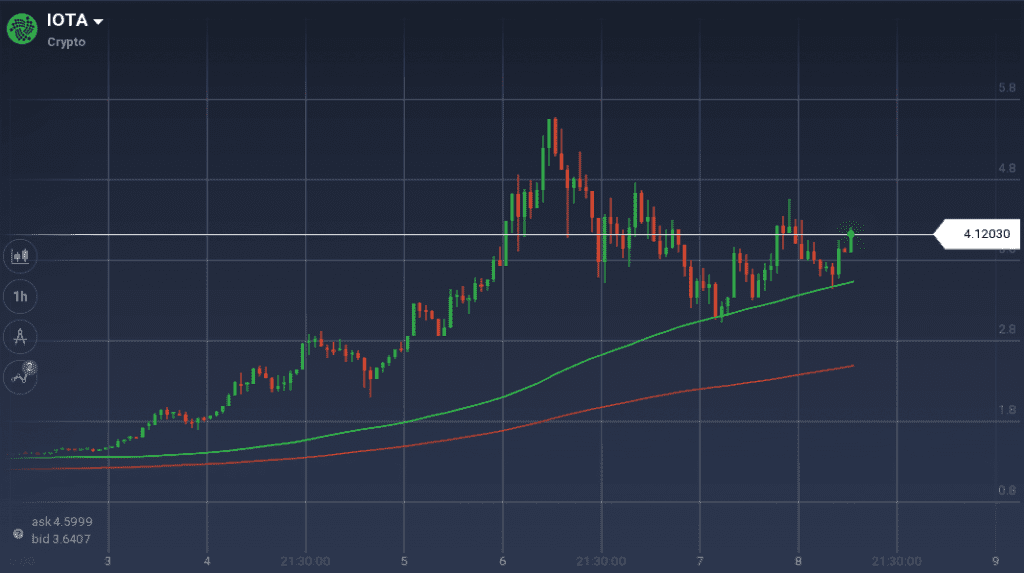 But like most of the time, the peak resistance pushed the coin down, and the coin ultimately dived to $3.0. Though it tried to find a stable ground at around $4.0, it could not hold it.
In the 24-hour chart, the coin is trying to regain the peak again with a gradual rise. With the support of a trend line, it is climbing in a triangular fashion and currently holding a value around $4.0. In the daily chart, the coin gained 15 percent, and weekly it gained over 200 percent after the fall in the price.
The recent rise has turned the indicators upward again. Stoch is going up again after a journey downward, and RSI is at 61 percent. MACD had become stable and is moving along the axis after the bearish run. 100 SMA is still above 200 SMA indicating an upward resistance.



Against Bitcoin, MIOTA followed almost the same path as against USD; only the fall was harder due to the bullish Bitcoin. Currently, IOT/BTC pair is trading at 0.000266 BTC against the weekly opening price of 0.000128 BTC. This is an appreciation of 107 percent.
[cta_en link="http://bit.ly/2wgxwLy" name="Trade on IOTA"][/cta_en]