5 min read 
Bitcoin is facing a period in which positive news is expected to drive it higher, here are three more reasons why.
#1 – The US Congress is Bitcoin friendly.
A new ruling from the House Ethics Committee requires all members of the House to disclose their cryptocurrency holdings. Lawmakers are now required to provide an annual disclosure of all cryptocurrency holdings just like any other investment and the number of holders is surprising. The most notable is a revelation from House Representative Bob Goodlatte who says he owns $80,000 in BTC, BCC and Ethereum; the top three cryptocurrencies on the market today. Goodlatte is the chair of the House Committee on the Judiciary. Goodlatte's son, Bobby Goodlatte jr., is an angel investor in the San Francisco based Coinbase cryptocurrency exchange. Goodlatte jr. is also a member of the Congressional Blockchain Caucus, a lobby group established in 2017. Several other members of Congress including Senators Mark Warner, Randy Hultgren and Bill Huizinga are expected to reveal cryptocurrency holdings soon.
#2 – Professional Investors Still Back Bitcoin
Professional investors like Tom Lee still back Bitcoin. Lee, one of Wall Street's leading Bitcoin Bulls, says the world's reserve cryptocurrency dominates the market for a reason; it is the best house in a tough neighborhood. What does he mean? He means that of all the emerging blockchain technologies Bitcoin is still the top dog on the street and the fact market participants prefer it to other tokens proves one thing; Bitcoin is going to move higher. He also points out that the recent (2018) Bitcoin correction in which it lost more than 70% of its value is in-line with past corrections and not an event to worry about. With Bitcoin holding at current levels (above $6000) a move back to retest the all-time highs is more likely than not.
#3 – Bitcoin ATM's Top 3,500
The number of Bitcoin ATM's and/or ATM's that will accept Bitcion have topped 3,500. The country boasting the most of these terminals is the United States and, with the recent news about Bakkt, that number and dominance will only grow. The importance of the ATM's is two-fold. The first reason is that they help facilitate widening use of blockchain based currency solutions, the second is that they provide an easy means for users to buy cryptocurrencies. The figure that is truly remarkable is the rate of growth which has turned exponential. According to data from Coinatmradar the number of BTC capable ATM's jumped from about 500 at the end of 2016 to just over 3,500 in mid-2018, an increase of 700% in only 18 months.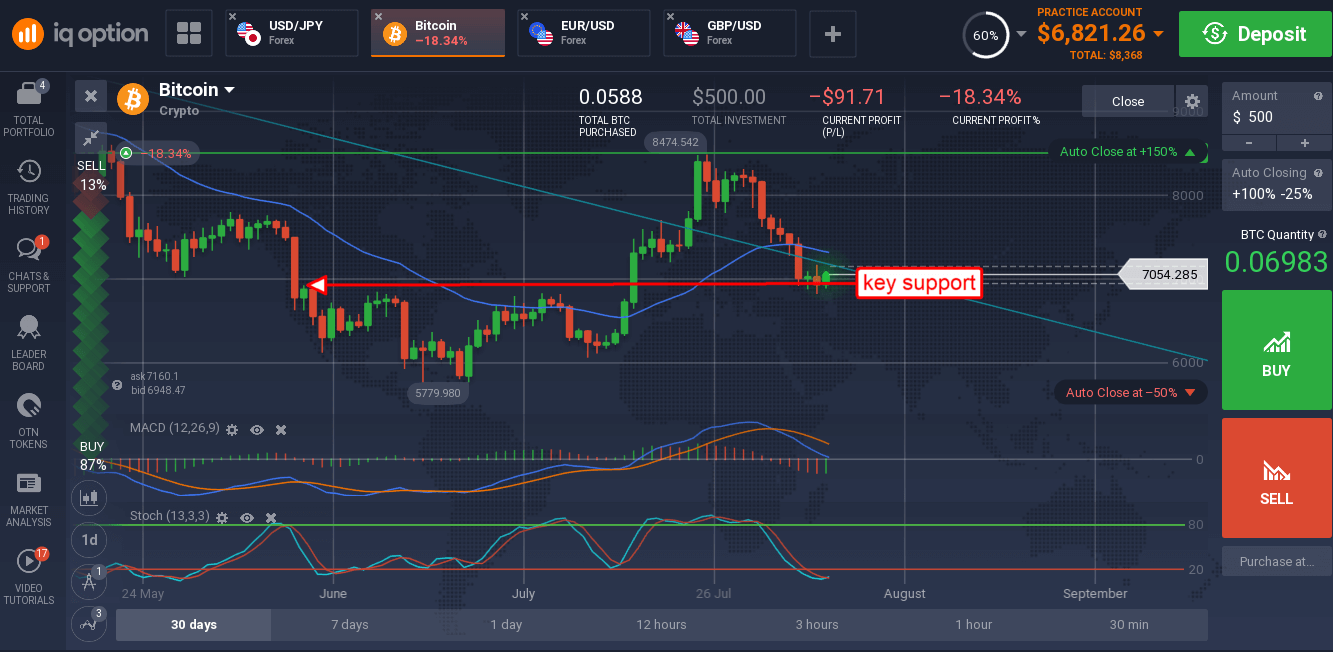 The price of Bitcoin is now stabilizing above the $7,000 level and at a key support zone. The indicators suggest the token is oversold which means a snap-back rally is expected in the near-term, a rally that could run higher provided positive news emerges. The most anticipated news for BTC is the expected announcement from the SEC mid-August about the latest request for a BTC ETF. Any positive light shed on the subject will be a catalyst for higher BTC prices.
Trade now
NOTE: This article is not an investment advice. Any references to historical price movements or levels is informational and based on external analysis and we do not warranty that any such movements or levels are likely to reoccur in the future.
In accordance with European Securities and Markets Authority's (ESMA) requirements, binary and digital options trading is only available to clients categorized as professional clients.
GENERAL RISK WARNING
CFDs are complex instruments and come with a high risk of losing money rapidly due to leverage.
77% of retail investor accounts lose money when trading CFDs with this provider.
You should consider whether you understand how CFDs work and whether you can afford to take the high risk of losing your money.