9 min read 
Global tensions sparked a market selloff Thursday that drained $42.7 billion from the net worth of the world's 500 richest people and knocked Amazon founder Jeff Bezosfrom his spot as the world's 2nd-richest person. The rout in US stocks, the worst since May, erased $2 billion from Bezos's fortune, according to the Bloomberg Billionaires Index, as shares of the online retailer tumbled 2.6 percent to $956.92. Bezos, 53, is now worth $82.2 billion, about $600 million behind Spanish retail magnate Amancio Ortega, founder of the Zara clothing chain.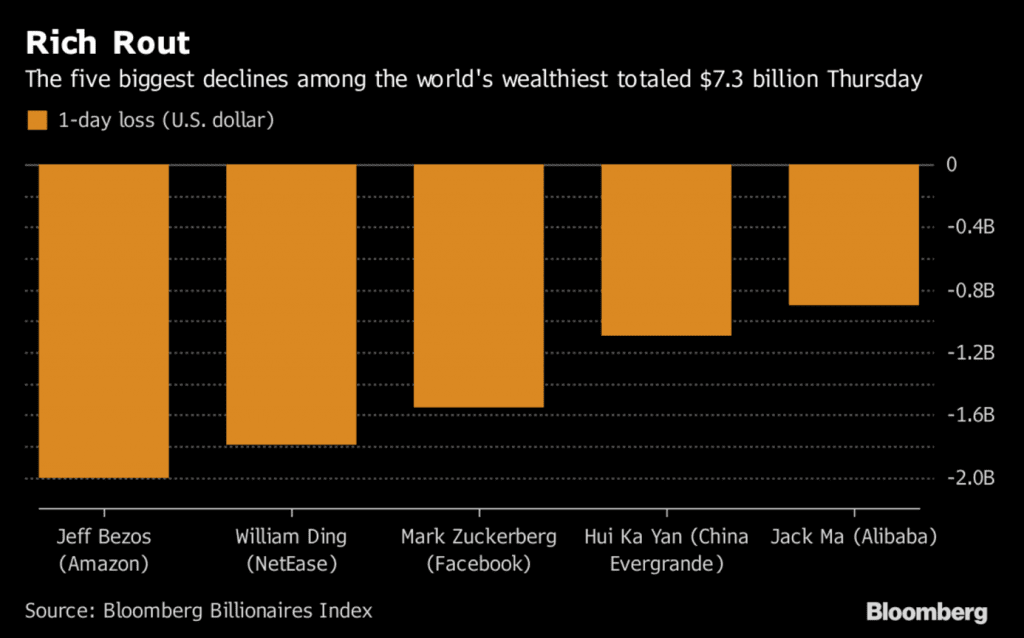 The losses, coming as President Donald Trump ratcheted up his rhetoric with North Korea, spanned multiple regions and industries. Technology billionaires were hit the hardest, accounting for seven of the 10 biggest declines. NetEase Chairman Lei Ding incurred the second-largest loss, dropping $1.8 billion to $16.8 billion, followed by Facebook's Mark Zuckerberg, whose net worth slid $1.6 billion to $71.2 billion. Microsoft's Bill Gates, who ceded the No. 1 spot to Bezos on an intraday basis two weeks ago, lost $848.5 million on the day, while remaining at the top of the ranking with $90 billion.
Snap has not snapped back
Snapchat reported worse-than-expected quarterly results yesterday, with a loss that was steeper than expected and revenue that missed estimates, as it added fewer users than Wall Street anticipated. Snap added 7 million daily users during the second quarter — a slower rate than the 8 million added in the first quarter. Its shares fell more than 17 percent to around $11.40 in after-hours trading, below the all-time intraday low of $11.91 set during regular trading on Aug. 3. Snap's second-ever quarterly report as a public company came at a crucial time for the owner of the ephemeral messaging app.

The company went public in March amid a dearth of IPOs, and was well-received at first: Shares jumped 44 percent on the first day of trading. But Wall Street analysts, including offering underwriter Morgan Stanley, have gradually lowered the expectations. The stock has been under pressure, falling about 41 percent over the past three months. Despite reporting double-digit year-over-year growth in daily users and triple-digit growth in revenue on Thursday, Snap has struggled to meet the high bar of constant growth that's been expected of Silicon Valley companies like Facebook. About 173 million people open Snapchat's app each day worldwide, a 21 percent increase from a year ago. And average revenue per user rose 109 percent from this time last year, the company said Thursday. But compared to the first three months of the year, the growth seems less dramatic: DAUs grew 4 percent quarter over quarter, and ARPU grew 16 percent.
The company saw a surge of ARPU growth in Europe and the rest of the world, but the increase in North America was more muted. Losses also piled up during the quarter. In the three months ended in June, Snap posted a shortfall of $443.1 million, as costs rose across the board, especially in marketing, R&D and operations. The company — a huge patron of Google Cloud — did save money in hosting costs thanks to more efficient infrastructure. Snap makes money from advertising, like short video clips and sponsored augmented reality filters. Digital advertising — dominated by Facebook and Google — has become a challenging area to monetize, so a growing pool of users means there's an increasing number of eyeballs that will see ads and return money to investors.
Uber Investor Sues Kalanick for Fraud
Travis Kalanick, who built Uber into a transportation behemoth, was ousted as chief executive of the ride-hailing company in June by unhappy investors. Now, one of those investors has escalated the battle by suing Mr. Kalanick, claiming fraud and other transgressions, in an attempt to remove him from Uber's board of directors. Benchmark, a Silicon Valley venture capital firm that is one of Uber's largest shareholders, filed suit against Mr. Kalanick on Thursday in Delaware Chancery Court, accusing the former chief executive of fraud, breach of contract and breach of fiduciary duty.

At the heart of the suit is how Mr. Kalanick obtained outsize control of several Uber board seats in 2016, which Benchmark said he achieved through "material misstatements and fraudulent concealment" of information. Mr. Kalanick's "overarching objective is to pack Uber's board with loyal allies in an effort to insulate his prior conduct from scrutiny and clear the path for his eventual return as C.E.O. — all to the detriment of Uber's stockholders, employees, driver-partners, and customers," the suit said. The suit added that Mr. Kalanick's position on Uber's board "is thus improper and inequitable, and should be invalidated."
Dollar opportunities: 8-week low vs yen as tensions intensify
The USD skidded to an 8-week low against the yen on Friday as escalating tensions between the United States and North Korea triggered yet more investor flight to safety. The dollar last changed hands at 108.96 yen, down 0.2 percent. Trading was thinner than usual, with Japanese markets closed for a public holiday. Earlier, the dollar slipped as low as 108.91 yen, its weakest level since June 14, when the greenback fell as low as 108.81 yen.
Below that level lies another key technical chart support level for the dollar at 108.13 yen, a trough the U.S. currency plumbed in mid-April. "We're getting close towards very important support on the dollar/yen," said a currency strategist in Melbourne. "Particularly that 108.10/108.00 level, a break below those levels would really set up a rapid move to the downside," he said. Both the Swiss franc and the yen have climbed against the dollar this week, after U.S. President Donald Trump warned North Korea that it would face "fire and fury" if it threatened the United States.
Economis events today:
3 am – China retail sales (July): forecast to rise 10.5% YoY from 11% a month earlier. Markets to watch: China indices, CNY crosses
10 am – eurozone industrial production (June): expected to rise 3.6% YoY. Market to watch: EUR crosses
Trade now