7 min read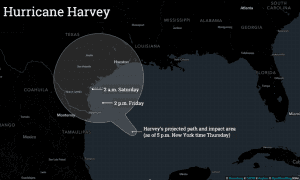 Hurricane Harvey, set to become the worst storm to strike Texas in more than a decade, wreaking havoc upon the heart of America's energy sector, has forced evacuations from offshore platforms, shut refineries and sent the prices of commodities from gasoline to soybeans rallying. Oil refiners in the Gulf Coast, home to as much as half of the nation's refining capacity, began halting operations as Harvey, a Category 1 storm with top winds of 137 km. an hour, bore down on the Gulf Coast, threatening the region with deadly floods and storm surges. If Harvey makes landfall as a Category 3 — with winds of at least 111 miles — it'll be the strongest storm to hit the U.S. since Wilma in 2005. "We are expecting catastrophic, life-threatening flooding in Southeastern Texas," said a senior meteorologist. Expect commodity prices to go up!
Amazon Plans to Lower Some Prices at Whole Foods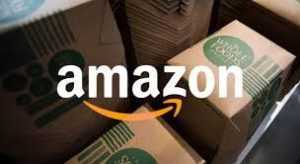 Amazon, which takes control of the upscale grocer on Monday, intends to slash prices the same day. The significance of the move goes well beyond the price of organic avocados, baby kale and rotisserie chickens, all of which will cost less on Monday than on Sunday.
Rather, it is an outsize way for Jeff Bezos, Amazon's chief executive, to announce his plan to shake up the grocery industry and take on competitors like Walmart and Kroger. "This is how Amazon operates," said an expert, a market research firm. "It's all about speed, speed, speed." Mr. Bezos has always been willing to lose money, disappoint shareholders and start discount wars in his efforts to challenge and inflict pain on competitors. In the 23 years that Amazon has been in business, he has done it again and again — with books, diapers and now groceries — fundamentally changing entire retail categories.
Amazon plans to weave together its online business and physical stores by turning its Prime membership program into a Whole Foods rewards program, providing additional savings to customers. Amazon Prime is a $99-a-year service that gives customers faster free shipping, video streaming and other benefits.
Draghi to Tone Down the Drama in Jackson Hole
When Draghi steps up to the podium at Jackson Hole today, he could be forgiven for expressing some satisfaction. It was during his previous appearance at the U.S. FED symposium in Wyoming three years ago that the ECB president went out on a limb to lay the groundwork for quantitative easing. Back then, the euro area faced the risk of deflation, with near-record unemployment and anaemic economic growth. Now those concerns are largely gone and governors are preparing to discuss when they might wind down bond purchases. But while traders are keyed up for any policy signals in this year's speech, Draghi is unlikely to declare mission accomplished just yet.
After more than 2 trillion euros of QE, inflation is still below target and officials are nervous that bullish comments might spark an unwarranted market tightening — as the ECB chief found in June when his mention of "reflationary forces" sent the euro and bond yields soaring. "When Draghi starkly used such occasions to send a very strong message — for instance 'whatever it takes' in 2012 or in Jackson Hole in 2014 about the possibility of QE — every time it was about something quite binary," Merrill Lynch in London said. "Now things are much more complex" and "a risk of being too granular at Jackson Hole is simply to be misunderstood."
Samsung's Top Executive May End Up in Prison
Samsung's de facto leader Jay Y. Lee has been ensnared in an influence-peddling scandal that's transfixed South Korea and reached into the highest ranks of politics and business. Today, after a six-month trial for bribery and embezzlement, he'll learn his fate. Prosecutors have demanded a prison term of 12 years for the heir to the country's biggest fortune.
Important economic events:
12.30 am – Japan CPI (July): price growth expected to be 0.4% YoY and 0% MoM, in line with June. Markets to watch: Nikkei, JPY crosses
7 am – German GfK consumer confidence (September): forecast to rise to 10.9 from 10.8. Markets to watch: eurozone indices, EUR crosses
9 am – German IFO (August): business climate index forecast to rise to 116.6 from 116. Markets to watch: eurozone indices, EUR crosses
1.30 pm – US durable goods orders (July): expected to fall by 2% MoM overall, and rise 0.1% excluding transportation orders. Markets to watch: US indices, USD crosses
Trade now
NOTE: This article is not an investment advice. Any references to historical price movements or levels is informational and based on external analysis and we do not warranty that any such movements or levels are likely to reoccur in the future.
In accordance with European Securities and Markets Authority's (ESMA) requirements, binary and digital options trading is only available to clients categorized as professional clients.
GENERAL RISK WARNING
CFDs are complex instruments and come with a high risk of losing money rapidly due to leverage.
73% of retail investor accounts lose money when trading CFDs with this provider.
You should consider whether you understand how CFDs work and whether you can afford to take the high risk of losing your money.