Economists had been expecting to see the EU economy's expansion slow a bit during the month of February and the data proved them right. It also came in much weaker than expected in evidence of a broad slowdown within the economic bloc. The headline composite PMI reading came in at 57.5 for the month, down more than 1.25% and well below the expected 58.5%. Despite the weakness the reading is still expansionary and strong, giving evidence of ongoing recovery within the EU.
Slowdown was broad, both the services and manufacturing gauges fell and more than expected. Manufacturing PMI came in at 58.5, down from 59.6 and below the expected 59.2. Services came in at 56.7, down from 58.0 and short of the expected 57.7. Germany, pillar of the EU economy, was not immune. PMI in that nation fell more than a full point to 57.4 and far below the expected 58.5.
The news, while positive for the economy, did little to bolster expectations for ECB policy tightening and set the euro up for a fall against the dollar but reaction was mixed in other markets. The EUR/GBP was able to move higher on the news, gaining a little more than 0.35%, as unemployment rises in the UK. Today's UK data shows a 0.1% increase in the unemployment rate as new workers enter the labor market.
Other data shows a larger than expected decline in jobless claims, offsetting the previous months gains, and a 2.5% YOY increase in average earnings. The EUR/GBP remains within the short term trading range, winding up for what could become the next big move, waiting data and the next round of central bank meetings.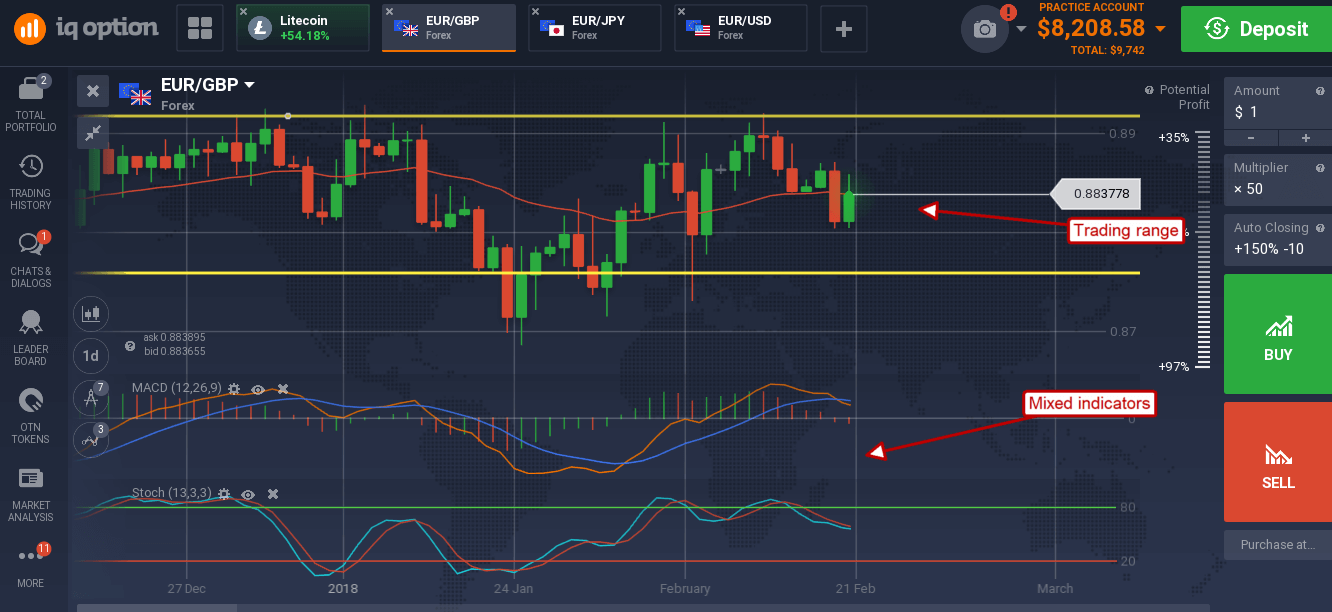 Traders tried to drive the euro higher versus the yen, but the gains were capped by the weak data. The move, initiated by soft but as expected activity readings, created a shooting star type doji within a down trend. This could indicate a fall for the pair that may find support at or near the 1.3200 level. The indicators are weak, consistent with downtrend and set up for a trend following crossover in stochastic that has not fired. A move lower would bearish, a move below support would confirm the new trend with targets at 131.00 and 130.00 in the near term.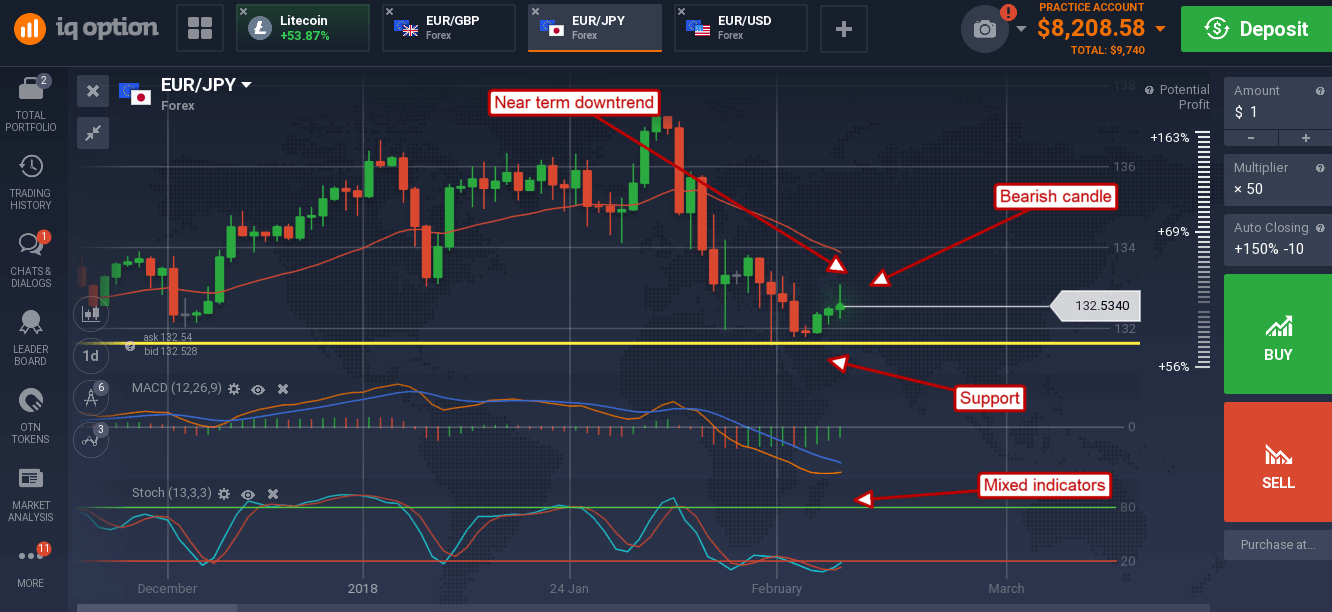 The euro was able to hold its ground versus the dollar although the pair did give up some ground. US flash PMI readings from Markit show the manufacturing and services sectors growing at a faster pace than expected. Both indices came in at 55.9, above expectation and the previous month's reading. This data not only confirms ongoing recovery in the economy it shows acceleration which should help support the dollar. The EUR/USD is now trading just above the short term moving average and within a near term trading range.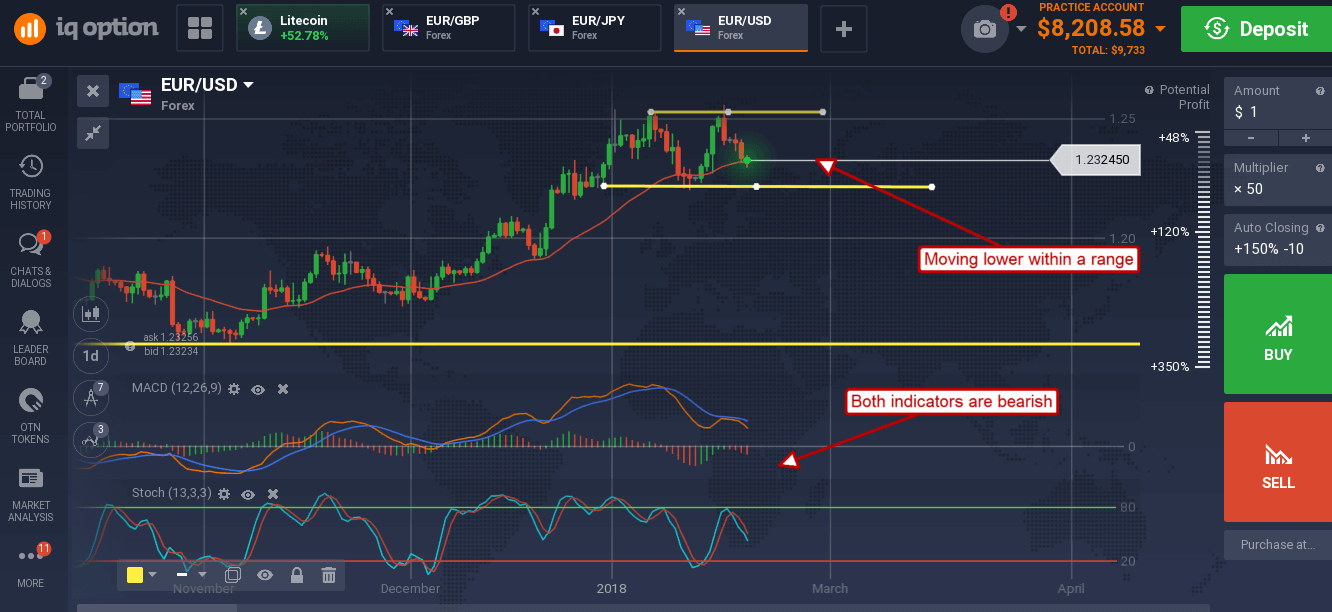 The indicators are bearish and pointing lower, suggesting support will be tested if not broken, a move that may be sparked by FOMC minutes or US inflation data on Thursday.
[cta_en link="http://bit.ly/2w6LBL6″ name="Trade now"][/cta_en]