Services sector PMI shows continued expansion in both the UK and EU but only one is expanding. In terms of forex and forex trading this is the type of thing that can make all the difference. Where one economy can be expected to plug along as it is the other is showing strength that, when added to other pieces of the economic puzzle, may lead to central bank tightening.
In the UK services sector PMI fell to 53 from the previous month's 54.2. This is still expansionary but shows a deceleration in growth likely attributed to Brexit angst and possibly to seasonal trends. The analysts had been expecting a much tamer slow down to 54.1. While still a positive for the UK and the UK economy it does not indicate a need for the BOE, which is meeting this week, to alter policy or even indicate the possible need to alter policy.
In the EU services PMI came in above expectations at 58 and above the previous month's 57.6. This shows strong growth expanding from previous levels in tandem with a broader acceleration in economic activity. The Markit composite PMI came in at 58.8 and above expectations while retail sales grew at a 1.9% pace YOY and as expected. This news likewise does not spur the ECB to action, but it does fit in with the narrative of altering their stance sometime soon.
The EUR/GBP moved up strongly on the news, extending a move begun in the prior session, but leaves it range bound in the short term. The indicators are bullish and point to higher prices at the top of the trading range near 0.8925. A move above resistance target would be bullish and could lead to a more robust price reversal but that will depend on the BOE statement on Friday. Until then watch for a few bits of moderate data to cause volatility within the range.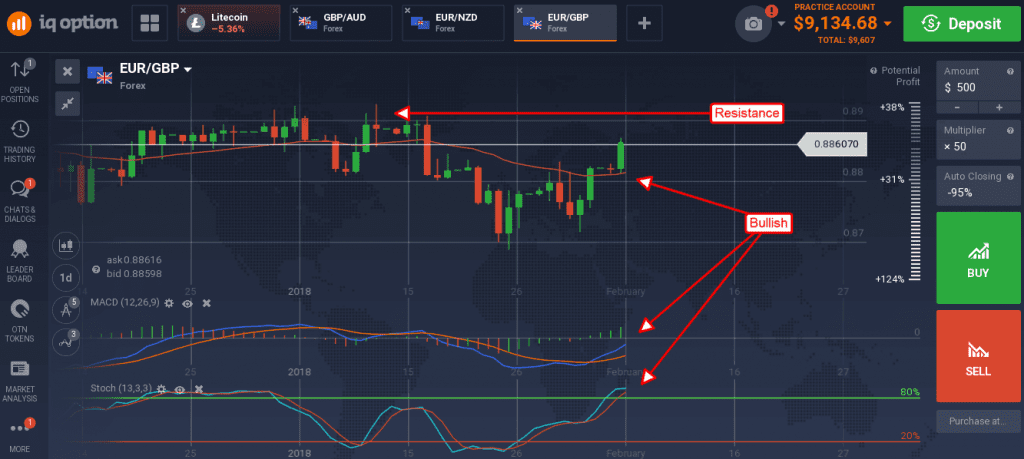 The pound fell hard against the Aussie dollar as weakness at home is compounded by strength abroad. The Reserve Bank of Australia is also meeting this week and while there is little expectation they will raise rates now they are on track to begin raising them soon. The core inflation rate has been hovering at 1.8% for 4 months and at 1-year highs with rising pressures present in the data that will lead to higher rates.
The GBP/AUD created a long red candle confirming resistance at 1.7860 that is supported by the indicators. Both stochastic and MACD are showing peaks consistent with resistance and the possibility of lower prices. First target for support is the short term moving average near 1.7530, a break below there would be bearish.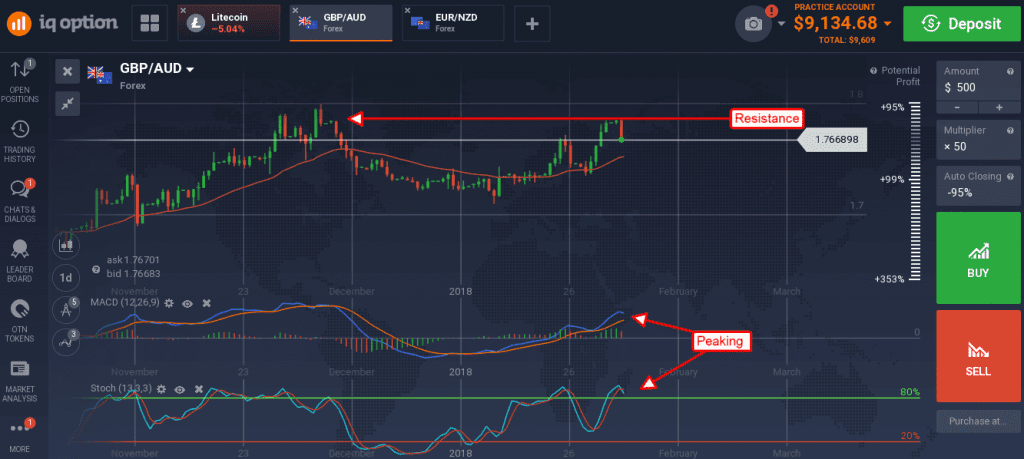 The Bank of New Zealand is also meeting this week with little to no expectation of policy change. Inflation in that country has cooled in recent months to a tepid 1.6% and not expected to move much in the near term.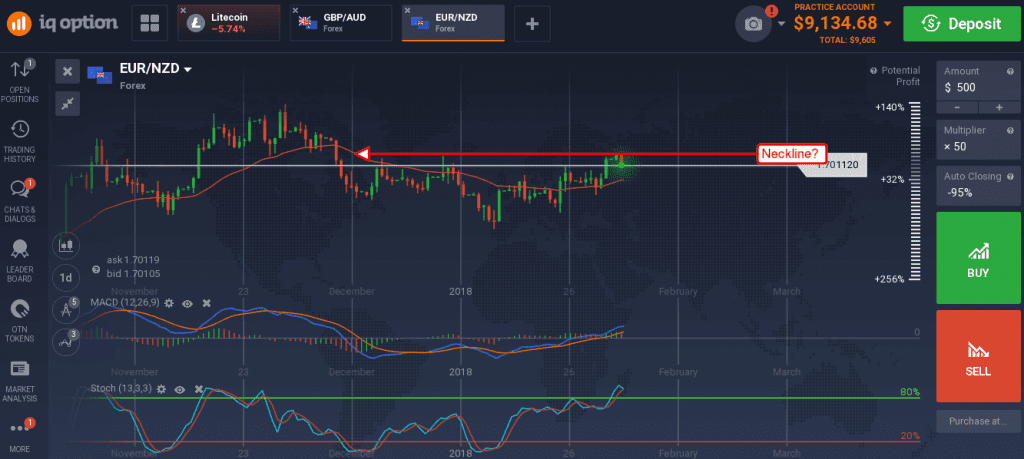 The Kiwi fell versus the euro on today's EU data and is confirming resistance at the 1.7100 level. This level is important because it is the possible neckline of a Head & Shoulders reversal. A break to the upside would confirm reversal, a fall would confirm a trading range.
[cta_en link="http://bit.ly/2w6LBL6″ name="Trade now"][/cta_en]