Another day today with a very thin economic calendar, not any main economic events during the Pacific and Asian Sessions. In the European Session the Balance of Trade for Spain, the UK Factory Orders and the Unemployment Rate in Russia may move the Euro, the British Pound and the Russian Ruble respectively. In the American Session the API Weekly Crude Oil Stock Report may move the oil prices and the USD/CAD currency pair.
These are the main economic events for today to focus on as they can move the forex market:
European Session
Spain: Balance of Trade, UK: CBI Industrial Trends Orders, Russia: Unemployment Rate
Time: 08:00 GMT, 10:00 GMT, 13:00 GMT
A higher than expected or increasing figure for the Balance of Trade and especially a trade surplus is considered positive and supportive for the economy of Spain and the Euro, reflecting capital inflows in the country, higher exports than imports, and increased demand for goods and services denominated in Euros. However, the previous figure for the Balance of Trade in Spain was a trade deficit of -2.17Billion Euros.
For the economy of UK, a higher reading for the CBI Industrial Trend Orders is considered positive for the economy and the currency, as it indicates economic expectations for the Industrial Sector being also a leading indicator of business conditions. Higher readings reflect expectations and optimism about increased economic and business conditions and an expansion for the Industrial Sector.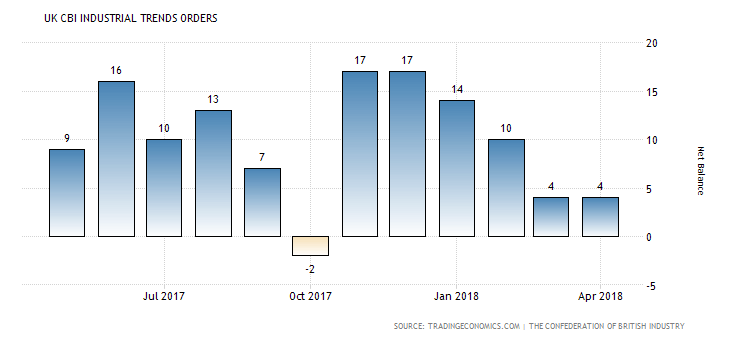 The forecast is for an unchanged figure of 4.0. As seen from the chart the UK CBI Industrial Trend Orders are volatile, and as of November 2017 have been in a downtrend, which is considered a negative factor for the local economy, showing weakness in the Industrial Sector.
Any positive or negative economic surprise has the potential to move the British Pound.
The Unemployment Rate in Russia is expected to remain unchanged at 5%. The Unemployment Rate in Russia for the past 12-months is within the Low/High range of 4.9%-5.3% and if the forecast is the actual reading the expected effect should be considered neutral.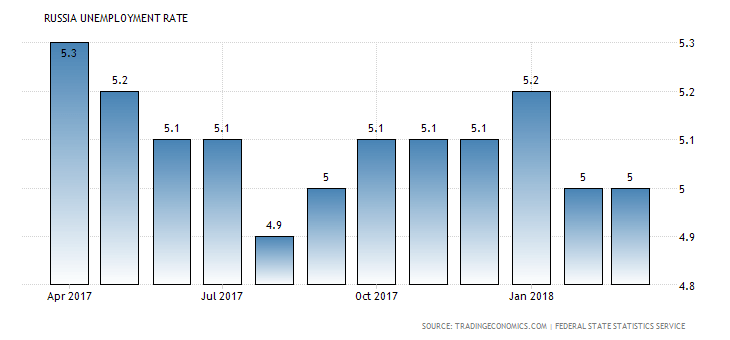 Lower figures of Unemployment are considered positive for the local economy and currency having positive effects in consumer spending and consumption, real wages, inflation and economic growth.
American Session
US: API Crude Oil Stock Change
Time: 20:30 GMT
The weekly API Crude Oil Stock Change Report provides important information related to the refinery operations and the US petroleum industry and demand. If the increase in crude inventories is more than expected, then this it implies a weaker than expected demand and is considered negative for crude oil prices. Crude oil prices at this level above the 71 US Dollar per barrel should be monitored as a potential decline may move the USD/CAD currency pair higher, or a consolidation and a move higher may move the USD/CAD currency pair lower, leading to the appreciation of the Canadian Dollar.
[cta_en link="http://bit.ly/2w6LBL6″ name="Trade now"][/cta_en]