4 min read 
The weekly trading session for May 28-June 1, 2018 is starting today with a very light economic calendar, but later the week is full of US economic data, the Consumer Confidence Index, the GDP Growth Rate, and the Non-farm Payrolls, and one Central Bank Monetary Policy Decision form the Bank of Canada.
This data should provide plenty of volatility in the forex market, mainly for the US Dollar, which continues to be strong against the Euro, the Canadian Dollar and the British Pound, but not against other currencies such as the Japanese Yen or the Swiss Franc. This divergence of trends may be attributed to the risk sentiment and some geopolitical concerns that exist in the forex market. For today due to the public holiday in US, in observance of the Memorial Day, low to moderate volatility is expected overall in the forex market.
Key economic events for today in the forex market:
European Session
France: Unemployment Benefit Claims
Time: 10:00 GMT
Initial Jobless Claims measures the number of people that filed for unemployment benefits for the first time. An increasing figure signals weak conditions in the labor market and is considered negative for the economy of France and the Euro. The chart shows that the Initial Jobless Claims figures in France are volatile and hard to define their trend.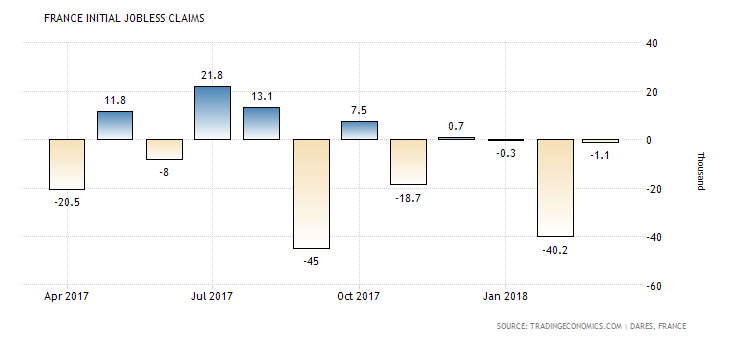 "The number of people registered as out of work in mainland France fell by 1.1 thousand from the previous month to 3.422 million in March 2018, the lowest level since August 2014.", Source: Trading Economics. But we notice significant upsides and downsides as well during the past 12-months.
Asian Session
Japan: Unemployment Rate
Time: 23:30 GMT
Lower than expected or declining figures for the Unemployment Rate in Japan are considered positive and supportive for the local economy and the Japanese Yen, as a lower jobless rate can have positive effects on greater consumption, and higher economic growth, higher inflation rate and an expanding economy as more people receive income to spend in the real economy.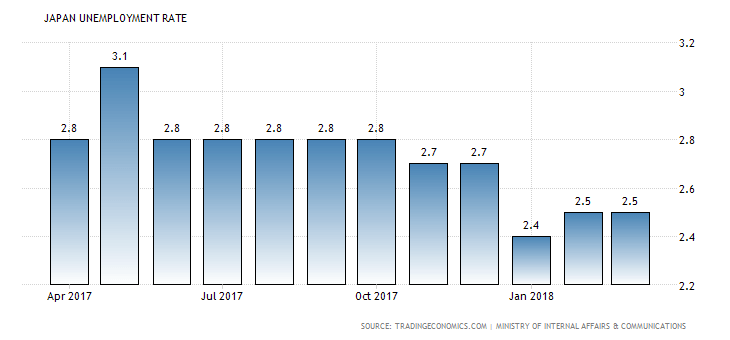 The chart shows that the Unemployment Rate in Japan has been in the Low/High range of 2.4%-3.1% for the past 12-months, with the forecast being an unchanged figure of 2.5% for third consecutive month. This should have a neutral effect on the Japanese Yen. Any economic surprise with a lower than expected figure though may strengthen the yen versus other currencies.
Trade now