4 min read 
A very thin economic calendar for the market today may provide increased volatility and price action mainly because of the geopolitical tensions and Syria air strikes. The forex market sentiment will probably weigh on these tensions, and assess the risks in times of economic uncertainty, with a potential appreciation of the safe-haven currencies such as Swiss Franc, the Japanese Yen, US Dollar and Gold.
There are only some economic data related to the US economy, and not any significant economic events in the European, Pacific and Asian Session. Volatility should be low to moderate, but the recent geopolitical tensions may add extra price action and volatility as mentioned. Also, high volatility is expected for the US Dollar due to the economic releases.
These are the main economic events for today in the forex market to focus on:
American Session
US Retail Sales, Retail Sales Excluding Autos, NY Empire State Manufacturing Index, Business Inventories, NAHB Housing Market Index, Fed Bostic Speech, Foreign Bond Investment, Net Long-Term TIC Flows, Overall Net Capital Flows
Time: 12:30 GMT, 14:00 GMT, 17:15 GMT, 20:00 GMT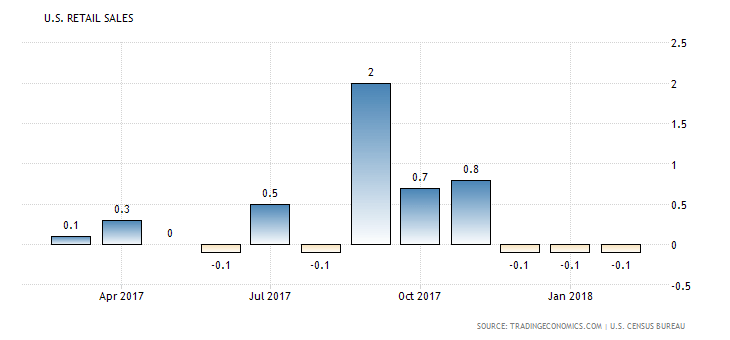 US Retail Trade fell by 0.1 percent month-over-month in February 2018, it was the third consecutive month of decline in retail trade. Higher than expected or increased figures for Retail Sales are positive for the US Dollar, as increased consumer spending is highly correlated with higher economic growth measures by the GDP growth rate. The forecast for the US Retail Sales is for a monthly figure of 0.4%, higher than the previous figure of -0.1%. The US NAHB Housing Market Index is an indicator of future US home sales, providing insights on the state of the housing market and on the broader economy. Higher readings reflect a robust housing market and are positive for the US Dollar. The forecast is for a reading of 71, higher than the previous reading of 70. As seen from the chart, the NAHB Housing Market Index has been in a decline for the past three consecutive months in 2018.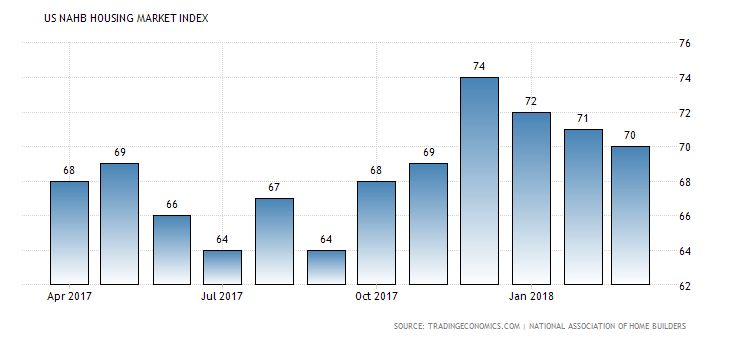 Lower than expected or declining figure for the Business Inventories and increased figures for the Net Long-Term Tic Flows and Overall Net Capital Flows will be also supportive for the US Dollar. Declining Business Inventories reflect a strong demand for goods and strong business sales and economic activity, suggesting growth in the economy. The figures of Net Long-Term TIC Flows and Overall Net Capital Flows measure the total flows for financial assets such as stocks and bonds, to and from the US economy.
An increased positive figure indicates inflows to the US economy, and this increased demand for assets denominated in US Dollars in theory should be supportive and positive for the US Dollar, leading most probably to the appreciation of the US Dollar against other currencies. The forecast is for an unchanged figure of 0.6% for the Business Inventories, a decline for the Net Long-Term TIC Flows and a decline of the Overall Net Capital Flows.
Trade now
NOTE: This article is not an investment advice. Any references to historical price movements or levels is informational and based on external analysis and we do not warranty that any such movements or levels are likely to reoccur in the future.
In accordance with European Securities and Markets Authority's (ESMA) requirements, binary and digital options trading is only available to clients categorized as professional clients.
GENERAL RISK WARNING
CFDs are complex instruments and come with a high risk of losing money rapidly due to leverage.
77% of retail investor accounts lose money when trading CFDs with this provider.
You should consider whether you understand how CFDs work and whether you can afford to take the high risk of losing your money.