4 min read 
The forex market economic calendar for the week April 9-13, 2018 is relatively thin in economic events. There are no major economic events related to the US Dollar, only economic data about the economies of Japan, Switzerland and Germany.
The US Dollar on Friday 6th April 2018, depreciated mostly against other currencies as there was a big miss of the Non-Farm Payrolls, but the speech from Fed Chair Jerome Powell and his statements of future gradual interest rate increases may support the US Dollar this week. Volatility and price action is expected to be low to moderate today in the forex market.
These are the main economic events for today to focus on:
European Session
Switzerland Unemployment Rate, Germany Balance of Trade, ECB Constancio Speech
Time: 05:45 GMT, 06:00 GMT, 15:00 GMT
A lower than expected or declining Unemployment Rate for Switzerland will be positive and supportive for the Swiss Franc, reflecting a strong labor market, and future higher consumer spending which probably can lead to higher economic growth measured by the GDP growth rate. The forecast is for a figure of 3.0%, less than the previous figure of 3.2%.
An increase for the balance of Trade in Germany and a higher figure for the trade surplus will be positive for the Euro indicating a higher number of exports than exports for Germany and increased demand for goods and services denominated in Euros. This increased demand for the currency may lead to its appreciation over time. As seen from the chart the trade surplus in Germany is volatile, with an undefined trend for the past 1 year. The forecast is for a figure of 19.5 Billion Euros, higher than the previous figure of 17.4 Billion Euros.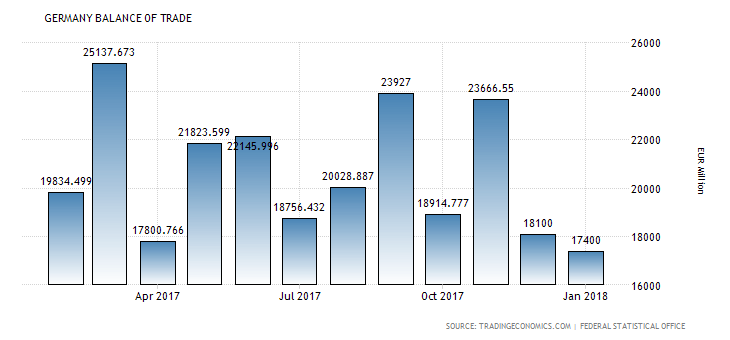 Asian Session
Japan Consumer Confidence, Eco Watchers Survey Outlook
Time: 05:00 GMT
The Economy Watchers Current Index measures the current optimism or pessimism of business outlook, with readings above the 50.0 level indicating optimism, while below the level of 50.0 pessimism. Higher figures are positive for the Japanese Yen. Also higher than expected or rising figures for the Consumer Confidence are positive for the Yen, as they reflect potential higher consumer spending due to the optimism on the economic outlook, which could lead to higher economic growth measured by the GDP level.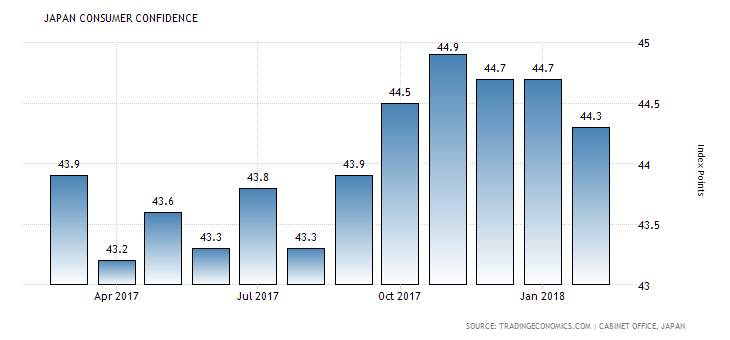 As seen from the chart the Consumer Confidence in Japan is mostly in an uptrend as of April 2017, although it has declined so far in 2018.The forecast is for a figure of 44.1, lower than the previous figure of 44.3.
Trade now