The economic calendar for today the first new trading session for the week 19-23 February 2018 is very light with no major economic events at all in all sessions. There is only a Eurogroup meeting, and two speeches from central bank officials, one from the BOE's Governor Carney who will speak at an event in London at 17:45 GMT, and later on a speech from the RBA's Assistant Governor Bullock giving a speech in Sydney at 22:15 GMT. In the absence of important economic events the volatility and price action today is expected to be very low and no surprises in any forex market trends are anticipated.
The recent US Dollar sell-off and weakness will be tested this week either for a continuation or a possible reversal, and the volatility and price action in the forex market will start to increase later in the week with several important fundamental news such as the Center for European Economic Research (ZEW) survey and economic sentiment release on Germany and the Eurozone, the Eurozone consumer confidence, several Markit PMI releases related to Eurozone and the US economy, economic data on the unemployment in UK, the FOMC meeting minutes, the UK GDP growth rate and the inflation rate in Japan and Canada.
One of the very strong trends in the past week was the strength and appreciation of the Japanese Yen against the US Dollar as the USD/JPY pair closed at the level around 106.32 on Friday 16th February 2018 reaching a 15-month high against the US Dollar. The recent inflation rate in Japan came-in at an annualized one-percent in December, being a 33-month high. It is interesting that the Japanese Finance Minister stated that the recent gains in the Japanese Yen are not enough to begin a potential intervention in the currency market.
As seen from the graph the CPI Index in Japan is slightly in an uptrend, as of 2012, so the forex market is monitoring closely the latest inflation rate trend and the release of the Japan CPI Index on Thursday 22nd February 2018, which is expected to show an increase at an annualized rate of 1.3%, higher than the previous reading of 1.0%.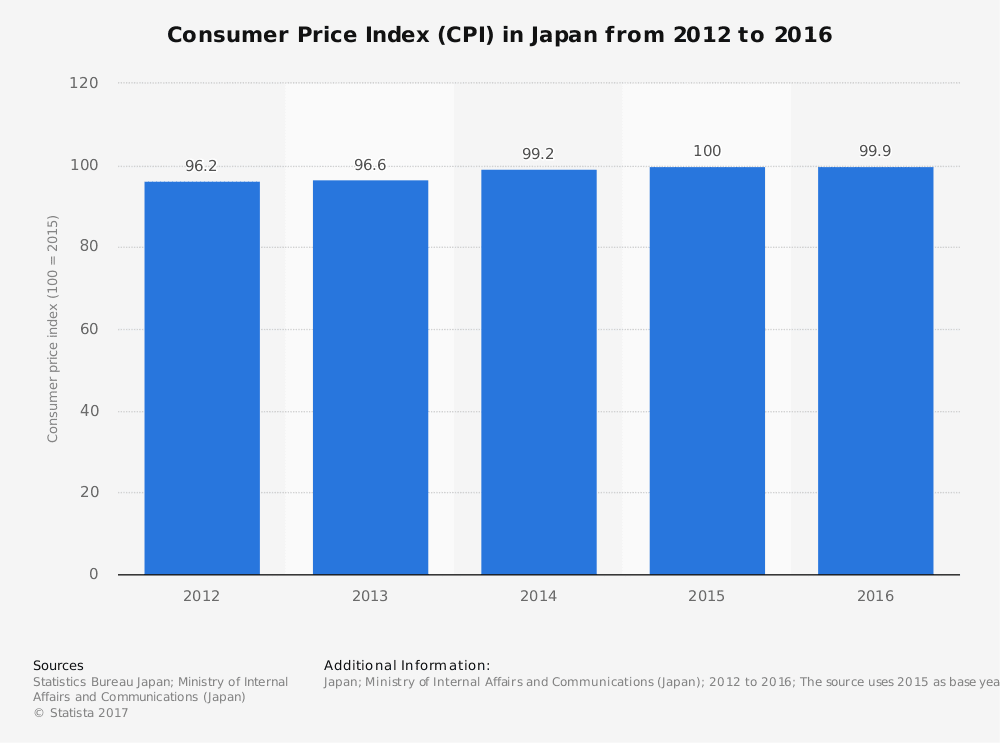 A continuous and sustainable increase in the inflation rate in Japan could signal a gradual monetary policy shift and the change of the quantitative easing program by the Bank of Japan, while there is the Bank of Japan rate decision on March 8-9 2018. If the forex market starts to focus on the increased probabilities of gradual interest rate increases by the Bank of Japan, there could possibly be more support for the Japanese Yen but other important fundamental factors such as the FOMC meeting minutes and the US Markit PMI readings may prove to be enough to cause a potential reversal to the strength of Japanese Yen against the US Dollar.
[cta_en link="http://bit.ly/2w6LBL6″ name="Trade now"][/cta_en]