3 min read 
The new trading session for the week 12-16 march 2018 starts with a very light economic calendar, so expected volatility for the major currencies is expected to be very low. On Friday 9th March 2018 the US Unemployment Rate remain unchanged at 4.1%, but there was a very strong figure for the US Non-farm payrolls which contributed to a stock market rally and an appreciation of the US Dollar against some of the currencies, such as the Euro and the Japanese Yen.
For today the focus will be on the actual result of the US Non-farm payrolls indicating a very strong labor market, and whether this number can be a catalyst to continue having a positive effect on the US Dollar. A strong labor market can have a positive effect on consumer spending, add inflationary pressures in the economy and weigh on the Fed to raise gradually the key interest rate, all these factors should be positive for the US Dollar in the future and maybe in the short-term as well.
These are the main economic events for today to focus on:
American Session
US Monthly Budget Statement
Time: 18:00 GMT
The forecast is for a deficit of -$200 Billion, much lower than the previous figure of $49 Billion. The Federal Budget Balance measures the difference in value between the federal government's income and expenditure during the reported month, a positive number indicates a budget surplus, while at the same time a negative number indicates a deficit. In general a higher than expected reading should be taken as positive and supportive for the USD.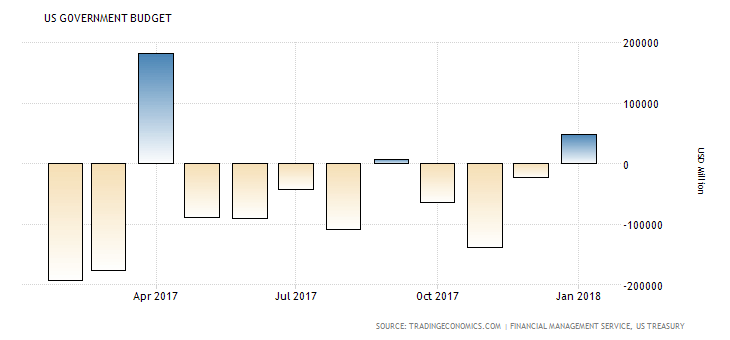 As seen from the above graph, the US Budget Statement is mostly having a deficit rather than a surplus. This may have a stimulus effect on the broader economy, as the US government has announced an infrastructure plan, with a large cost that involves using $200 billion in federal funds to try to stimulate $1.5 trillion in infrastructure improvements over 10 years. Over time sustained federal deficits are hard to remain sustainable, and one way to address them effectively is raising taxes.
Trade now