6 min read 
Yesterday the FOMC minutes revealed a very important information about the future monetary policy that Fed is likely to implement, as Fed sees next interest rate hike soon, with a modest Inflation overshoot being ok.
"It was noted that it was premature to conclude that inflation would remain at levels around 2 percent, especially after several years in which inflation had persistently run below the committee's 2 percent objective," the minutes said, Source: Yahoo Finance.
This may mean that next month most probably there will be an interest rate increase by the Fed, but for the rest of 2018 it is uncertain whether more interest rate hikes will follow. An important scenario to take into consideration for the US Dollar and its recent strength.
Today there is important economic data related to the economies of Germany, UK and US. In the European Session the anticipated UK GDP Growth Rate can move the British Pound, while later the UD Durable Goods figure and the Speech by Fed Chair Jerome Powell can move the US Dollar.
These are the key economic events for today in the forex market to focus on:
European Session
Eurozone: Ecofin Meeting, ECB Coeure Speech, Germany: Ifo Expectations, Ifo Current Conditions, Ifo Business Climate, Bundesbank Weidmann Speech, UK: Business Investment, GDP Growth Rate, UK Finance Mortgage Approvals, BoE Governor Carney Speech
Time: 08:00 GMT, 08:30 GMT, 13:15 GMT, 13:20 GMT, 19:20 GMT
The German Ifo Business Climate Index measures the current German business climate and expectations for the next six months, with higher than expected or rising figures considered positive for the economy of Germany and the Euro. Same analysis applies to Ifo Expectations and Ifo Current Conditions figures, higher figures are supportive for the Euro reflecting increased optimism for the economic and business outlook. The forecasts are for increases for all the Ifo figures which should provide support for the Euro. The Ifo Business Climate figure is expected to increase at 102.7, higher than the previous figure of 102.1
Important economic data for the economy of UK is expected, with the release of the estimate for the yearly and quarterly GDP Growth Rates respectively, and the Business Investment reading. Higher than expected or rising figures are considered positive for the British Pound. After the economic data yesterday about the Retail Sales which came in beating the estimates, being stronger than expected, any positive economic surprise may provide support for the British Pound.
The forecasts are for a slower GDP Growth both quarterly and yearly, with expected figures at 0.1% and 1.2% respectively, compared to the previous figures of 0.4% and 1.4% accordingly. Also the Business Investment figure is expected to decline at 2.4%, lower than previous figure of 2.6%As seen from the chart the UK GDP Annual Growth Rate has been steadily declining as of first quarter of 2017, reflecting economic slowdown.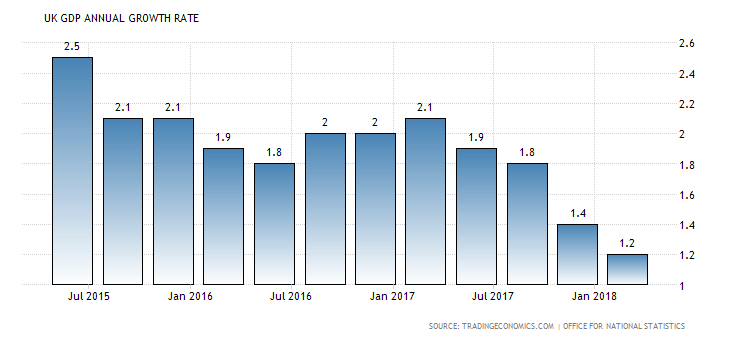 There are also some important speeches today to monitor, from the BoE Governor Carney, from the ECB Coeure and from the Bundesbank Weidmann. All these speeches may add further volatility in the forex market with any updated information on economic conditions.
American Session
US: Durable Goods Orders, Fed Chair Powell Speech, Michigan Consumer Sentiment Final, Fed Evans Speech, Fed Bostic Speech, Fed Kapan Speech
Time: 12:30 GMT, 13:00 GMT, 14:00 GMT, 15:45 GMT,
There are two important economic data releases for the US Dollar, the Durable Goods Orders, which measure the change in the total value of new orders for long lasting manufactured goods, including transportation items and the Michigan Consumer Sentiment Index, which rates the level of current and future economic conditions. Higher than expected readings for both economic data are considered positive for the US Dollar. The forecasts are for a decline for the Durable Goods Orders having a reading of -1.4%, lower than the previous figure of 2.6%, and an unchanged Michigan Consumer Sentiment Index at 98.8.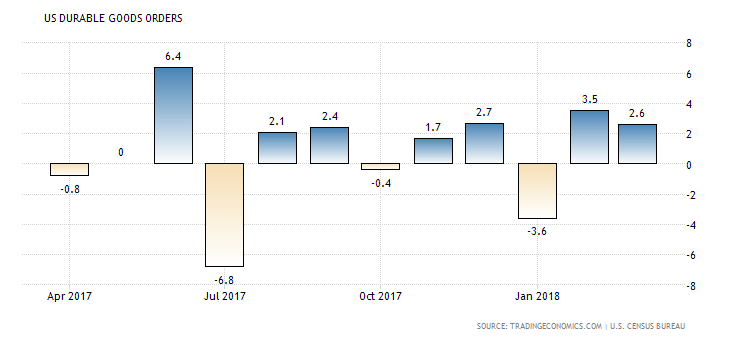 As seen from the chart the trend for the US Durable Goods Orders is both very volatile and undefined, with significant increases and declines.
Pacific Session
Australia: RBA Bullock Speech
Time: 12:00 GMT
Any speech from a Central Bank Official has interest and must be monitored, having the potential to move the local currency based on updated economic conditions statements.
Trade now
NOTE: This article is not an investment advice. Any references to historical price movements or levels is informational and based on external analysis and we do not warranty that any such movements or levels are likely to reoccur in the future.
In accordance with European Securities and Markets Authority's (ESMA) requirements, binary and digital options trading is only available to clients categorized as professional clients.
GENERAL RISK WARNING
CFDs are complex instruments and come with a high risk of losing money rapidly due to leverage.
76% of retail investor accounts lose money when trading CFDs with this provider.
You should consider whether you understand how CFDs work and whether you can afford to take the high risk of losing your money.