4 min read 
The trading week for July 9-13 is ending today with an economic calendar including economic data mainly related to the US economy and an Ecofin Meeting. There are speeches by central bank senior officials, the Fed and the BoE, and the most important key economic events are the Michigan Consumer Sentiment Index and the Fed Monetary Policy Report. Low to moderate volatility should be expected today, with probably increased price action for the US Dollar.
These are the main economic events in the forex market for today to focus on:
European Session
Eurozone: Ecofin Meeting, UK: BoE Cunliffe Speech
Time: 24h, 11:00 GMT
The Economic and Financial Affairs Council is focusing on economic and financial aspects such as economic measures, budgetary policies, public finances, capital movements and financial markets. It could move the Euro if any new or updated financial decisions are made about the Eurozone. The BoE Cunliffe Speech after the recent political turmoil in UK and the Brexit developments should be monitored as it may influence the British Pound.
American Session
US: Michigan Consumer Sentiment Index Prel, Michigan Current Conditions Prel, Michigan Inflation Expectations Prel, Michigan 5-year Inflation Expectations Prel, Michigan Consumer Expectations Prel, Fed Monetary Policy Report, Fed Bostic Speec
Time: 14:00 GMT, 15:00 GMT, 16:30 GMT
Several Michigan Indexes are released today, and higher figures for all of them are considered positive and supportive for the US Dollar, reflecting the level of personal consumer confidence in economic activity, the expectations about the Inflation Rate and current and short-term future economic conditions. Higher readings for the Michigan Consumer Sentiment Index indicates at a large extent higher future consumer spending which is stimulating for economic growth, measured by the GDP level.
"The University of Michigan's consumer sentiment for the US stood at 98.2 in June 2018, compared with a preliminary reading of 99.3 and slightly above May's 98. Both consumer expectations and current economic conditions came in weaker than initially thought.", Source: Trading Economics.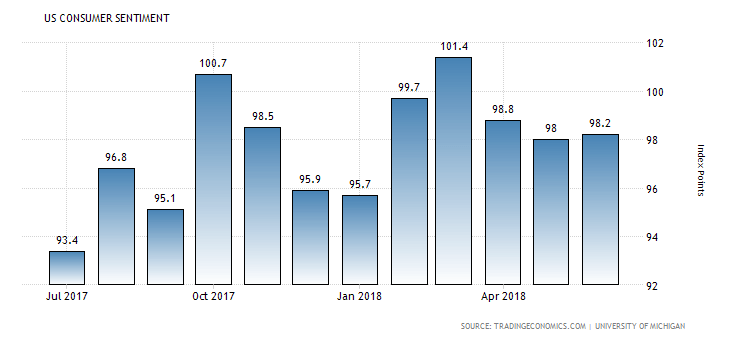 As seen from the above chart the US Consumer Sentiment Index is in an uptrend in 2018, with the lowest figure in January 2018, and the highest in March 2018 at 101.4. The forecast is for an unchanged figure of 98.2, which may have a neutral effect on the US Dollar. Any economic surprise though, either positive or negative may add further volatility for the US Dollar upon their announcement.
The Fed Monetary Policy Report contains important information on monetary policy and economic developments and prospects for the future. It will be monitored and analyzed by the forex market participants for further insights on the future of the monetary policy, whether it will be tighter leading to more interest rate hikes, the estimates for inflation and economic growth. Statements that are hawkish about the economic activity are considered be supportive for the US Dollar.
Trade now
NOTE: This article is not an investment advice. Any references to historical price movements or levels is informational and based on external analysis and we do not warranty that any such movements or levels are likely to reoccur in the future.
In accordance with European Securities and Markets Authority's (ESMA) requirements, binary and digital options trading is only available to clients categorized as professional clients.
GENERAL RISK WARNING
CFDs are complex instruments and come with a high risk of losing money rapidly due to leverage.
73% of retail investor accounts lose money when trading CFDs with this provider.
You should consider whether you understand how CFDs work and whether you can afford to take the high risk of losing your money.