3 min read 
The Forex market trading session for today has only economic data related to the economies of US and Canada, with a European Council Meeting and Euro Summit. Volatility should be moderate mainly for the US and the Canadian Dollar.
These are the main economic events for today:
American Session
Fed Bostic Speech, Canada Retail Sales, Canada Inflation Rate and Core Inflation Rate
Time: 12:10 GMT, 12:30 GMT
The Retail Sales and the Inflation Rate in Canada can move significantly the Canadian Dollar, with higher than expected or rising figures being positive and supportive for the Canadian Dollar, indicating increase consumer spending, higher future economic growth and inflationary pressures in the economy.
The forecasts are for an increase in the Retail Sales on a monthly basis, with a figure of 1.1%, higher than the previous figure of -0.8%, and increases for both the Inflation Rate and the Core Inflation Rate on a yearly basis, with figures of 2% and 1.4% respectively, compared to the previous numbers of 1.7% and 1.2% respectively. As seen from the chart, the CPI Index in Canada is in an uptrend, as of year 2000, and if this trend continues, there are increased probabilities of a tighter monetary policy, and future interest rate increases by the Bank of Canada, which should be positive for the Canadian Dollar.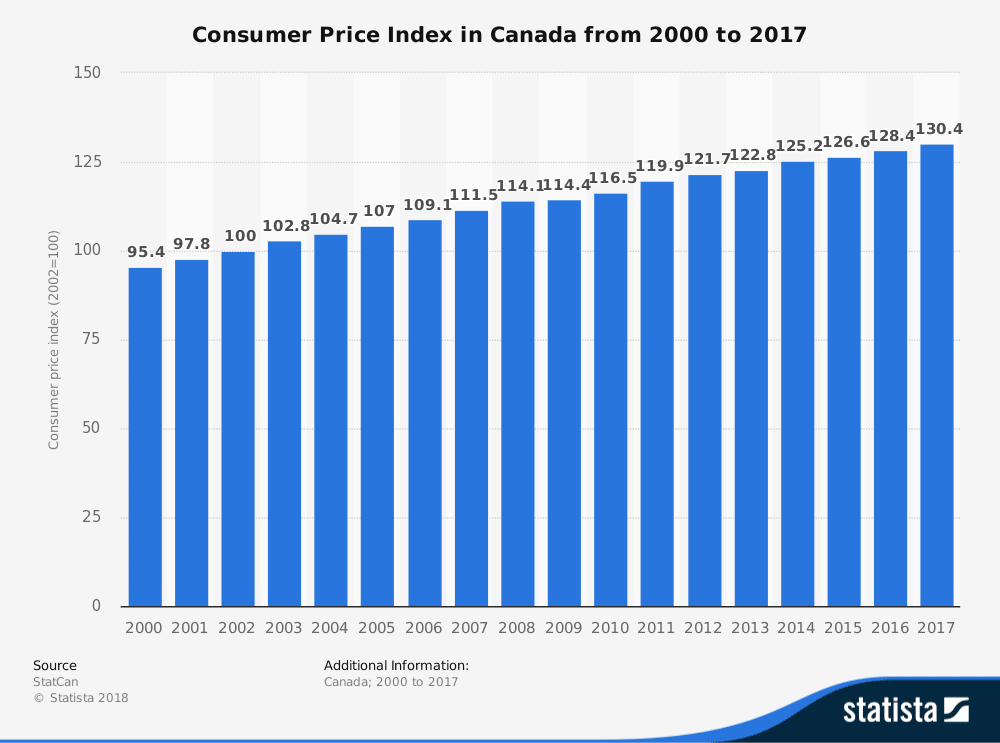 US Durable Goods Orders, New Home Sales, Fed Kashkari Speech, Fed Kaplan Speech, Fed Rosengren Speech
Time: 12:30 GMT, 14:00 GMT, 14:30 GMT, 15:30 GMT, 23:00 GMT
As seen from the chart, the US Durable Goods Orders are volatile with an undefined trend. They measure the value of orders for long lasting goods, mainly over three years. They reflect the consumer sentiment and optimism on economic conditions, and the state of the economy as well. Increased consumer confidence leads to higher economic growth and higher figures or Durable Goods Orders, being supportive for the US Dollar.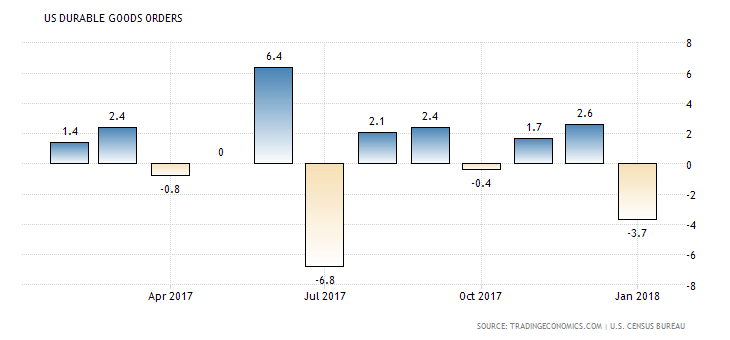 The forecast is for a figure of 1.5% on a monthly basis, an increase compared to the previous figure of -3.7%. Also an increasing number of New Home Sales will be positive for the US Dollar, reflecting a strong housing market, which has a high correlation with the state of the US economy. The forecast is for an increase of the New Home Sales, with a figure of 0.623 Million, higher than the previous figure of 0.593 Million.
Trade now
NOTE: This article is not an investment advice. Any references to historical price movements or levels is informational and based on external analysis and we do not warranty that any such movements or levels are likely to reoccur in the future.
In accordance with European Securities and Markets Authority's (ESMA) requirements, binary and digital options trading is only available to clients categorized as professional clients.
GENERAL RISK WARNING
CFDs are complex instruments and come with a high risk of losing money rapidly due to leverage.
77% of retail investor accounts lose money when trading CFDs with this provider.
You should consider whether you understand how CFDs work and whether you can afford to take the high risk of losing your money.