6 min read 
The US 4th quarter GDP final revision came in a bit hotter than expected and helped the dollar gain strength. While the news is hawkish regarding the FOMC and bullish regarding the dollar traders should beware the market. This move is in line with the data but does nothing to alter near term fundamentals. The FOMC has just raised rates to combat rising inflation and is expected to do so again very soon. What traders should really be focused on is tomorrow's release of Personal Income and Spending data, and more specifically the PCE Prices Index.
Yesterday's data was good don't get me wrong. The problem, the dollar bulls at least, is that it is rear looking. It supports what the FOMC has done, it is consistent with their outlook, it does not shed light on what is happening now and that is the data which will move the FOMC to act again.
So, 4th quarter GDP was revised up, as expected, to 2.9%. The previous estimate was 2.5%, analysts had been expecting 2.7%. The increase is due to upward revisions in consumption that bode well for future GDP increases. Consumption has been lagging over the past few years and is a pillar of the economy, if it picks it will add momentum to economic expansion. On the inflation front 4th quarter PCE prices held steady at 1.9% core.
Thursday morning EST, look out for US Income and Spending. Both income and spending are expected to increase as is PCE prices. Core inflation, YoY PCE prices, is expected to tick higher to 1.6% and a bit closer to the Fed's 2.0% target. A hot number will up the chance another hike will come at the June FOME meeting and that will send the dollar higher. Maybe.
The EUR/USD had been moving sideways just above support targets and then fell on the news. The pair moved down to retest support at 1.2370 and so far, that support is holding. A move below there would be bearish but with some caveats. The first is that support targets exist just below and, other than the PCE, there is no other data due out this week that may move it. Traders are warned to beware support and resistance targets as they may produce whipsaw reversals within the longer-term trading range.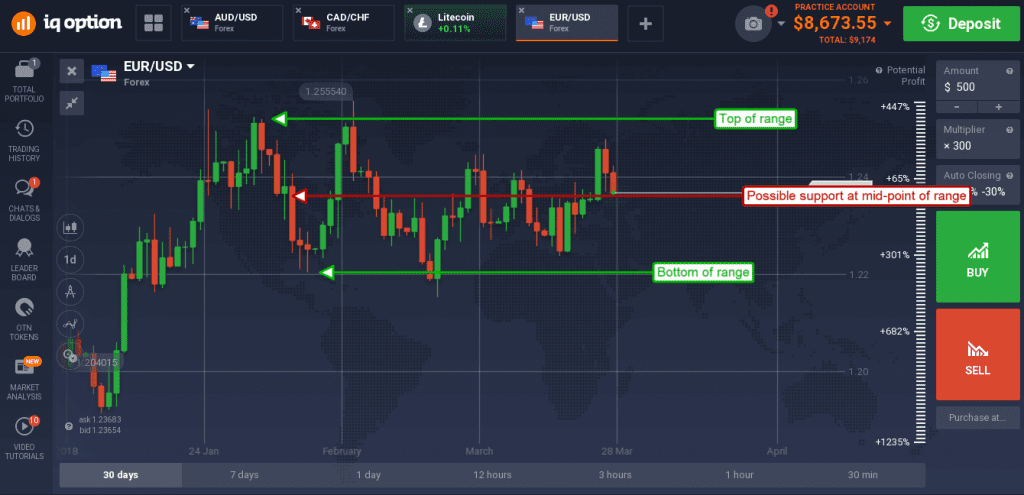 In other news both the UK and Canada are expected to release GDP figures and either could impact dollar markets. UK 4th quarter GDP is expected to hold steady at the previously released 1.4%. This alone will help the pound hold steady against the dollar, a hot number may help it move higher. The risk is US PCE which is news that will dominate Thursday's session.
The USD gained strength versus the GBP in wednesday's session, pushing the GBP/USD down from the 1.4200 resistance line. The pair looks like it could go lower and may continue to fall in the overnight session on expectations for tomorrow's news. A move down to 1.4072 looks likely, a break below there may go to 1.4000 in the near term.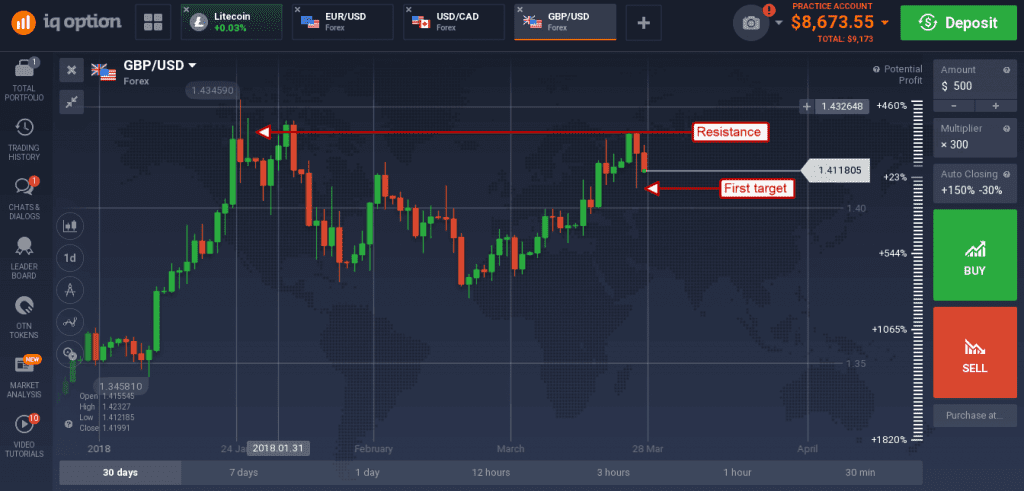 The greenback gained strength versus the loony as well. Yesterday's action produced a bounce from strong support within an uptrend. The indicators do not confirm so the bounce may not go much higher, with the warning tomorrow's data is sure to be a mover. Along with the US PCE is a GDP revision from Canada.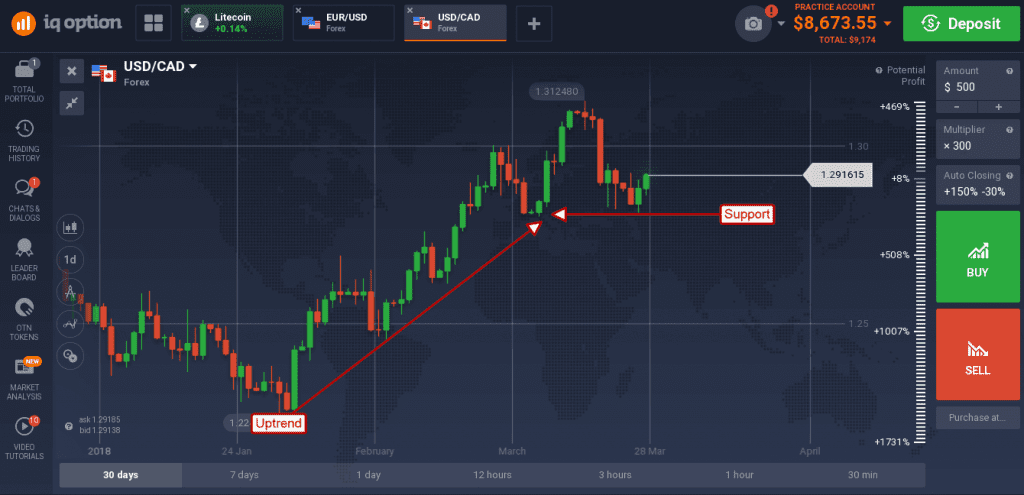 Canada is expected to reduce its 4th quarter GDP to 2.9% from the previous 3.3% and still strong, if less than previously thought. There is potential for resistance at 1.295, a break above there would be bullish for the pair.
Trade now
NOTE: This article is not an investment advice. Any references to historical price movements or levels is informational and based on external analysis and we do not warranty that any such movements or levels are likely to reoccur in the future.
In accordance with European Securities and Markets Authority's (ESMA) requirements, binary and digital options trading is only available to clients categorized as professional clients.
GENERAL RISK WARNING
CFDs are complex instruments and come with a high risk of losing money rapidly due to leverage.
76% of retail investor accounts lose money when trading CFDs with this provider.
You should consider whether you understand how CFDs work and whether you can afford to take the high risk of losing your money.