3 min read 
The US Dollar has been trending lower since the start of the year as US economic growth has disappointed relative to expectations. This can be seen in the charts below as both major currency pairs are about 5% from the beginning of the year when dollar bullishness peaked.
Look for this weakness to continue as the Fed strikes a dovish tone.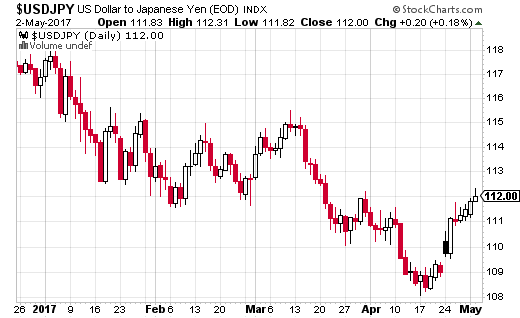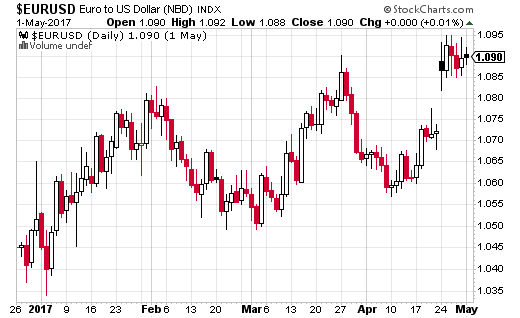 Uncertain Fiscal Situation
Going into the year, the market was expecting some serious fiscal stimulus in the form of tax cuts for corporations and individuals and infrastructure spending. It was reasonable to assume that these would pass given the Republican control over the legislative and executive branches.
This translates into a stronger dollar as the Fed would be forced to hike more aggressively. This fiscal stimulus would be inflationary given tightness in the labor market and the mature economic recovery. However, this legislation has failed to pass, and the unity within the Republican Party seems to have collapsed on major issues like infrastructure, tax cuts and healthcare.
The lack of fiscal stimulus means that there is no urgency to the Fed's hiking schedule.
Slowing Economy
On top of hopes for fiscal stimulus being dashed, the economic outlooks seems to be growing cloudier by the day. First quarter economic numbers were underwhelming with misses in manufacturing, retail sales, and employment figures.
While the absence of fiscal stimulus will decelerate the Fed's timetable, the weak economic growth could actually put the Fed on hold until there is more clarity. Fed Chair Janet Yellen's tenure is defined by being "data-dependent". Well, the data is saying that the US economy is weaker than the Fed's forecasts.
70% Chance of a Rate Hike by June
Despite the two developments detailed above since the last Fed meeting, fed futures continue to indicate a high degree of confidence that the Fed is going to hike interest rates at least once by June. Thus, there is actually more room on the downside for the dollar if these odds decrease.
Today's meeting will give a great deal of insight whether the Fed is letting these developments affect its forecast and hiking timetable. Any hint of dovishness will translate into a weaker dollar especially given the market's expectation for a rate hike by June.
Trade on USD