6 min read 
Outlook among forex traders for the first week of 2018 is caution. There is a lot of data due out, US tax reform is set to become law and a new FOMC chairperson is only weeks away from taking office. Needless to say there could be quite a bit of volatility. The dollar has been weakening over the holiday's but still trending within ranges that have dominated for the past few months. While it is not expected to break out it could make significant moves within those ranges.
In the US tax reform law comes into effect Monday ushering in a new age in US competitiveness. The news itself is not a major market mover for the dollar but does signal the start of expanding economic growth. Looking forward this could easily drive the FOMC to more rate hikes than what the market is currently expecting. In more current events there is also big news expected on the economic front with monthly labor data including ADP, Challenger and NFP as well as reads on the ISM indices.
The UK is also expecting some data but it is a bit limited in comparison to what is expected from the US. The biggest mover will be the various PMI indices released over the course of the week. While each is expected to show growth none are expected to produce strong results or to overshadow US labor data. The past saw 228,000 new jobs in the US, anything near that level will be bullish for the dollar.
The GBP/USD has been moving higher over the holiday as the dollar gave up ground but the move may be reaching an end. The pair is fast approaching resistance at the top of the near term range and not likely to break through without surprise data. The indicators are bullish but consistent with range bound trading; MACD is very weak and stochastic is nearing overbought while within a range. Resistance is near 1.3550, a break of which may be bullish.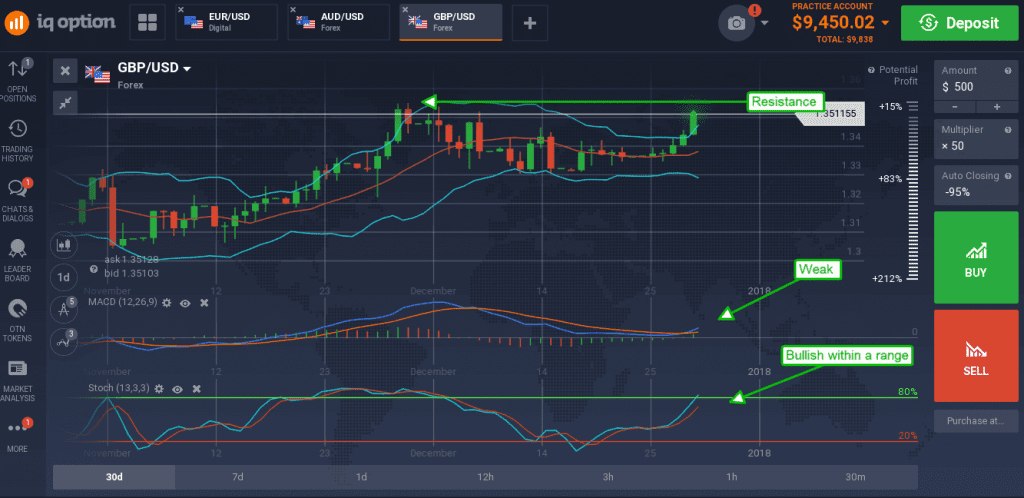 The EU is expected to produce quite a bit of data next week including local reports from many member nations and data for the broader economic arena. The top movers are likely to be PMI and CPI data for the broader union although German unemployment and labor data may come in a close second. Both PMI and CPI are expected to show growth but once again both are expected to remain tame and well below the ECB's target rate.
The EUR/USD is also moving up within a range but fast approaching resistance. The indicators are both bullish and suggest resistance will be tested but a break through to new highs is far from certain. Resistance is near 1.20750, a confirmation of which would leave the pair within a long term trading range.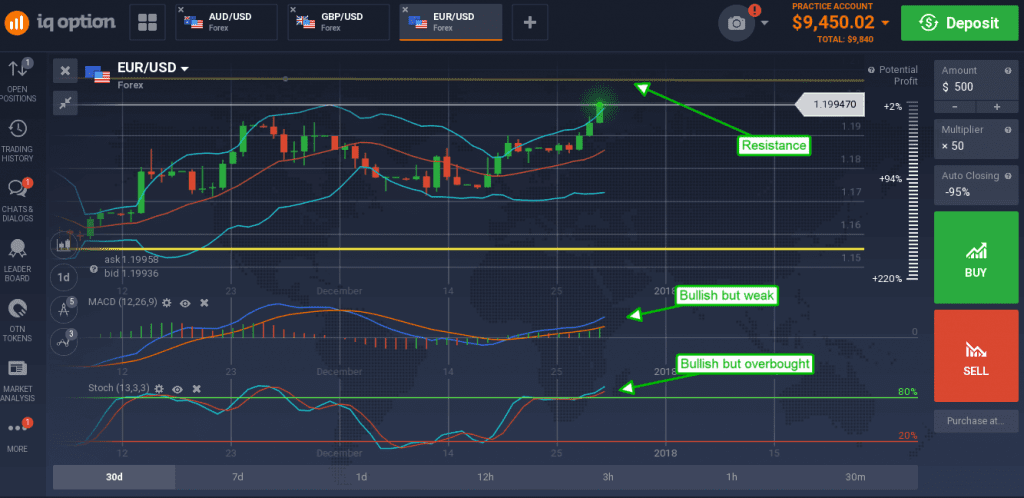 Canada will also be releasing some key data but nothing expected to overshadow US labor data.
The USD/CAD has been moving lower on holiday weakness in the dollar and now testing support near the 1.2525 level with a chance of moving lower. A continuation of the near term down trend could take the pair as low 1.2435 but that is uncertain at this time. The indicators are both bearish and consistent with a test of support, the caveat is that stochastic is rolling over in confirmation of support.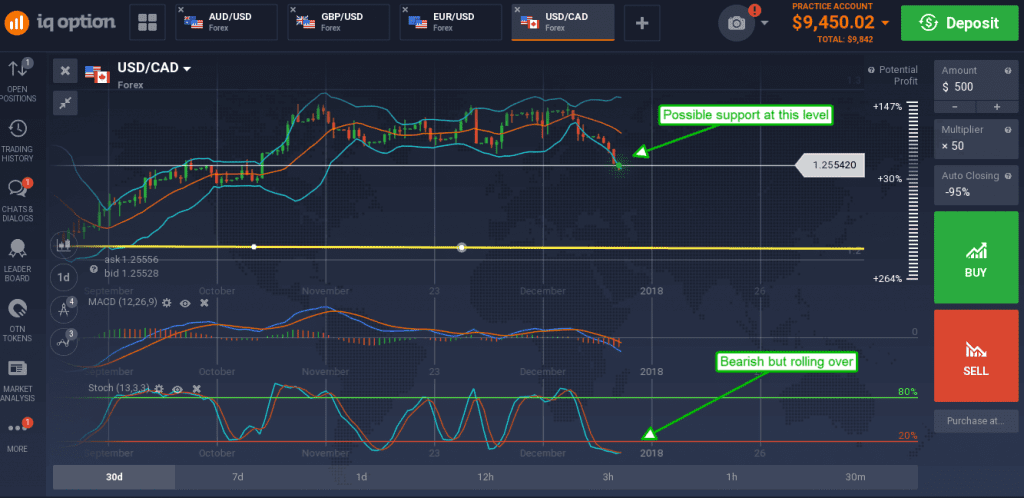 A bounce from this level would be consistent with the breach of the lower Bollinger Band but may only result in sideways trading over the next week. The NFP is the key piece of data next week and not released until Friday.
Trade now
NOTE: This article is not an investment advice. Any references to historical price movements or levels is informational and based on external analysis and we do not warranty that any such movements or levels are likely to reoccur in the future.
In accordance with European Securities and Markets Authority's (ESMA) requirements, binary and digital options trading is only available to clients categorized as professional clients.
GENERAL RISK WARNING
CFDs are complex instruments and come with a high risk of losing money rapidly due to leverage.
76% of retail investor accounts lose money when trading CFDs with this provider.
You should consider whether you understand how CFDs work and whether you can afford to take the high risk of losing your money.