5 min read 
The FOMC has just released the minutes for the September meeting and the news is as expected. The FOMC is leaning toward policy adjustment and likely to do so by December of this year if not sooner. This latest news is another piece of inflationary evidence that has arisen since Janet Yellen let slip the FOMC may have "misjudged" inflation.
The minutes revealed that most members favored another rate hike by the end of this year while few thought it wise to wait until inflationary pressures were more present. There was additional debate over inflation and the slow pace it has set up until this point. Most think inflation will rise at a slower than expected rate but there is a caveat… this meeting occurred before the most recent round of inflationary data. Data that led to Yellen's comment about misjudging inflation and data that shows inflation is creeping into the US economy.
Earlier this month ISM Services, ISM Manufacturing and the NFP report all showed signs of rising inflation. Both the ISM reports showed surprisingly large jumps in prices paid as did the average hourly earnings. These are all fundamental drivers of inflation and led to a jump in rate hike expectations, there is now at a roughly 88% chance of an FOMC rate hike in December and those odds are likely to rise in the next few days.
Looking to Thursday and Friday we are expecting another round of data likely to bolster inflationary expectations and push forward the FOMC interest rate hike time line. These are PPI, CPI and to a lesser extend Retail Sales. Both PPI and CPI are expected to show increases over last month with risk of surprising to the upside. PPI is expected to increase by 0.4% from last months gains of 0.2% while CPI is expected to come in hotter at 0.6% and both leading the economy toward the Fed's 2% YOY target.
The dollar moved lower on this news as it did little to inflate rate hike expectations. If anything, it set the market for PPI and CPI data later this week. The EUR/USD rose on the news extending a bounce from support it began earlier this week. This bounce is driven by stronger than expected trade data from Germany and the UK which points to expanding and strong economic activity in the EU.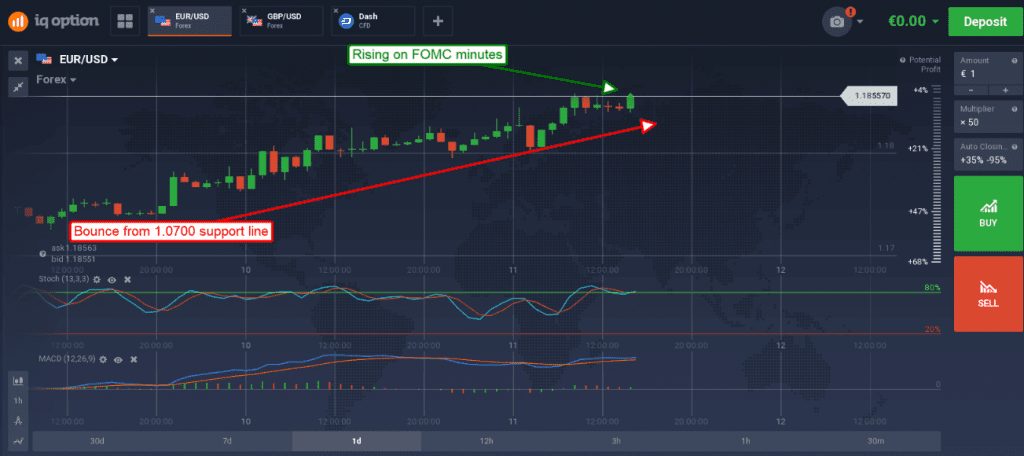 Today's move has the pair moving up toward the 1.0950-1.0200 resistance target. This target is the underside of an important up trend line and at/near the current long term high so a potentially strong level. The indicators are bullish and firing a strong entry signal so it looks like resistance targets will be tested in the least. Weaker than expected PPI and CPI will undoubtedly weaken FOMC outlook and the dollar, this could lead to a break of resistance targets and re-confirmation of uptrend.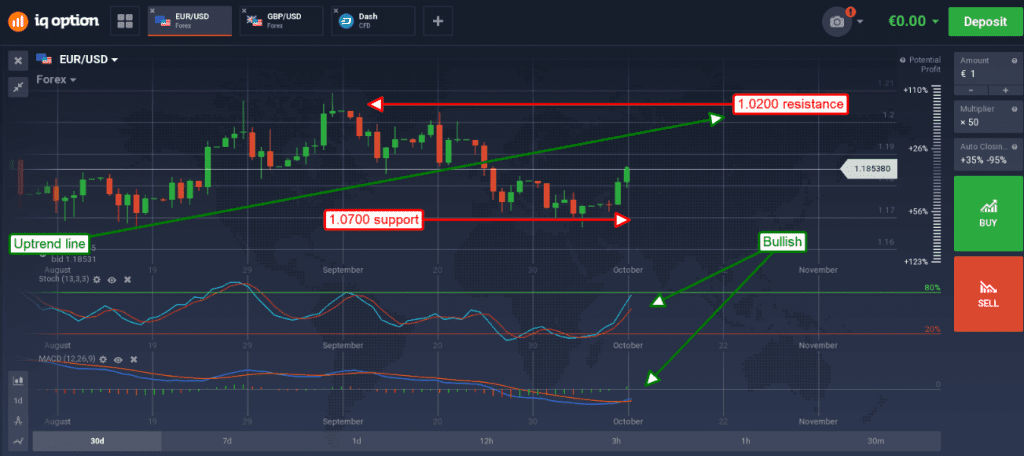 A failure to break above this level, possibly due to strong inflationary data, would confirm reversal. This would keep the pair range bound until the next catalysts with support targets near the recent the lows around 1.0700.
Trade now
NOTE: This article is not an investment advice. Any references to historical price movements or levels is informational and based on external analysis and we do not warranty that any such movements or levels are likely to reoccur in the future
GENERAL RISK WARNING
The financial services provided by this website carry a high level of risk and can result in the loss of all your funds. You should never invest money that you cannot afford to lose.