8 min read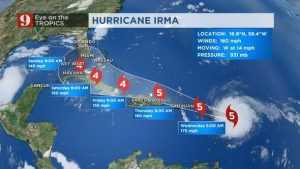 Irma, one of the most powerful storm to form in the Atlantic Ocean, was heading toward Caribbean islands Tuesday on a path that may bring it ashore in Florida and destroy so much property that damages may surpass Hurricane Katrina. Irma has sent cruise lines and insurance stocks plunging, with Barclays estimating insured losses in a worst-case scenario at $130 billion.
Natural gas slid on speculation that the storm will wipe out demand for the power-plant fuel, and orange and cotton futures surged on potential crop damage. Irma comes less than two weeks after Hurricane Harvey smashed ashore in Texas, knocking offline almost a quarter of U.S. oil refining capacity and causing widespread damage, power outages and flooding. While the latest models show the latest storm veering away from gas and oil platforms off the coast of Texas and Louisiana, sparing Houston more devastation, it threatens to wreak havoc upon the Caribbean islands and Florida.
Irma "is the kind of storm where you get thousands of lives lost," an expert. "This is not going to be the big slow-motion flood like Harvey — this is a real, honest-to-God hurricane." Irma's top winds were 300 kilometres an hour late Tuesday, making the system a Category 5, the highest measure on the five-step scale. It's on track to strike or graze Caribbean islands from Antigua to Puerto Rico through Wednesday, and Cuba by Saturday. Expect pressure on oil, insurance and curise companies!
Draghi's Next Step Shaped by Views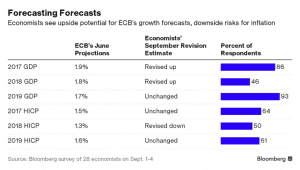 Draghi's veil over the next steps in relation to quantitative easing may have left the ECB with a hazy guide to the way ahead. The ECB president and his colleagues typically back up policy shifts with their economic projections, which are based on market indicators that include expectations for future policy. Except that less than four months before the current asset-purchase program is due to end, the Governing Council hasn't provided any details on the scale of stimulus beyond 2017.
The upshot is that investors are being forced to second guess the ECB's intentions, potentially leaving Draghi with a set of economic forecasts skewed by their perspectives on growth and inflation. While uncertainty in forecasting is a perennial problem for any central bank, it's especially critical for the ECB right now as officials start to deliberate how fast they might be able to bring unconventional stimulus to an end. "The ECB is setting its monetary policy based on forecasts, which are based on asset prices which reflect the market's best guess about what the ECB will do," said an expert. "The whole thing is circular."
The Governing Council starts its two-day policy meeting on Wednesday, when it will receive the latest update to its economic projections, and expectations are high that it'll hold formal discussions for the first time on its stimulus options for next year. Robust and increasingly broad economic growth has stoked speculation that asset purchases, scheduled to run at 60 billion euros a month until at least December, will be wound down even while inflation remains below target. Economists surveyed by Bloomberg predict the ECB will gradually taper buying over nine months from January.
Facebook is challenging YouTube in music space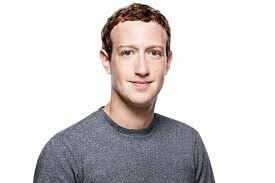 Facebook is offering major record labels and music publishers hundreds of millions of dollars so the users of its social network can legally include songs in videos they upload, according to people familiar with the matter. The posting and viewing of video on Facebook has exploded in recent years, and many of the videos feature music to which Facebook doesn't have the rights.
Under current law, rights holders must ask Facebook to take down videos with infringing material. Music owners have been negotiating with Facebook for months in search of a solution, and Facebook has promised to build a system to identify and tag music that infringes copyrights. Yet such a setup will take as long as two years to complete, which is too long for both sides to wait, said the people, who asked not to be named discussing details that aren't public.
Facebook is eager to make a deal now so that it no longer frustrates users, by taking down their videos; partners, by hosting infringing material; or advertisers, with the prospect of legal headaches. Facebook CEO Mark Zuckerberg said on the company's second-quarter earnings call that for the next few years video will drive Facebook's business and determine how well the company performs. He told investors to expect the company to continue to increase its investment in the format, as it sees video sharing overtaking text and photo sharing in the future. Good time to buy Facebook?
Today's events:
1.30 pm – US trade balance (July): deficit forecast to narrow to $43 billion from $43.6 billion. Markets to watch: US indices, USD crosses
3 pm – Bank of Canada rate decision: no change on policy expected, with the interest rate remaining at 0.75%. Market to watch: CAD crosses
3 pm – US ISM non-mfg PMI (August): forecast to rise to 54.5 from 53.9. Markets to watch: US indices, USD crosses
Trade now