4 min read 
If there is one thing that is certain about blockchain and cryptocurrency technology is that is evolving faster than any other technology on the planet. Known as "bleeding edge" by insiders the pace of technological advancement is so quick that new developments are implemented before the old are fully understood. Nowhere is this more evident than with masternode cryptocurrencies. Created to solve the two biggest issues with blockchain, masternodes are the future of cryptocurrency.
The two biggest issues, or I should say criticisms, of Bitcoin and "traditional" proof-of-work blockchains is their speed and power consumption. Bitcoin, the first PoW blockchain, is only able to process about 7 transactions per second compared Visa's ability to process thousands of transactions per second and to do it must use enormous amounts of power. The power is used to "prove" the work, to establish the fact that the network has indeed verified the next block in the chain.
Proof-of-Stake cryptocurrencies go a different route, they do no rely on hashing power and complex algorithms to ensure network integrity, they rely on trust and to maintain that trust they require miners to put up a deposit that secures a right to participate in the mining activities.
Miners are required to put up a stake, a deposit, along with X amount of computing power, and are rewarded for it through fees. Where a PoW cryptocurrency miner is looking for previously "unfound" tokens, the PoS miners are earning transaction fees based on the amount of deposit they put up. They are in effect providing liquidity for the network (the deposits are fully refundable and held in a wallet of the owner's choice) along with the computing power to operate it (far less than needed for PoW).
The issue with simple PoS is that it too has a limited amount of processing power. Simple PoS networks can process more transactions than straight PoW networks but not enough to compete with Visa and Mastercard as a viable payment processor. That's where the Masternode Cryptocurrency comes into the picture. The masternode network is a PoS network but one that is multi-leveled. Stakeholders may still make small deposits and receive small rewards, the masternode owners will make a much larger deposit, provide full support of the blockchain network (always ensures speed and other functions) and receive a much larger reward.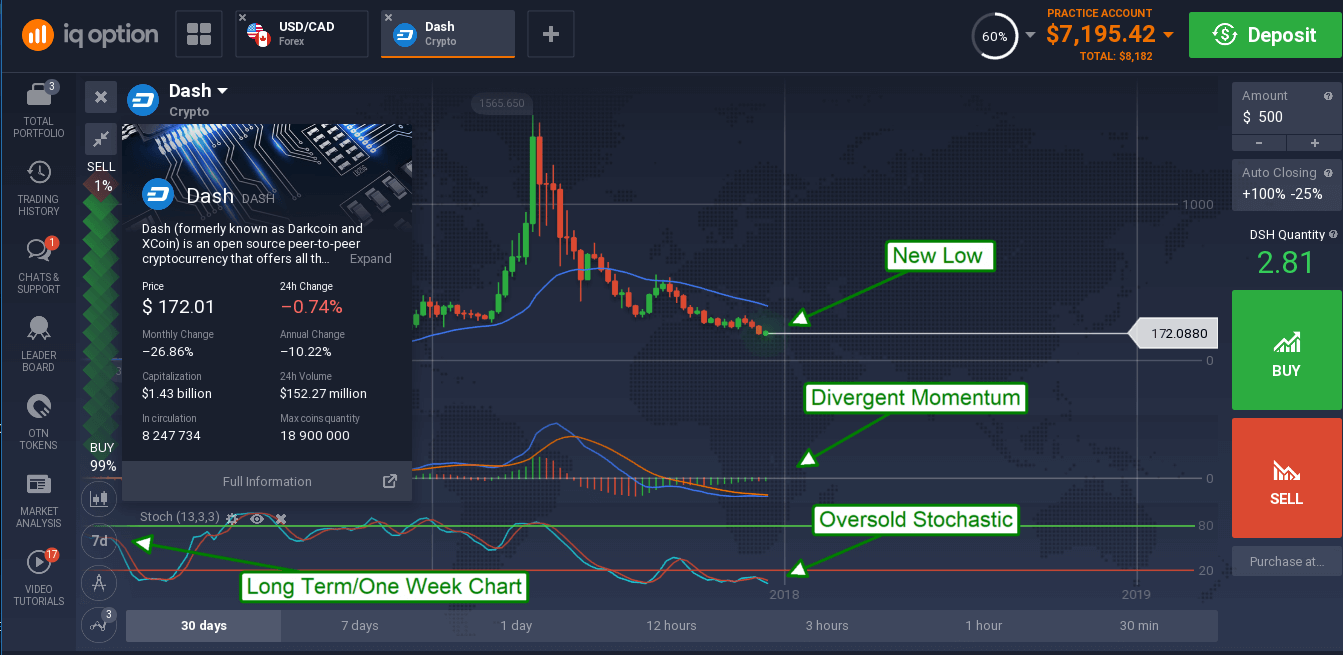 What traders need to be aware of is this; to open a masternode requires purchasing and holding a sizeable quantity of token X, DASH in the cash of Dash. This means that as the network grows tokens will get locked up, reducing their availability and that will drive up their value. IQ Option offers trading on DASH, the leading masternode cryptocurrency by market cap, trading volume and masternode value.
Trade now
NOTE: This article is not an investment advice. Any references to historical price movements or levels is informational and based on external analysis and we do not warranty that any such movements or levels are likely to reoccur in the future
GENERAL RISK WARNING
The financial services provided by this website carry a high level of risk and can result in the loss of all your funds. You should never invest money that you cannot afford to lose.