The EU's fine against Google precipitated a sell-off in tech stocks that is the next great buying opportunity.
Google Leads Tech Sector Lower
The EU has levied a fine against Google to the tune of $2.7 billion Euros. This is the largest fine ever levied in an anti-trust case involving the Internet and a move supported by Google rivals. The charges come after a 7 year investigation and claim the company favors its own shopping services in search results, why it wouldn't I have no idea, to the detriment of businesses like Yelp! and Amazon.  Google responded stating the charges are unfounded but it was not enough to reassure the market. Shares of Google took a dive on the news and have led the tech sector into… a buying opportunity.
Shares of major tech issues like Google, Apple, Amazon, Facebook and Alibaba have fallen more than -2.5% and are now testing support levels set over the course of the just-passed earnings cycle. Despite the near-term weakness and possibility Google will actually have to pay this fine forward outlook for the sector remains positive. While near-term events such as this lawsuit drive volatility it is earnings that drive long-term direction and earnings projections are strong.
The tech sector is coming off a stellar quarter, posting earnings growth of +17.5%, with double digit growth expected into the end of 2018. Second quarter growth is expected to be 10.2% and hold near that level into the end of 2017, then expand to 11.5% next year. With this in mind there is certainly no reason to get bearish on tech which makes recent downturn a corrective action. The next earnings cycle begins mid-July with the release of earnings from Wells Fargo, JPMorgan and Bank of America. Corrective action could dominate the market until then.
Shares of Google have fallen -6% from the June high and -4% from levels seen prior to the fine. The stock is indicated lower and confirmed by both indicators with the caveat of support being just below current levels. Support target is $940 to $950 near term with a chance of moving lower should negative news persist. A move below support would be bearish near term only with target near $900. Longer term Google is expected to weather this storm and continue to produce strong earnings and earnings growth.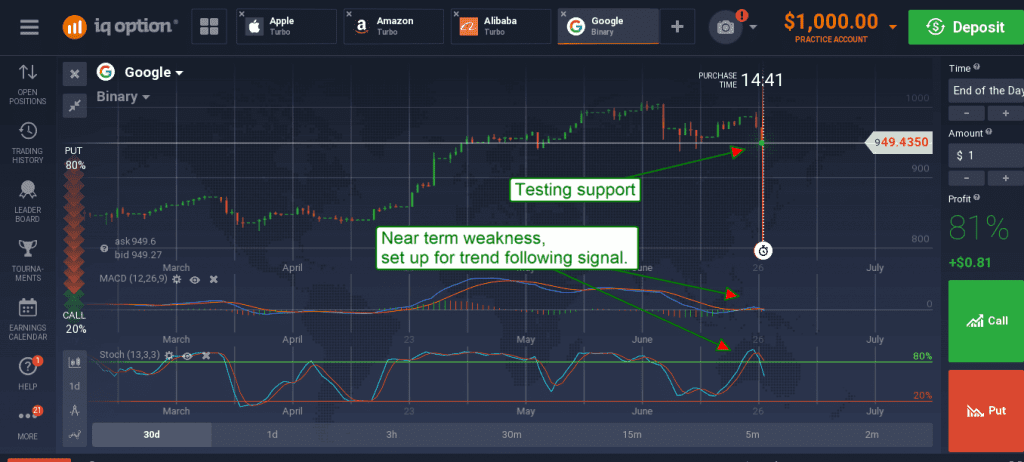 Shares of Amazon, Google's closest competitor and supporter of the EU's decision, have fallen a little more than -2.5% from their recent high and are approaching support. Firm support can be expected in the range of $950 to $970, just below current levels and where buyers stepped in earlier this month. The move lower is confirmed by the indicators, near-term outlook is bearish although the long and short term trends remain up. A touch to support ahead of earnings season and confirmed by price action would be bullish for the near to short-term.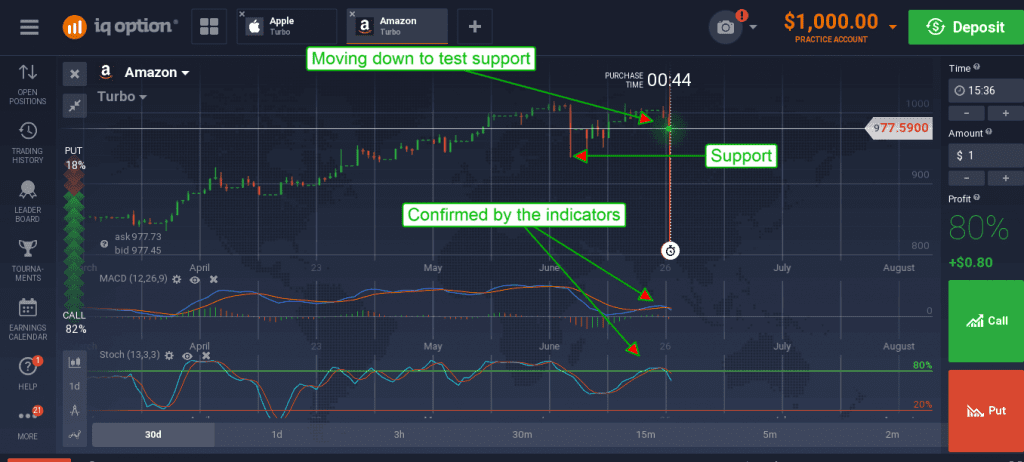 Shares of Alibaba, the Chinese based e-commerce behemoth, have also fallen roughly -2.5% from their recently set high. Shares of this stock are in clear up-trend and forming a pennant with bullish implications. Corrective action has already brought this stock to key support levels, levels from which strong signals are likely to occur. A break below the lower pennant boundary would be bearish in the near to short term with targets near $132.50, $130 and $125 in extension. A bounce from the bottom would be bullish but require a break of upper resistance levels near $142.50 to confirm more than short term trades. The indicators are showing near term weakness but, when found within an up trend, are consistent with trend following entry on confirmation of support.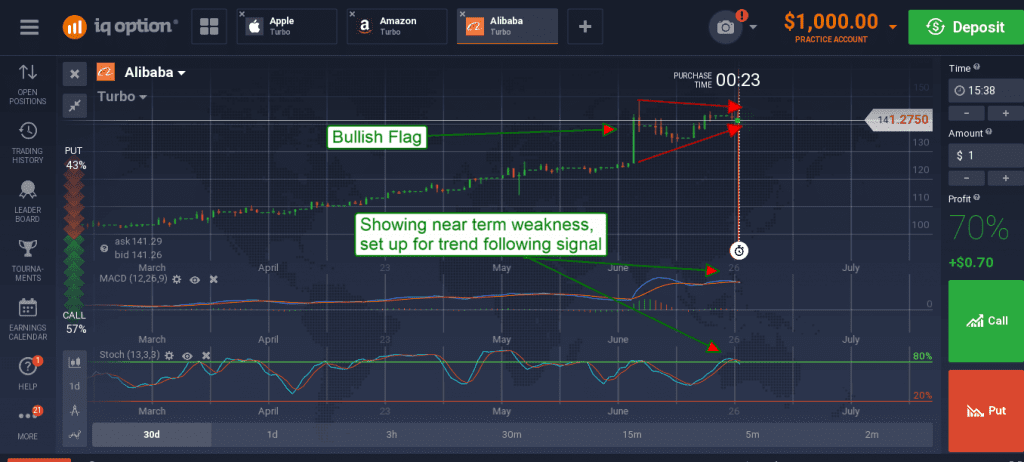 Shares of Apple have fallen closer to -2.75% from their recent high and more than -7% from the May/June top and are already exhibiting signs of bullish reversal. The stock was only marginally affected by the Google led sell-off and is approaching a retest of support that would confirm this move. MACD momentum is already shifting to the upside and confirmed by bullish crossover, stochastic is close behind and set-up to make a second crossover to confirm one made a week ago. Support levels are just below current levels near $142.50.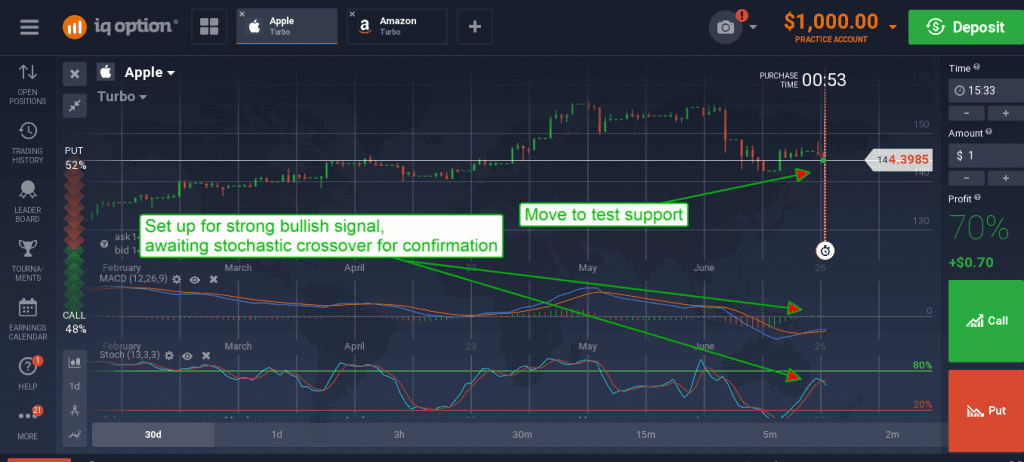 Shares of Facebook are in the same boat. This issue has fallen -3.8% in the wake of the Google led sell-off and are fast approaching support levels. Support is just below the current level, near $150, and appear strong. The stock has been in uptrend since the beginning of the year and that trend is unbroken. The indicators confirm a near term move lower but are showing no signs of full reversal.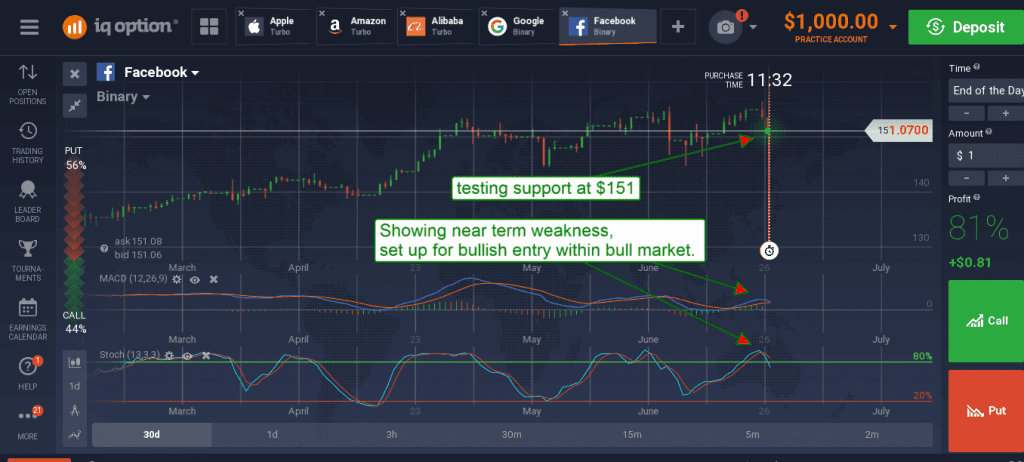 The Outlook?
Near term outlook remains weak. The tech sector as a whole has entered a near term corrective action confirmed by the indicators but there is risk in trading it. Support levels are just below current levels and likely entry points for long term investors as we enter the next earnings cycle. Earnings for the group are slated for late in July, the first will be Google. Watch support levels as we approach earnings, be prepared for confirmations of support and entry signals.
[cta_en link="https://m.onelink.me/f898adcd" name="Trade now"][/cta_en]