Developed by Block One, EOS is basically a blockchain platform that allows for development of dApps (decentralized applications). It functions like Ethereum, but it promised more features and benefits, making development of dApps a breeze. Blockchain experts compare it to Windows as the platform is somewhat of an operating system that applications can be based.
The whole idea of EOS is bringing together a variety of features offered by Ethereum (computing support) and Bitcoin (security). It strikes a balance between the two platforms, providing a simple-to-use, scalable application platform to empower the blockchain economy.
The Principle behind EOS
EOS is certainly a real contender when it comes to the dApp arena. The fact that it lowers the barrier to those seeking blockchain-powered solutions as well as new developers, it's likely to give Ethereum a run for its money. The vision behind the blockchain platform is to smoothly and securely scale thousands of transactions in every second, while at the same time providing an accessible experience to all app developers and users.
With EOS developers are able to tap into an authentication system that's fully featured, including user accounts that come complete with a number of permission levels and secured data. And there's more – cloud storage and server hosting are part of the system. This means that developers can easily build and deploy their applications with cloud storage and hosting, not to mention download bandwidth that's provided by the system.
Trading History of EOS
According to CoinMarketCap, EOS has been has had a good run, especially from October 2017 to mid-January 2018 when all cryptocurrencies started dipping. As of this writing the price of one EOS is valued at $10.06, with a coin market cap of $6,752,419,152. This is however not the best price that EOS has had. In January 18, 2018, the cryptocurrency had its best day ever, with a high of $18.71 and a coin market cap of more than $8 billion.
Although in the last one month EOS has had its share of challenges even hitting a low of $7.64 on February 02, it has constantly exhibited an upward growth, and it's expected that this will continue in the coming weeks and months.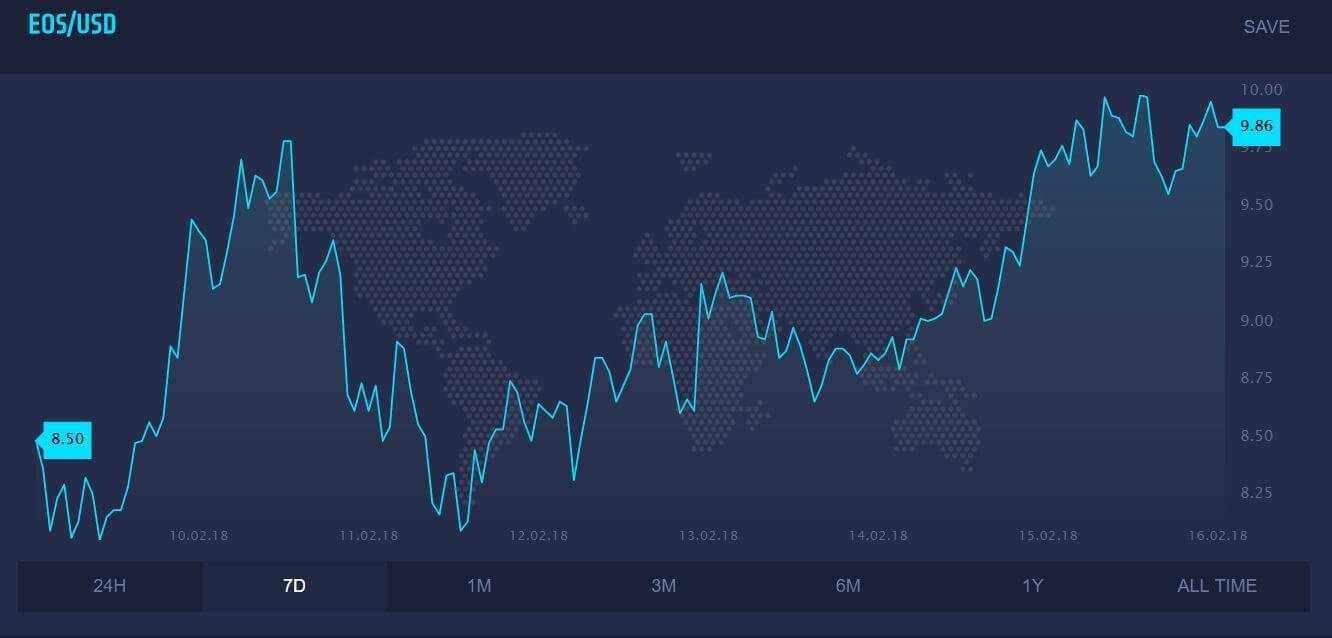 You can find the current price movements and other relevant data of EOS on Coinrate.com
EOS Integrations
EOS is developed to run integrated OS on the blockchain, running parallel apps and processes simultaneously. The platform is still in development, but the roadmap clearly shows that the platform will provide interesting technology to dApp developers. It will be a game changer in the blockchain sphere, inhibiting a widespread use on commercial scale.
When it comes to the fees charged on its platform, EOS doesn't have any limits. It will allow developers to set their own fees as to how much users will pay to use their applications. However, the platform will be free, meaning that users won't have to pay a cent to gain the benefits it offers.
When integrated on various applications, developers will have the option to upgrade the dApps whenever they feel like, without necessarily affecting the platform.
[cta_en link="https://iqoption.com/lp/ultimate-trading/en/?aff=88&afftrack=EOS1602″ name="Trade crypto"][/cta_en]