4 min read 
Digital Options have made their way to the IQ Option trading platform a while ago and a lot of people have appreciated them since then. Now, you have an opportunity to trade a completely reworked version of this instrument, called Spot Strike Digital Options. What's so special about it and why you might want to give it a try? Read in today's article.
The first thing you notice when trading Spot Strike Digital Options, is that you do not have to choose a strike price, as there is only one option available. Spot Strike options are called that for a reason. The asset price at the expiration will be compared to the strike price. The strike price, in turn, does coincide with the spot price at the opening.
New Digital Options are traded on two time frames: 1 or 5 minutes. Both are considered short-term and should be traded accordingly. It is usually said that technical analysis is better suited for short-term deals, as opposed to fundamental analysis. Yet, fundamental events can influence the price action at times of major events and announcements and should not be completely discarded.
Here is how to trade Spot Strike Digital Options on the IQ Option trading platform:
Choose the asset you want to trade,
Specify the time interval and invested amount,
Push HIGHER if you believe the asset is going to appreciate and LOWER if the opposite is true.
And that's it. Don't forget that there is an opportunity to close the deal prematurely. In this case you will receive a portion of profit / incur a partial loss based on the current price.
Spot Strike Digital Options are an instrument with fixed profitability. In case of a successful deal the trader receives the amount that is specified below the Higher/Lower buttons. In case of a loss-making deal, the trader will lose the invested amount.
Please note that the new version of Digital Options is only available to clients with a confirmed professional status.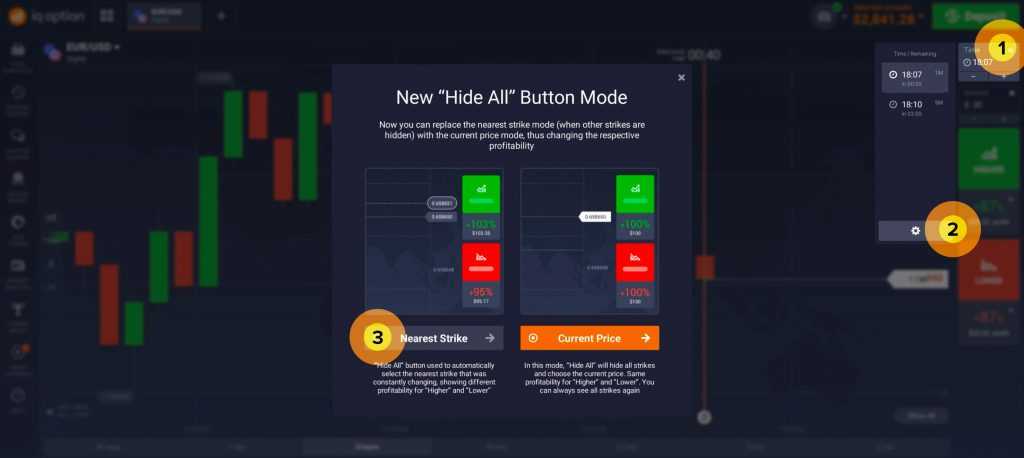 For those of you interested in conventional Digital Options, there is still a way to trade them. In order to do so click on the 'Time' box in the top-right corner of the screen and then on the small gear sign. Then choose the 'Nearest Strike' and you are good to go!
Trade now
NOTE: This article is not an investment advice. Any references to historical price movements or levels is informational and based on external analysis and we do not warranty that any such movements or levels are likely to reoccur in the future.
In accordance with European Securities and Markets Authority's (ESMA) requirements, binary and digital options trading is only available to clients categorized as professional clients.
GENERAL RISK WARNING
CFDs are complex instruments and come with a high risk of losing money rapidly due to leverage.
77% of retail investor accounts lose money when trading CFDs with this provider.
You should consider whether you understand how CFDs work and whether you can afford to take the high risk of losing your money.