6 min read 
Today's economic data did little to move markets although it was good nearly across the board. This is good for the economy and world growth, would generally be expected to strengthen the underlying currency to which each data point is attached but overshadowed by central bank expectations and meetings that are underway right now. This has led to range bound trading and wound up markets in most pairs and some tough decisions for traders. To be clear, in the next 24 hours there will be policy statements from the FOMC, the BOE, the ECB and also the SNB.
In the EU German core CPI came in at 1.8%, as expected and flat from the previous month. This news is supportive of current ECB policy, expected recovery in the EU and Germany but not enough to strengthen outlook. Data for the greater EU is a bit more positive although still not enough to really alter ECB expectations or economic outlook. Industrial production rose 0.2% in November and is up 3.7% from last year, both figures better than expected. Employment is also up, rising 0.4% in the month, and expanding from the previous month's 0.3%.
Data from the UK was equally good and was equally ineffective at substantially moving the pound. October earnings rose by 2.5% and as expected, expanding 0.2% from the previous month. The core ex-bonus gains of 2.3% was better than expected but suggests bonuses may suffer in favor of higher hourly wages. The bad news is that unemployment ticked higher by a tenth to 4.3% and missed expectations as new claims for unemployment benefits unexpectedly rose.
The EUR/GBP moved lower on the news but losses were minimal. Price action is weak with momentum near zero but that is likely to change by Thursday morning when the BOE and ECB are both expected to make policy statements. The pair is sitting just below resistance at the moving average with support just below today's low. A break of either would be significant to near term trading direction. Targets are 0.8850 to the upside ad 0.8750 to the down.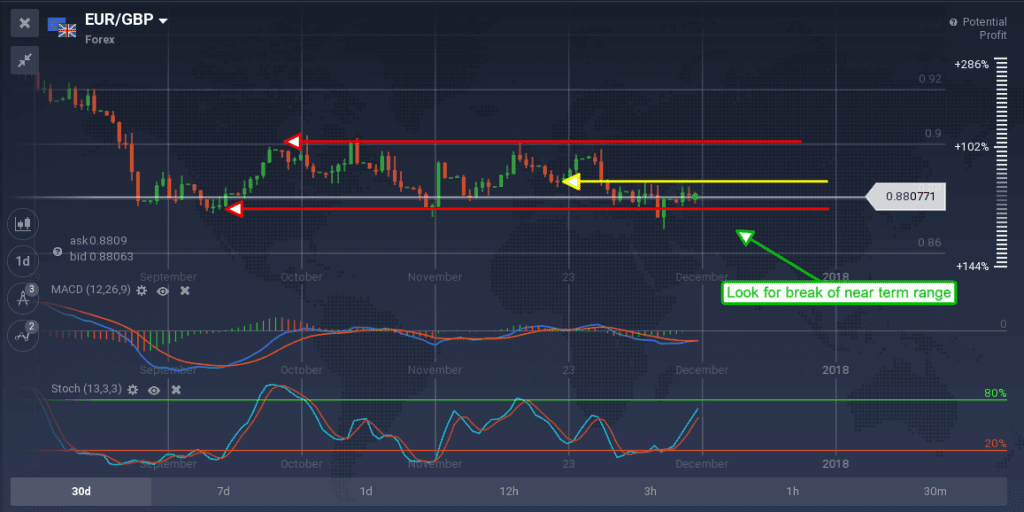 Data from the US was about the same; positive, in support of current FOMC outlook but not hot enough to alter that outlook. Headline CPI rose a modest 2.2% and as expected while core CPI came in at 1.7%. While both numbers show rising inflation at the consumer level they both remain tepid relative to Fed targets. The news helped to strengthen the dollar versus the pound and the euro but not enough to break it out of recent and narrowing trading ranges. That move is likely to come this afternoon and tomorrow morning in the wake of FOMC, ECB and BOE policy statements.
The EUR/USD moved lower but only marginally. The pair is trading within a 3 month range and being pushed lower by the moving average. The indicators are bearish and suggest lower prices with a target near the bottom of the range at 1.1600. This move will likely be sparked by the FOMC release this afternoon with a risk the ECB could give the pair support tomorrow morning. A bounce from 1.1600 or other support level within the range would be bullish but keep the pair range bound longer term. A break below 1.1600 would be truly bearish with targets near 1.1200.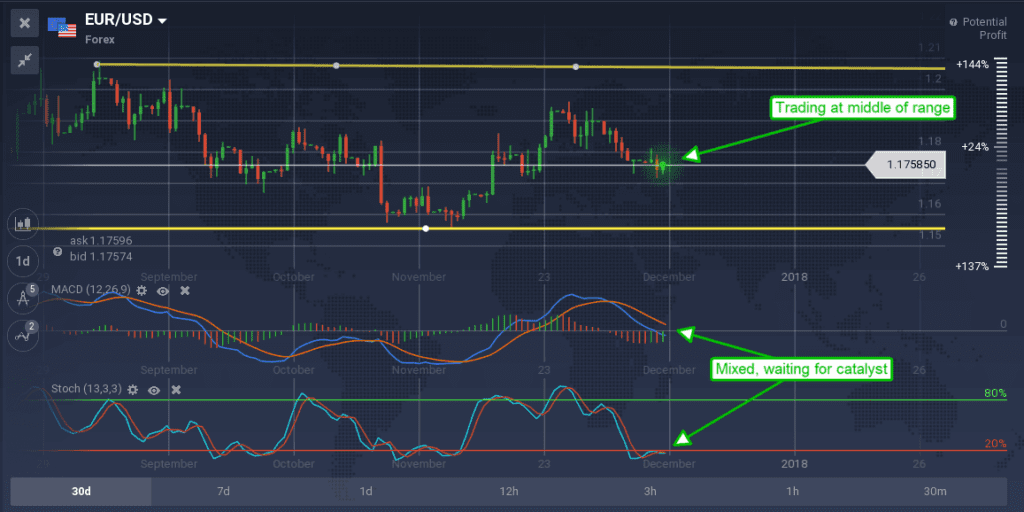 The GBP/USD was able to move higher but those gains were capped. The move shows support at the moving average, near the mid point of a short term trading range, but that support is weak.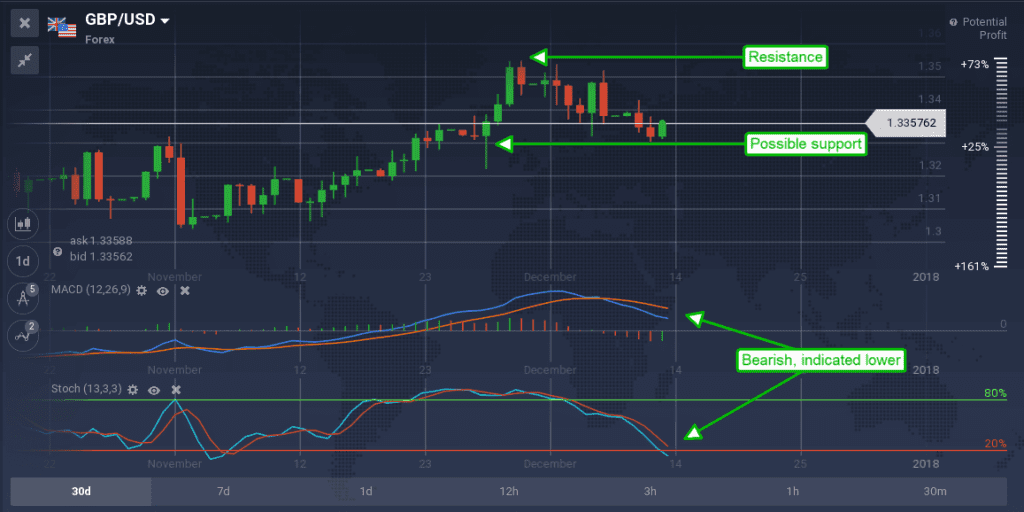 The indicators are both moving lower and point to a test of the moving average with a possibility of breaking through. Support is near 1.3300, a break of which would be bearish with targets near 1.3100.
Trade now
NOTE: This article is not an investment advice. Any references to historical price movements or levels is informational and based on external analysis and we do not warranty that any such movements or levels are likely to reoccur in the future.
In accordance with European Securities and Markets Authority's (ESMA) requirements, binary and digital options trading is only available to clients categorized as professional clients.
GENERAL RISK WARNING
CFDs are complex instruments and come with a high risk of losing money rapidly due to leverage.
77% of retail investor accounts lose money when trading CFDs with this provider.
You should consider whether you understand how CFDs work and whether you can afford to take the high risk of losing your money.