5 min read 
When Facebook announced a ban on crypto and ICO-related advertisements back in January, many praised it as a move that would help rid the crypto world of fraud as well as inform potential traders of the risks associated with the volatile market. At the same time, crypto enthusiasts were left wondering whether Google would follow suit. In the past, Google has stated that, while it does allow crypto advertisements, it currently has measures in place to combat misleading ads. However, now some are speculating that, due to mounting pressure, Google is taking steps to ban advertisements related to crypto, specifically ICOs.
Advertisers report rejected ads and suspended accounts
As reported by Financial Magnates, a number of companies using Google Adwords to promote ICOs and other cryptocurrency activity have witnessed a significant drop in their ad views. While it is possible that the decline in interest could be due to recent campaigning against the fraudulent nature of ICOs, there is another reason why numbers have been going down. It appears some ads began receiving "limited" approval from Google, which means they might not be visible to certain age groups or regions. Other ads are simply rejected, while some accounts are being suspended altogether.
Advertisers and crypto businesses alike have turned to Google Adword's community forum to discuss the issues they have faced with their advertising campaigns. Posts range from topics including "Why CryptoCurrency Accounts Block or Suspended" to "Google Account Suspended for Misrepresentation." In many cases, users have reported that Google is not offering additional details as to why their accounts have been blocked or terminated.
It seems account suspensions are extending into YouTube as well. BadCrypto, one of the most viewed crypto podcasts, tweeted about their account being terminated earlier last week.
Possible reasons behind blocked ads
One theory is that cryptocurrency ads are being blocked because they do not clearly outline the risks involved in buying or investing in cryptocurrency. According to Google's Financial Service regulations, ads promoting financial services or products should comply with state and local regulations as well as highlight any risks associated with the product. If ads do not follow these guidelines, they are deemed guilty of "misrepresentation," and they are not approved.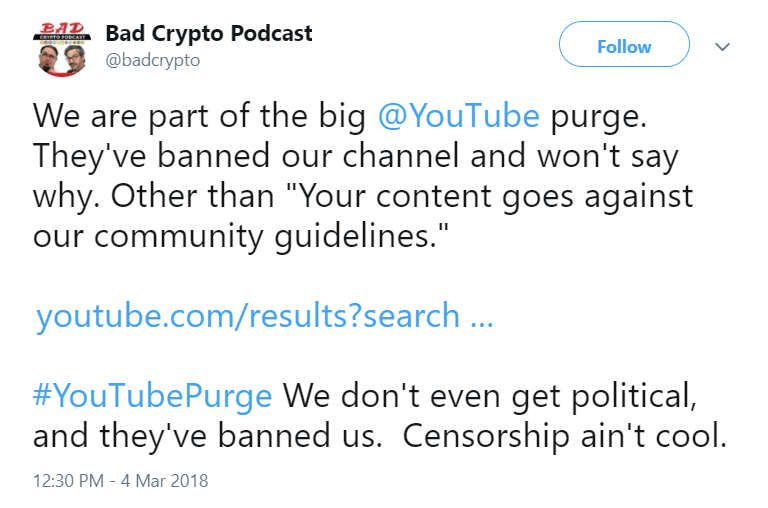 As for ads approved as "limited," this happens when products "can't be advertised in certain places or situations, like gambling, alcohol, or prescription drugs." It may well be that Google is interpreting cryptocurrency activity as "gambling," which would explain why some accounts are experiencing problems publishing their ads.
No official ban yet
As of now, Google has denied having policies in place that would forbid crypto-related advertisements. It should be noted that a Google search for the term "ICO" still yields numerous ads. However, with regulatory bodies such as the SEC constantly making the case for more cryptocurrency regulation, Google might feel the pressure to follow in Facebook's footsteps sometime soon. While Google has not released any official statements concerning a total ban, there is reason to believe this could happen in the near future.
Trade now