6 min read 
Like an ebb after a flow, cryptocurrencies have again taken a downturn. The chart is mostly red as a majority of them lost value in the last 24 hours. The total market cap also slipped to $483 billion.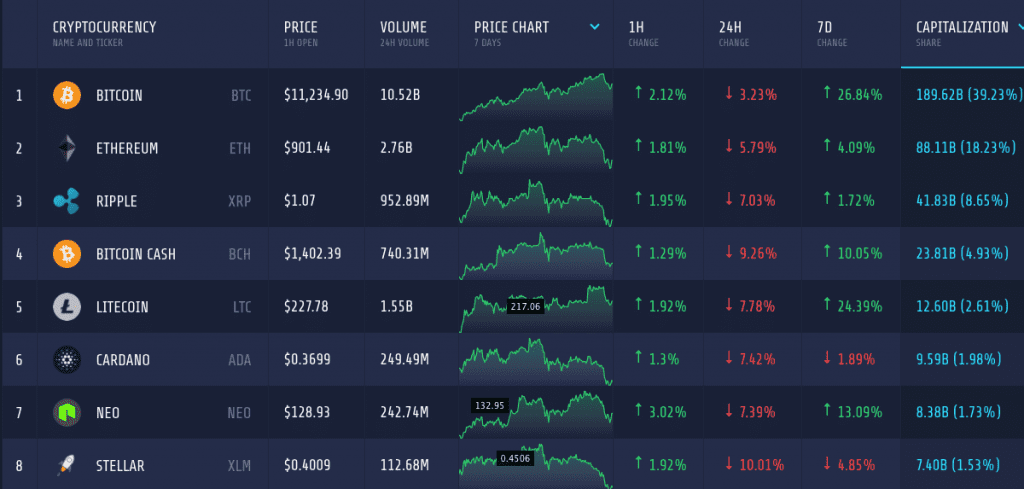 Stellar
Lately, Stellar became very popular. In a crowd of high gaining coins, this coin suddenly pushed its way in the top 10 list. However, on the current trading charts, XLM has lost its value rather than adding. The coin lost 10 percent on the daily chart, which added to the 5 percent weekly depreciation. It is holding $7.4 billion in market cap, but the trading volume is mere $112 million.
Considering the weekly chart, after a jump from $0.36 to $0.44, Stellar was trading between resistance and support at $0.45 and $0.43 respectively. With a short midweek bull, the coin ultimately breached the resistance to touch $0.475. However, it faced a stiff resistance at that peak level. With support at $0.45, XLM tested the resistance a couple of times, but it was without any luck. The resistance also resulted in a pullback and the coin dropped until it found support at $0.43. A new level of resistance formed at $0.45 which checked any further growth.
On the daily chart, a strong bear took over and the coin is losing its value ever since. The trend is steady and it took a dive from $0.44 to reach below $0.37. Recently, it found some support at $0.37 which is trying to push the coin upward.

The technical indicators are signaling positive move due to the recent support. MACD is indicating a bull and so are the oscillators – Sotch and RSI. The value of RSI is at 39 percent. 100 SMA is running above 200 SMA, but the gap between the curves is reducing at a significant pace.
Tron
Tron is one of the most controversial coins on the market. The promising technology and the strong development team have given the coin a huge boost, but some scandals also played their role. After gaining around 5 percent week-on-week, TRX slipped 10 percent on the daily chart. But the coin is still holding a market cap of above $3 billion.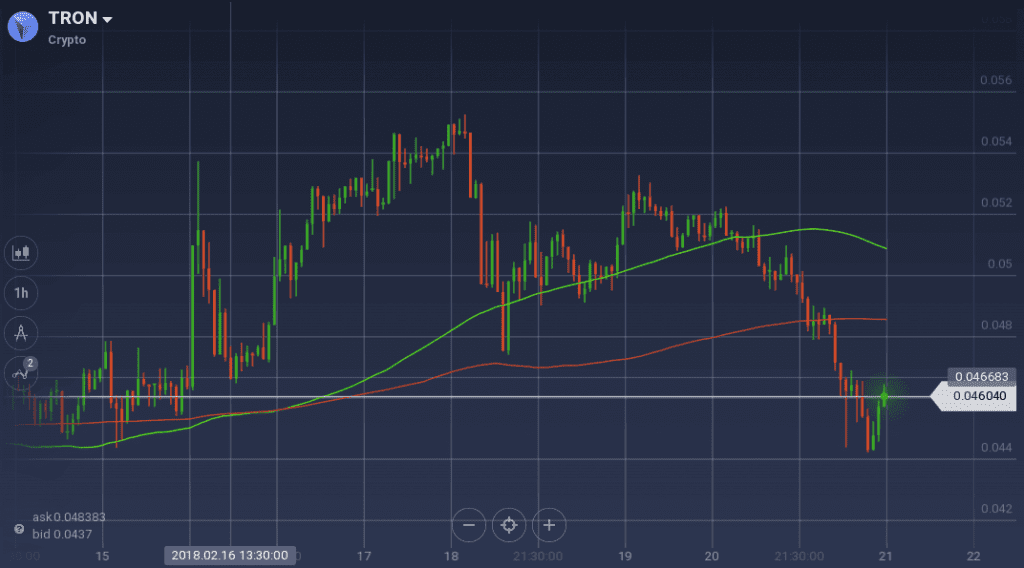 Tron had a roller-coaster ride on the weekly chart. Compared to $0.44 trading amount in the early week, TRX reached $0.55 by the midweek. The journey was far from smooth as many ebbs and flows were there on the way. After reaching the peak, TRX could not hold the value and took a dive below $0.047. However, the coin found a support level at $0.049, but resistance at $0.051 checked any recovery. Ultimately, the coin breached the resistance to reach $0.52, but there the bear took over and the coin started to go down. After dropping to $0.044, TRX is rebounding and is currently trading at $0.046.
Both the oscillators – Stoch and RSI – are showing a strong upward trend as the coin found some support. RSI is at 40 percent after hovering below the overselling mark for a while.
Market Update
Choe Heung-sik, the head of South Korea's Financial Supervisory Service, has announced that the government will support "normal transactions" of cryptocurrencies, particularly between banks and exchanges.
Tezos is one of the most controversial blockchain projects and the firm was slapped with multiple class action lawsuits last year. At a conference last weekend, Tezos co-founder Kathleen Breitman stated plans to "go rogue" and release Tezos tokens in the next several weeks.
Israel Tax Authority issued a professional circular on February 19, clarifying the country's tax policy on cryptocurrencies in general and Bitcoin in particular. "Bitcoin and its like" are discussed in what's referred to as a "final circular" on crypto and value-added tax (VAT) along with capital gains.
Conclusion
Cryptocurrencies are finding it a bit difficult to maintain their strong bulls for a significant time lately. Yet, they are going up and thus returning a good value to the investors.
Trade crypto here
NOTE: This article is not an investment advice. Any references to historical price movements or levels is informational and based on external analysis and we do not warranty that any such movements or levels are likely to reoccur in the future.
In accordance with European Securities and Markets Authority's (ESMA) requirements, binary and digital options trading is only available to clients categorized as professional clients.
GENERAL RISK WARNING
CFDs are complex instruments and come with a high risk of losing money rapidly due to leverage.
76% of retail investor accounts lose money when trading CFDs with this provider.
You should consider whether you understand how CFDs work and whether you can afford to take the high risk of losing your money.