5 min read 
Chinese regulators ban ICO's, demand refunds be given and send the crypto market into correction.
Crypto currency markets went into free fall over the weekend as Chinese regulators began a campaign against the bubbly hot ICO market. The country has enacted a nationwide ban on new ICO's pending a review of 60+ platforms designed to facilitate the offerings. The document, released by a working group within the nations Internet finance oversight committee, defined ICO's as an unauthorized fund raising tool that may involve fraud. This statement was backed up by a joint release from 7 major regulatory bodies within China verifying that ICO's were in fact an illegal fundraising activity.
The real sticking point and ultimately why the markets crashed is that China also instructed those who've already completed an ICO to begin preparations to refund their clients money. Basically, China, without regard for the International community, pulled liquidity from the market as 2.2 billion yuan worth of digital tokens were exchanged for Litecoin, Bitcoin and Ethereum and then again into yuan. The irony of the thing is that China is looking to start a crypto currency of its own.
The Hong Kong regulator, the Securities and Futures Commission (SFC), issued a statement just days later. They say that ICO's may be classified as securities in an effort to bring more regulation to the practice. In addition to overseeing the ICO market the SFC is also looking to bring oversight to the secondary market, those exchanges and platforms that deal in the trade of digital tokens.
"Parties engaging in the secondary trading of such tokens (e.g. on cryptocurrency exchanges) may also be subject to the SFC's licensing and conduct requirements."
The top three digital currencies all fell more than 20% on the news and took the entire complex down with it. The good news is that while China caused a temporary liquidity crisis they did not curtail the growth of cryptocurrencies. This means that the sell-off is more likley a buying opportunity for traders than it is a signal of impending doom. Bitcoin fell a little more than 25% from its close on Friday to it's bottom Monday morning. Even so the coin did not fall below $4000, which is strong support. The indicators are already indicative of oversold conditions and suggestive that downside is limited. A break below the $4000 level will of course be of concern but not expected at this time.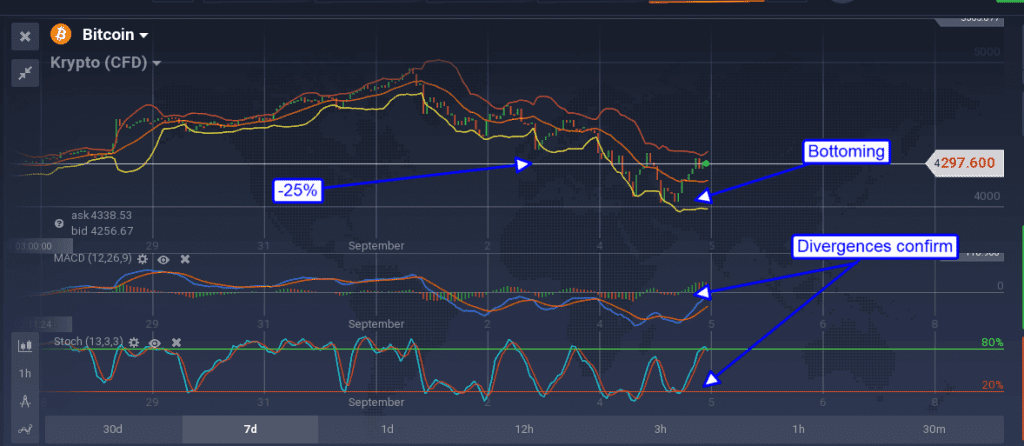 Ethereum, arguably the most affected by the sell-off, only fell -28% from its Friday close. Ethereum as you may know is the "smart" blockchain and the platform many of the ICO's are using to generate their tokens. This coin is also find support at key levels and setting up for a bounce. The indicators are both bearish and suggest that support may be tested but they also suggest the market is oversold and at support. The stochastic RSI for one has not been this low since the mid-summer swoon. A break below $290 would be bearish but also not expected at this time. A confirmation of support at $290/$300 would be bullish with targets near $360 and $400.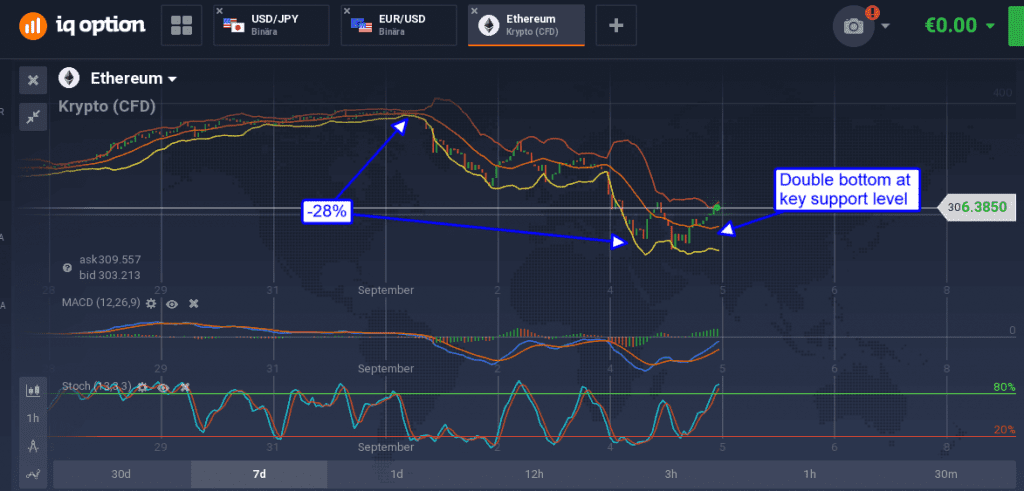 Litecoin, a favorite of traders for its widespread acceptance, low price point and ease of exchange also corrected but fell only -22%. This coin is also finding support near key levels and looks to be setting up for a bounce. The indicators suggest support may be tested again, possibly as low as $66, but it should be seen as a buyable dip.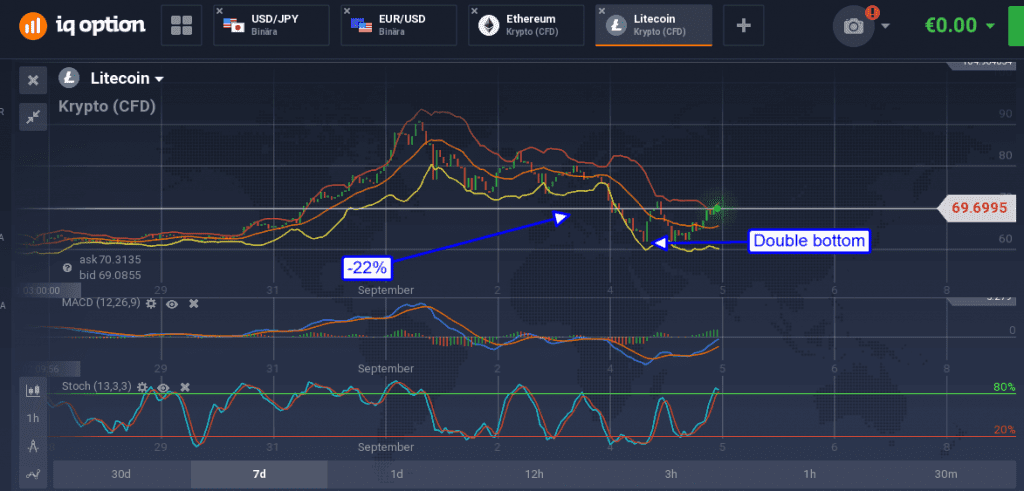 Trade on Crypto now