5 min read 
China sparked a major liquidity crisis in the cryptocurrency market last week. The country took steps to curb the wildly booming ICO market with orders banning all ICO's and instructions for those who've already launched one to begin returning money to investors. The result of course was a mad dash by start-ups, exchanges and individual users to flee digital currency in favor of cash.
China Cracking Down On Cryptocurrency Exchanges
The initial downturn wiped more than 25% of the total market cap for cryptocurrencies out of the market within days. Since then the market has tried to rebound but those efforts were capped with China's 2nd move against the asset class in a week. This time regulators are calling into question the efficacy of Bitcoin and its use by Chinese nationals.
Reports are still shaky, no two agree exactly on what happened or what was said but the underlying them is this; China may be shutting down its network of cryptocurrency exchanges. This rumor hit the market mid-day Friday and sent the market back to retest the lows set earlier in the week. Bitcoin shed roughly 10% on Friday to trade near the $4,000 level even as reports from China had the coin down closer to -20%.
The report was first aired by Caixin, China's official and government sponsored newspaper. The agency says that the decision to shut down the exchanges has already been made although there is little in the way of confirmation. Coindesk reports they've been in contact with the Chinese based exchanges and they say there is no word yet whether the report is true.
It is possible the news is ruse by the Chinese government. It is no coincidence that the first news of crackdown came when Bitcoin was trading near $5,000 and its all time high, as were nearly every other major digital currency at the time. Additionally the second report occurred as the market was nearing full recovery allowing Chinese nationals an excuse to cash out, skimming billions from global markets.
The Technical Outlook
The technical outlook is not that bad. Bitcoin has fallen to retest and confirm support at the $4,000/$4,200 level and setting up for its next move. The coin has tested this level twice before and it looks strong. The indicators are a bit mixed and suggest support will be tested further but little more than that. The key level for traders to watch over the next week will be $4000. A break below this level, especially if it comes on strong volume, could be very bad for the market. A bounce and confirmation of the support level would be bullish but may result in a resumption of sideways trading within the $4,000 to $5,000 range.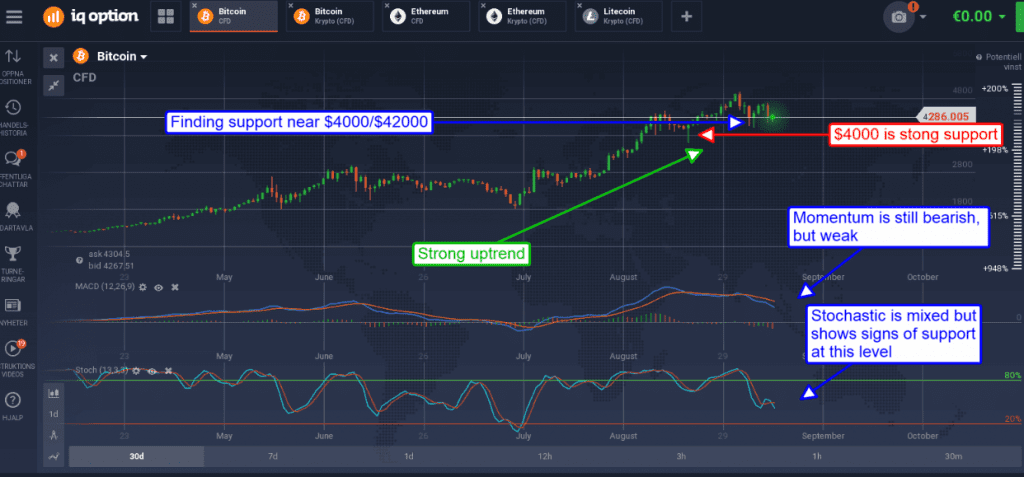 There are a number of risks facing the market in the coming weeks. First and foremost is a confirmation of the latest rumors out of China and/or new moves in the same direction. Additionally, there are major software changes scheduled for all three of the major currencies later this fall. Bitcoin will undergo the 2nd portion of its segwit, Litecoin and Ethereum will undergo similar upgrades. The Ethereum upgrade for one will be especially important to watch as it is moving forward on uncertain terms.
Start trading now
NOTE: This article is not an investment advice. Any references to historical price movements or levels is informational and based on external analysis and we do not warranty that any such movements or levels are likely to reoccur in the future.
In accordance with European Securities and Markets Authority's (ESMA) requirements, binary and digital options trading is only available to clients categorized as professional clients.
GENERAL RISK WARNING
CFDs are complex instruments and come with a high risk of losing money rapidly due to leverage.
76% of retail investor accounts lose money when trading CFDs with this provider.
You should consider whether you understand how CFDs work and whether you can afford to take the high risk of losing your money.