2 min read 
Capital One is the latest major bank to prevent customers from purchasing cryptocurrency by credit card. The news came as a shock to Capital One holders, who claimed they were not informed of the recent policy change made by the company's credit division. Many customers are turning to social media to share their experiences of failed purchase transactions for Bitcoin and other cryptocurrency. Previously, Capital One allowed cryptocurrency transactions without any hassle.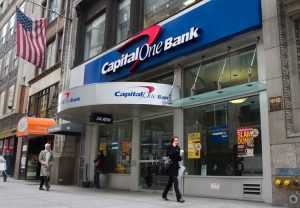 For many, Capital One's move may be interpreted as another declaration of war against cryptocurrency, but the company sees it as a way to protect its customers. The cryptocurrency ban was a response to increasing reports of fraudulent credit card charges from coin exchanges such as Coinbase. Capital One is not the first bank to ban crypto purchases, and with such fraud on the rise, it probably will not be the last.
Although the bank appears to have acted in the best interest of its customers, the act did not come without backlash. As a result of the new policy, various customers expressed dissatisfaction and threatened to drop Capital One altogether, turning to local credit unions instead.
Capital One has not issued an official statement on its decision to ban cryptocurrency purchases.
Trade now