5 min read 
Starbucks (SBUX), the Intercontinental Exchange (ICE), Microsoft (MSFT) and BCG have formed a consortium to back the use of Bitcoin. The consortium is creating a new company called Bakkt whose purpose is facilitating the use of BTC and other cryptocurrencies at Starbucks stores. Bakkt will create an open, regulated digital asset ecosystem leveraging Microsofts Azure cloud-infrastructure to exchange BTC and other cryptocurrency for USD at the point-of-sale terminals.
Market participants like Brian Kelly from BK Asset Management think this is a game-changer for BTC and the entire cryptocurrency sphere. According to Kelly Bakkt is the most important news for BTC this year and will pave the way for a BTC ETF in the US.
Bakkt is a new cryptocurrency platform. It is aimed at allowing individuals and business to buy, sell, exchange and store crytpoccurrencies. It is in effect a cross-token exchange system intended to allow users to spend cryptocurrency when, where and how they want. To be clear, it does not mean that users will be able to spend cryptocurrencies directly with merchants, the platform exchanges digital for fiat at point-of-sale terminals.
Bitcoin is widely regarded as a digital commodity and that is one reason why the SEC has balked at BTC ETFs to date. Kelly says the Bakkt ecosystem will bring two things into play that have so far been absent in the US; listing on a regulated exchange and a licensed warehousing system to store Bitcoins (akin to the system used to store WTI, gold and other widely traded commodities).
Starbucks use of the technology will help bring cryptocurrencies into the mainstream and that will help prices for all cryptocurrencies. As more and more users come on line, and demand for the technology picks up, the value of all digital tokens will rise. It also means that current crypto-asset holders will have the ability to use their digital fortunes for a wider range of goods and services, another bonus for the cryptomarket.
Maria Smith, vice president of partnerships and payments for Starbucks, said this in the official statement «As the flagship retailer, Starbucks will play a pivotal role in developing practical, trusted and regulated applications for consumers to convert their digital assets into US dollars for use at Starbucks. As a leader in Mobile Pay to our more than 15 million Starbucks Rewards members, Starbucks is committed to innovation for expanding payment options for our customers."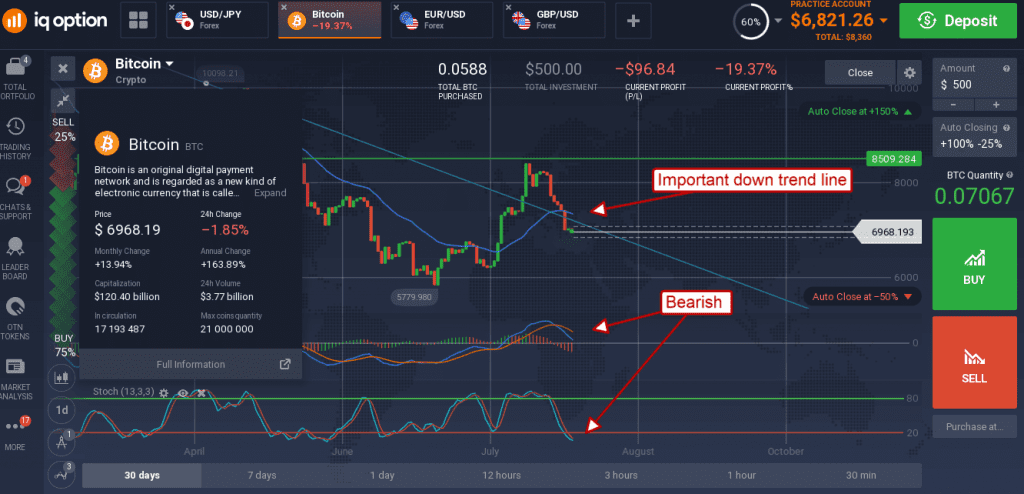 Despite the implications this news brings to the market Bitcoin prices were largely unaffected. In fact, news a major sale of Mt Gox related assets weighed more heavily on the market driving BTC down to a one month low. The coin lost more than -6.5% on Friday and is now trading below a well-established down trend line. This down trend line could keep the token under pressure in the near term and may result in a retest of $6,500. The indicators are bearish and pointing lower although stochastic is indicating oversold conditions may be in effect. If the upper side of the down trend line is regained a range between $7,500 and $8,500 is likely.
Trade now