7 min read 
Despite Bitcoin being in existence since 2009, India saw very rapid user and adoption rates starting in 2012. India's first Bitcoin company, BuySellBitco.in (later renamed ZebPay), was started in early 2013. Unocoin and Coinsecure, currently the top two exchanges in India, began operations in 2014. Unocoin is India's most popular Bitcoin wallet and also owns a gateway that allows merchants to accept Bitcoin from customers.
The Indian government's views on the status of Bitcoin are still being formalized, with a bias towards its legalisation and regulation:
In March 2017 a committee including finance ministry officials, IT ministry officials, the National Institution for Transforming India and Reserve Bank of India (RBI) officials met to discuss cryptocurrency legalization.
In July 2017 the committee's findings urged the government to stop the use of cryptocurrencies in order to protect the population from frauds and money laundering.
In August 2017, the Supreme Court of India (SCI) asked the central government to investigate thoroughly all security-related issues concerning Bitcoin.
In September 2017 a Special Investigations Team (SIT) appointed by the SCI issued a report recommending curbs on Bitcoin trading.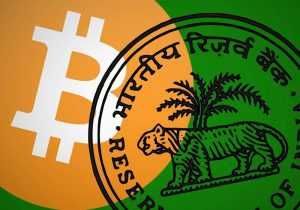 The RBI considers Bitcoin not to be a viable alternative to fiat currency. However, according to various legal experts Bitcoin exists in a regulatory vacuum and is not considered illegal per se according to Indian law.
Interest in Bitcoin has skyrocketed in India especially since November 2016, when the country's demonetisation process was implemented. This saw the phasing out of the country's larger denomination banknotes of 500 and 1,000 rupees, in an effort to stamp out black market transactions and tax evasion. When the measures went into effect, 90% of the paper money in the economy disappeared. More and more Indians turned to Bitcoin as a way to safely store their savings and protect them from inflation and/or confiscation. The leading Bitcoin exchanges in India have seen increase of 250% in their user bases to date since demonetisation.
Bitcoin Use in India
Bitcoin can be purchased online in India with different wallets, including  those provided by Unicorn, Bitxoxo, Zebpay and Coinbase. There are currently an estimated 1 millions users of Bitcoin in India, and the number is increasing by 2,500 daily.
Various online and physical merchants in India have begun accepting Bitcoin, including:
Sapna Online – An online bookshop
Fashiondiva – An online clothing and accessories merchant
Travel smart – An online bus ticket booking portal
Dharwad International School – An educational institution
Tecdoc365- A utility software management firm
A total of 2,000 merchants in India are currently accepting Bitcoin, up from 500 in December 2016.
Bitcoin's Price Trends
The Bitcoin price has been extremely volatile in the last year. After reaching new all-time highs of $5,000 in September 2017, the price corrected to the $3,000 level in the space of weeks before recovering: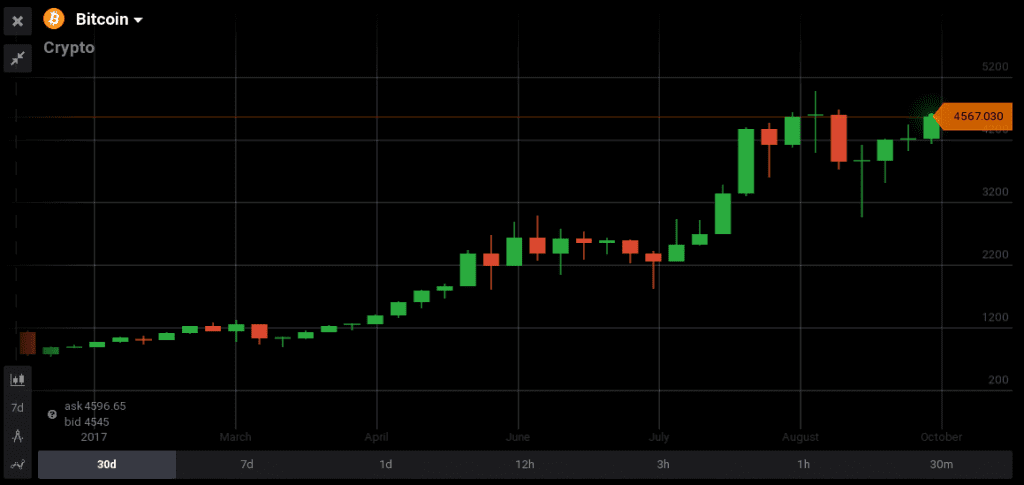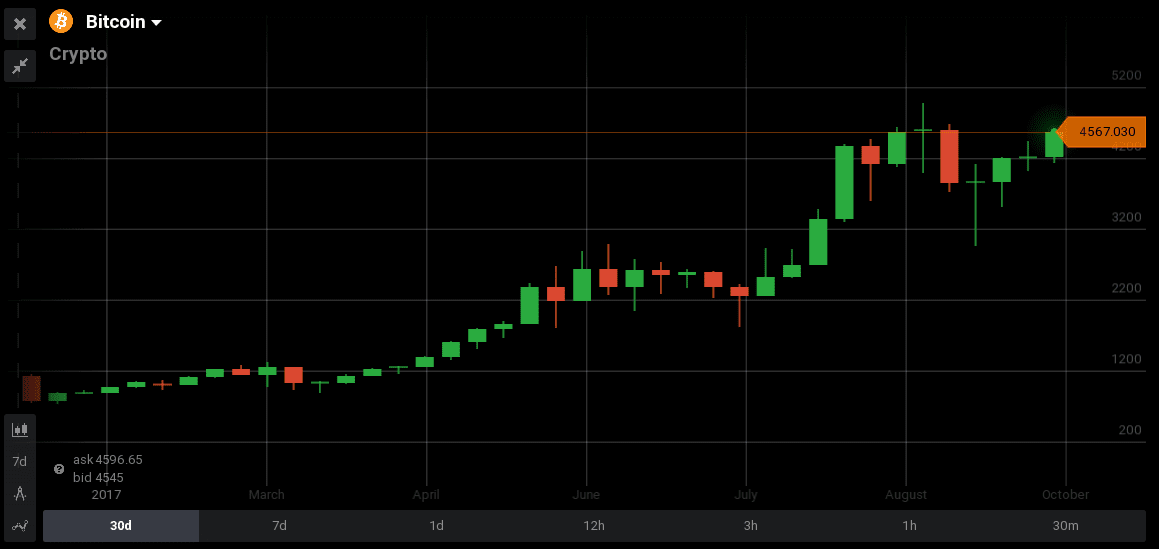 Bitcoin Trading With IQ Option
Bitcoin is a very attractive trading instrument thanks to its high volatility.  Bitcoin lost 35% of its value between September 1st and 15th after a crackdown on Bitcoin exchanges by the Chinese government. It however bounced back by 24% between September 15th a 18th only, as investor confidence returned. These massive movements create endless opportunities for traders to profit from both upward and downward moves. This is especially the case when trading options on Bitcoin. Options allow you to profit both from rising and falling Bitcoin prices, in full flexibility. And what is more, your risk is limited to the price paid for the option, while your upside is in theory unlimited.
IQ Option offers you a recognized, award-winning platform for Bitcoin trading. When you open a trading account with IQ Option you get:
An award-winning trading platform open 24/7
The fastest trade execution of any options broker on the market
More than 16 technical analysis indicators to help you time your trades
An extensive video series on how get the most out of your trading indicators
A VIP Account Manager who speaks your language
Free account insurance up to a value of €20,000, making your money safe
Being a trader from India you definitely want to join IQ Option to trade Bitcoin and the most promising altcoins. Become a cryptocurrency investor today.
Trade on BTC here
NOTE: This article is not an investment advice. Any references to historical price movements or levels is informational and based on external analysis and we do not warranty that any such movements or levels are likely to reoccur in the future
GENERAL RISK WARNING
The financial services provided by this website carry a high level of risk and can result in the loss of all your funds. You should never invest money that you cannot afford to lose.