3 min read 
It seems there is no stop for Bitcoin. The token touched an all-new high this week above $19,850. Now the market cap of the digital currency has reached over $317.5 billion. The trading volume of the coin also increased exponentially and the last 24hour's trading volume was above $14.5 billion.
Key Highlights
Bitcoin touched a new high this week above $19,800, but has since pulled back from the rally
The token gained around 17 percent this week and currently trying to regain its peak with support around $18,400
Technical Indicators
Though the week started with a drop from $17,300, BTC/USD was quick enough to find support around $16100. It also acted as a pivot and initiated a week-long bullish trend. With this trend, Bitcoin touched its lifetime peak above $19,800. But after a classic pullback from the peak, the token found support around $18,400 region.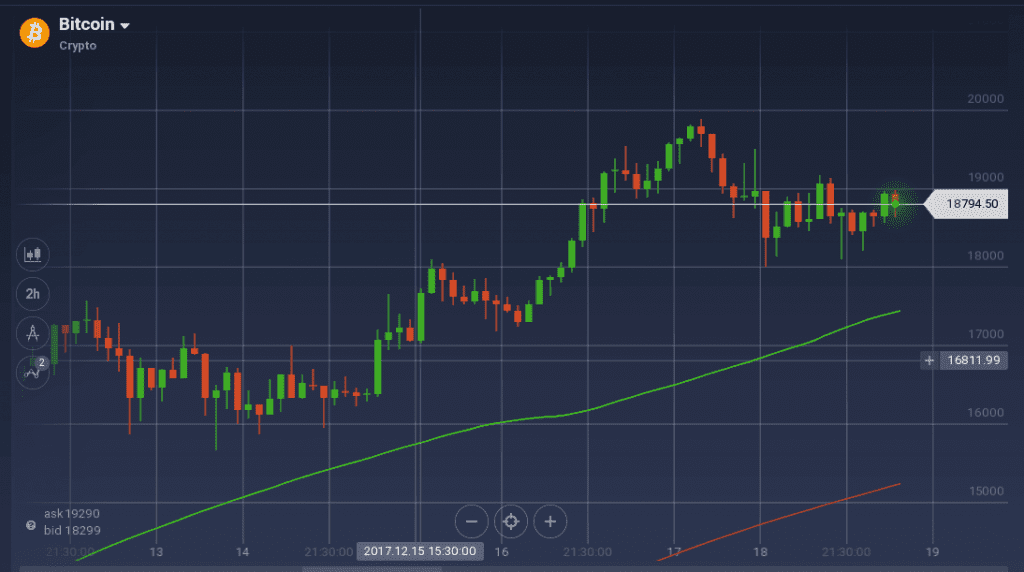 100 SMA is still above the 200 SMA indicating an upward least resistance. This also indicates the continuation of the uptrend rather than a trend reversal. Fibonacci retracement is currently at 50 percent.

Stoch is also going up indicating the continuation of the bullish rally. RSI being at 49 percent is in the optimum region. MACD, after stabilizing due to the pullback is again tending to go up.
Market Factors
Bitcoin has seen a massive rally after the introduction of the first Bitcoin futures at COBE on 10th December.
Yesterday, CME Group launched Bitcoin futures on their trading platform. Even though prior to the launch, the digital coin paced up to touch its new high, after the launch, the value had a pullback.
On 23rd December, another hard ford on the Bitcoin's network, called Bitcoin Platinum, is lined up. This will be the second fork this month but there is one more fork to go before the clock strikes an end to 2017. These forks also influence the price of digital coins a lot.
Amid the meteoric rise, regulatory authorities of many countries are considering the possibilities to regulate the digital coin. Recently Indian tax authorities have started a soft crackdown on the countries exchanges in suspicion of tax evasion and money laundering.
Trade on BTC/USD now