6 min read 
American multinational conglomerate holding company, Berkshire Hathaway Inc (BRK.A) Stock, reports earnings for the first quarter of 2017 on May 4th 2017. Headquartered in Omaha, Nebraska the company owns a number of successful companies in their entirety – including GEICO, Lubrizol, BNSF Railway, Dairy Queen, Fruit of the Loom and many more. The company also owns a partial share in an even greater number of businesses – one of the most prominent of which is a 43.63% of the Kraft Heinz Company.
1) Financial Performance
For 2016 Berkshire Hathaway reported no change in net income (reported as 24.07USD billion) year on year. * Revenues grew 6.00% over the same time frame – from 210.94USD billion to 223.60USD billion. *  
The primary reason for flat net income in a rising revenues environment was an increase in the cost of goods sold as a percent of sales – increasing from 74.45% to 75.65% YoY.*
Further to this for 2016, cash reserves at Berkshire Hathaway fell by 39.11USD billion – a crucial variable as cash reserves are directly tied to the acquisition flow of the company.* For 2016 Berkshire Hathaway generated 12.79 USD billion in cash from financing.* Meanwhile 84.27USD billion was spent on investing over the year.*
2) Portfolio Development
Berkshire Hathaway owns over 60 various subsidiary businesses in addition to a gigantic portfolio of common stocks. The company specifically owns significant stakes in many major American businesses.  This includes an undisclosed percentage of Mars as well as a significant minority holding in American Express, IBM, Coca-Cola and Wells Fargo amongst others.
The company is aggressive and thorough in selecting and carrying out strategic acquisitions – this approach is underpinned by a maintaining a strong cash position. Most recently the company expressed increased confidence in the American business climate – specifically increasing its stake by fourfold in Apple Stock whilst also raising investment in the four biggest US airlines by sevenfold.
3) Volatile Price Behavior
BRK-B shares have performed well over the past twelve months – gaining 14% over the last year.*  However, Berkshire's B shares have experienced a volatile 2017 to date – gaining 7% from January to March but then retracing back most of this share price gain through April and May. * The stock has furthermore lagged the S&P 500 since March of this year.*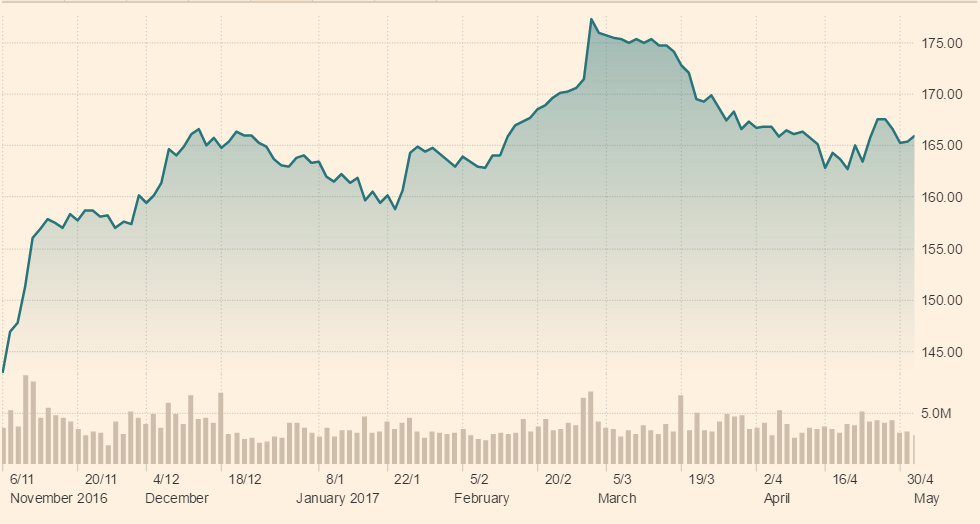 4) Succession Uncertainty
Berkshire Hathaway is synonymous with its CEO, Warren Buffet.  This understandably has left investors concerned about succession planning and whether this will be an issue for company shares and generating growth for the company. Shareholders are expected to address this concern at this weekend's 2017 shareholder meeting in Omaha, Nebraska where they will be able to directly put their questions to Mr Buffett, 86, and vice chairman Charlie Munger, 93.
Mr. Buffett has already delegated roles to certain senior members of the company – such as Ajit Jain, Gregory Abel and Tracy Britt Cool. However, some uncertainty around the succession structure of the company remains.
5) Trump and Taxes
Berkshire Hathaway may become one of the largest beneficiaries of President Trump's proposal to cut the federal corporate income tax rate from 35% to 15%.** This policy change could increase Berkshire Hathaway's book value significantly by up to 11% whilst also enhancing earnings.**
Overall the success of Berkshire Hathaway hinges on the success of its portfolio holdings. Mr Buffett and his team have a consistent history of picking investments with strong fundamentals at good value prices.  However, the portfolio is currently positioned such that it is heavily tied with US economic performance.
Given the political climate the outcome of this stance is yet to be identified as the verdict on Trump's first 100 days has been somewhat mixed. 
NOTE: This article is not an investment advice
* Past performance is not a reliable indicator of future performance.
** Forecasts are not reliable indicator of future performance.
Trade here
NOTE: This article is not an investment advice. Any references to historical price movements or levels is informational and based on external analysis and we do not warranty that any such movements or levels are likely to reoccur in the future.
In accordance with European Securities and Markets Authority's (ESMA) requirements, binary and digital options trading is only available to clients categorized as professional clients.
GENERAL RISK WARNING
CFDs are complex instruments and come with a high risk of losing money rapidly due to leverage.
77% of retail investor accounts lose money when trading CFDs with this provider.
You should consider whether you understand how CFDs work and whether you can afford to take the high risk of losing your money.