4 min read 
Audi has just unveiled the final production version of the e-tron, it's first all-electric SUV. With a minimalist design and features such as adaptive cruise control and automatic emergency braking, it looks like the e-tron might just give Tesla a run for its money.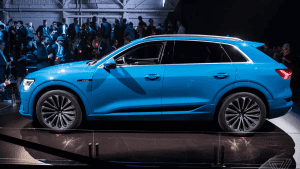 The e-tron's main selling point? It's meant to be a "totally normal" SUV. According to Filip Brabec, Audi VP of product management, the company "didn't want to create a car that is edgy and quirky and different". Instead, Audi aimed for a seamless transition from internal combustion engine to an electric car. The e-tron is designed to be as comfortable as possible, complete with generous head and legroom space, underfloor storage, and enough height to enjoy a good view from all windows. Moreover, the car's two motors enable it to pick up speed in a matter of seconds. Audi's e-tron is set to go on sale in early 2019.
News of the e-tron has translated into impressive gains for the Volkswagen Group, Audi's parent company. The price of Volkswagen stock soared earlier today, reaching a high of approximately $150. At the time of writing, shares are still up 2.48%, hovering around the $148 mark.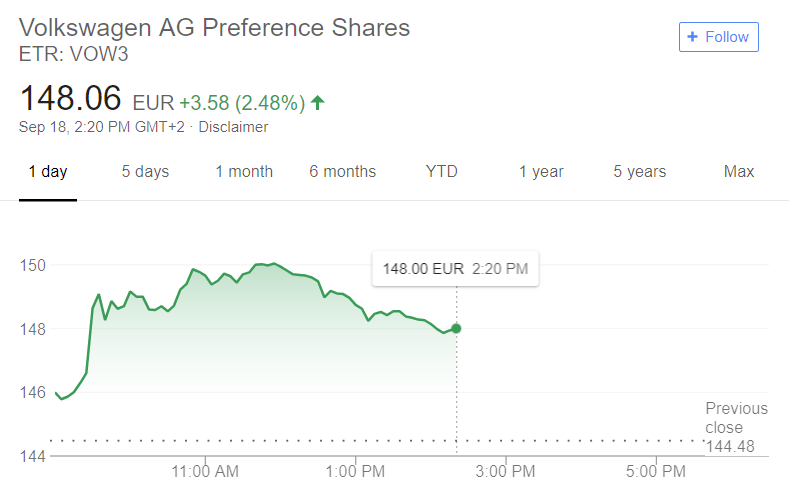 Tesla doesn't have just Audi's e-tron to look out for. Over the weekend, BMW released a concept version of its next electric vehicle: an SUV called the iNext. According to development chief Klaus Froehlich, the SUV's main focus will be on self-driving through conditional automation. Also known as Level 3 technology, this means the car will capable of steering, braking, and accelerating on its own, though a driver should supervise the system and be ready to take hold of the wheel if necessary. The iNext wille make its debut in 2021, with even more models promised by 2025.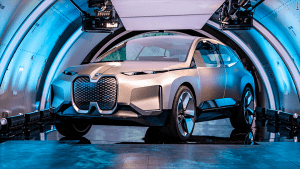 Though BMW stock saw a price boost in anticipation of Saturday's unveiling, BMW is struggling to hold onto two the weekend's gains. This is seemingly due to news that the company will recall over 139,000 of its 3-series cars in China. News reports indicate the recall was caused by a defect in the cars' air-conditioning system.
Analysts at Commerzbank currently give BMW stock a ranking of, "Hold," suggesting things could go either way for the company. Recently, Zacks bumped Volkswagen up from "Sell" to "Hold" as well. Given that Tesla continues to find itself under increased scrutiny, it could give a chance for other automotive companies to take the lead in the production of electric cars. In any case, both BMW and Volkswagen may prove to be stocks worth keeping an eye on for the foreseeable future.
Trade now