8 min read 
Tech investors and enthusiasts have long debated which is superior – Apple or Samsung? The highly publicised 10th anniversary Apple smartphone release was marked by the iPhone X launch in Autumn of last year –  placing the comparison even more so under the spotlight.  Both companies make billions of dollars of sales revenues every year – but which company reigns supreme? Let's look at the factors in play.
Market Share
Continuing a five-year trend, in 2017 Samsung held on to the dominant market share in the smartphone market – with 21.6% versus the 14.7% achieved by Apple. Samsung outperformed on unit sales over the year – shipping over 310 million units during the four fiscal quarters of 2017 while iPhone sales were closer to 215 million units over the same time frame.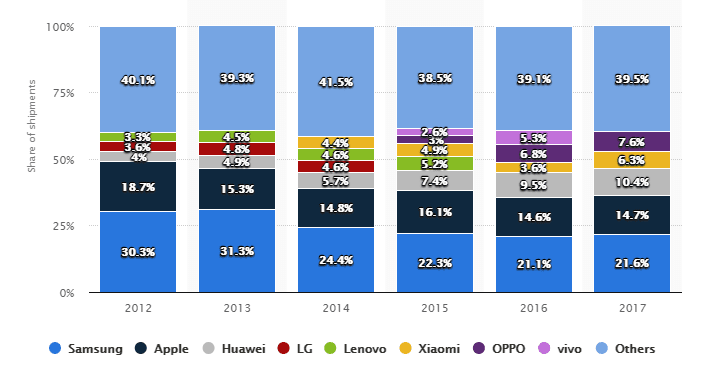 While Apple may have lagged over the full year, in the final quarter of 2017 the American smartphone producer firmly took the lead in both revenues and unit sales – capturing an astounding 51 percent of global smartphone revenues and dwarfing Samsung (15.7 percent) sales during the holiday sales period. This trend demonstrates the true power of the Apple name in consumer preferences – with gift-based purchases showing dominant favour to Apple over all other competing brands.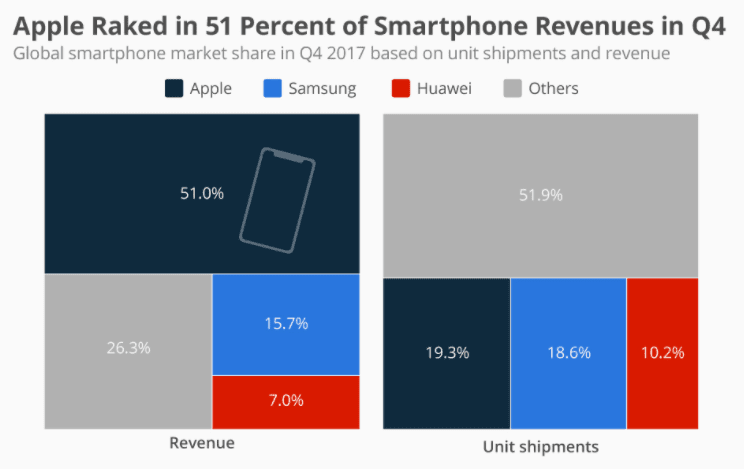 When it comes to actual usage figures, consumer preference for Apple is further demonstrated by the company achieving a 34.8% dominant share of the global monthly active smartphone and tablet use as of 2016. Further to this, when it comes to market capitalisation, Apple's $894 billion far exceeds Samsung's $330 billion.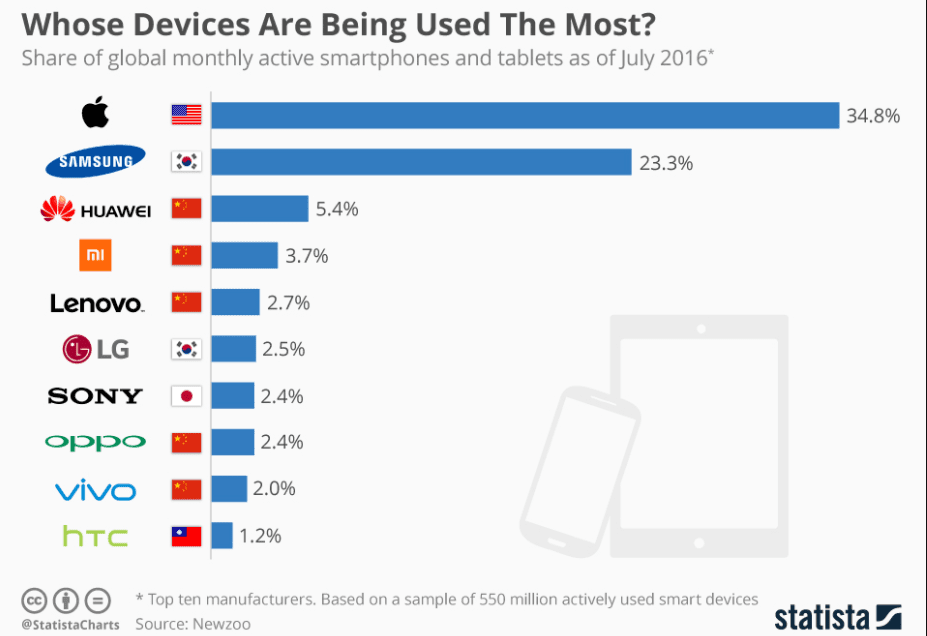 Both companies are undisputedly huge successes, generating billions annually in revenues – so what factors contribute to Samsung's persistently higher market share year on year?
Market Dynamics – Product Range
A key difference in the business strategies of Samsung and Apple is that Apple focusses on releasing fewer models and targets the high end of the market while Samsung releases various new models annually and targets a wider range of customers. The Galaxy S and Galaxy Note represent the higher end of Samsung's offerings – competing head on with Apple devices.
However, Samsung also offers cheaper models – allowing the company to compete with cheaper Chinese brands across the sizeable Asian market as well as the low end of Western markets. With an average selling price of close to $800 per phone, Apple is targeting the very top level of consumer demand – compared against key competitors Samsung (average price $254) and Huawei (average price $205).
Competitive Advantage – Vertical Integration
A further key difference between the two business models is that Samsung benefits from acting as a producer as well as a supplier within the electronics industry.  Samsung recently became the world's biggest chip maker, overtaking Intel, who had held the top spot for 25 years. Further to this, Samsung supplies components to Apple – with Apple reportedly ordering 70 million OLED panels from Samsung in 2017 for the new iPhone 8 model.
Samsung's position as the top chipmaker is a crucial competitive advantage to the company – with chip demand growing each year as various applications evolve and multiply.  2018 is forecast to deliver growth for Samsung component sales – from both increased chip and flexible OLED panel demand.
Competition Intensifies
However, both Apple and Samsung will face stiffer competition from Chinese handset makers this year – a trend that is expected to continue in coming years. Chinese manufacturers, Huawei and Oppo, have been consistently capturing more market share since 2015, reaching 10.4% and 7.6% in 2017.  These Chinese companies benefit from more favourable business operating terms and have greater access to cheap resources.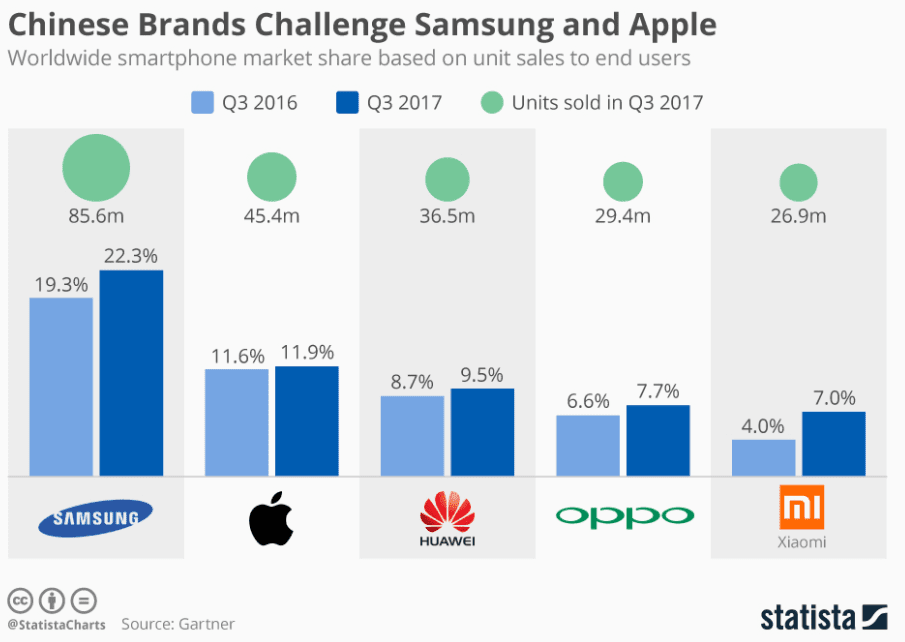 Growing supply from these companies is likely to impact both the high end and low end of the smart phone market – potentially snatching market share from both Apple and Samsung.
Longer term the fortune of both bulge bracket electronics companies remains at risk.  Historically, disruption and innovation within the technology sector has had the power to wipe out stalwart names. We only must take a look at Blackberry's record to fully comprehend the true extent of how sharply a mobile phone company's success can turn around when they fail to keep pace with changing market conditions.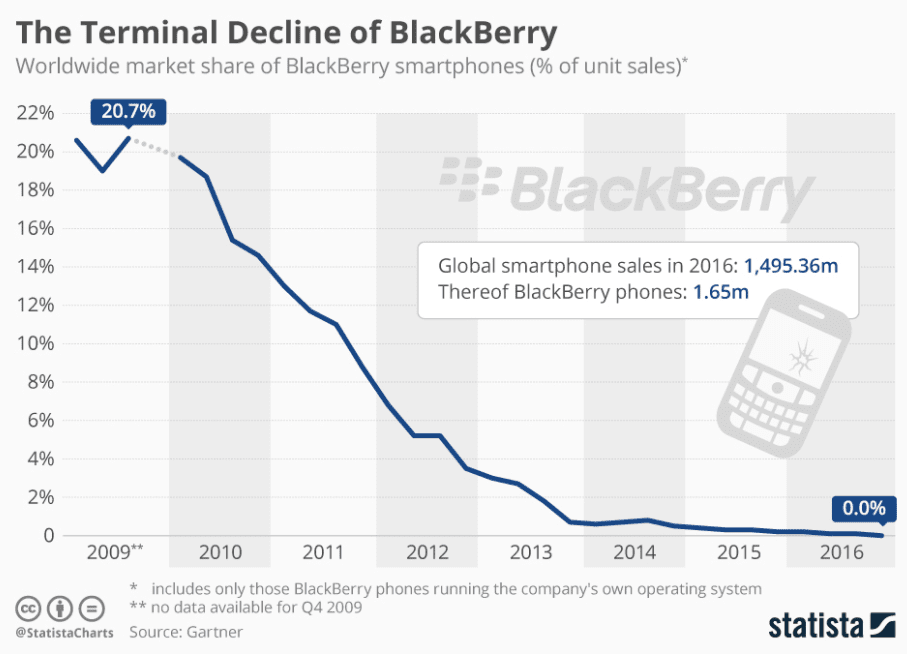 Whether it be from China or elsewhere, one thing is for certain – competition in the smartphone market is heating up. Under current market conditions Samsung looks more favourably positioned from an investment point of view. The Korean tech company offers a wider range of price points to customers – offering enhanced value across the board.
In addition, as the largest smartphone, chip, and TV maker in the world Samsung offers investors an attractive price to earnings ratio. Apple is forecast to reward investors with generous dividends this year and increase market share marginally by expanding in India. However, Samsung is committed to doubling its dividend for 2018 and is forecast to deliver superior growth.
Trade now