2 min read 
Apple announced strong results for its Q3 earnings on Tuesday, surpassing all expectations for earnings per share and revenue. Following yesterday's closing bell, the tech giant reported revenue of $53.3 billion, exceeding the $52.34 billion consensus estimate. EPS came in at $2.34 as opposed to the projected $2.18. Apple's remarkable performance sent stock soaring, setting a new all-time high at $197.69.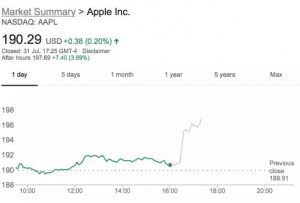 What contributed to Apple's stunning results? Though iPhone sales remained relatively flat from the year-ago period, the average selling price (ASP) saw jump of $724, most likely due to the cost of the iPhone X. The company also recorded growth in its other products and services, including the Apple Watch, App Store, Apple Pay and more. Elaborating on Apple Pay, CEO Tim Cook said the service "completed more total transactions than great companies like Square and more mobile transactions than PayPal."
If these numbers aren't impressive enough, Apple expects fourth-quarter revenue to come at the $60 billion to $62 billion range. Wall Street predicts $59.67 billion. Investors will have to wait until September to find out whether Apple will stun once again.
Although it is uncertain how long Apple stock will be able to boast its gains, many are excited about the prospect of Apple inching closer to a $1 trillion market cap. Given all the buzz surrounding Apple's success, this could prove an interesting time to trade.
Trade here