7 min read 
JP Morgan (JPM: NYSE) Stock reports Q1 2017 earnings on April 13th 2017 before the opening bell. These are the eight key factors to consider before trading.
1) Shares seek momentum
Down 2% since the start of 2017 JP Morgan shares have been recently flailing in the midst of a stellar past 12 months performance that delivered a whopping 39% share price growth.* This is a strong indication that investors are waiting for a factor to drive confidence allowing momentum to develop through the course of 2017.
This quarter's earnings report has a high probability of delivering this trigger – especially given US economic strengthening and the softening fallout terms of Brexit.
2) Earnings
JPMorgan reported Q4 2016 earnings of 1.53 per share, exceeding the 1.44 consensus expected by Wall Street analysts covering the company. This was a 19.70% Q4 improvement year on year. The forecast for Q1 2017 EPS is for 1.51USD. ** However, the bank has exceeded EPS forecasts over the past consecutive four quarters:
3) US Economy
Since Trump's election last November there has been increased market volatility. However as far as the US market and economy is concerned the volatility has been a secondary trend to the dominant upward trend.
The US market has benefitted from increased capital inflows compounded by positive sentiment and Fed policy over the past nine months. This has built on the positive momentum in trading activity of Q4 2016 which was led by fixed-income trading after the election. * These dynamics will aid JP Morgan in delivering higher returns for the rest of 2017.
4) Entry Opportunity
JP Morgan shares are an attractive buy at current share price levels. The shares appear relatively cheap at their P/E of 13.11 that is significantly lower than the industry average of 14.30: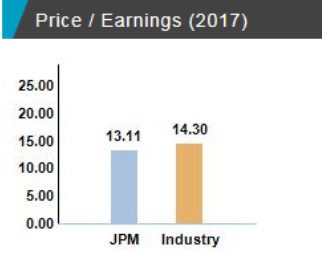 5) Brexodus relief
CEO Jamie Dimon was one of the most vocal banking sector leaders suggesting that the economic fallout of a Brexit would lead to a mass exodus of financial sector jobs and services from London to mainland Europe.
However, the aftermath of the referendum vote last June has been less damaging to labour and capital markets than the CEO predicted. Terms of business are more attractive than what the bank was preparing for and this is expected to create growth in earnings above initial expectations for 2017.**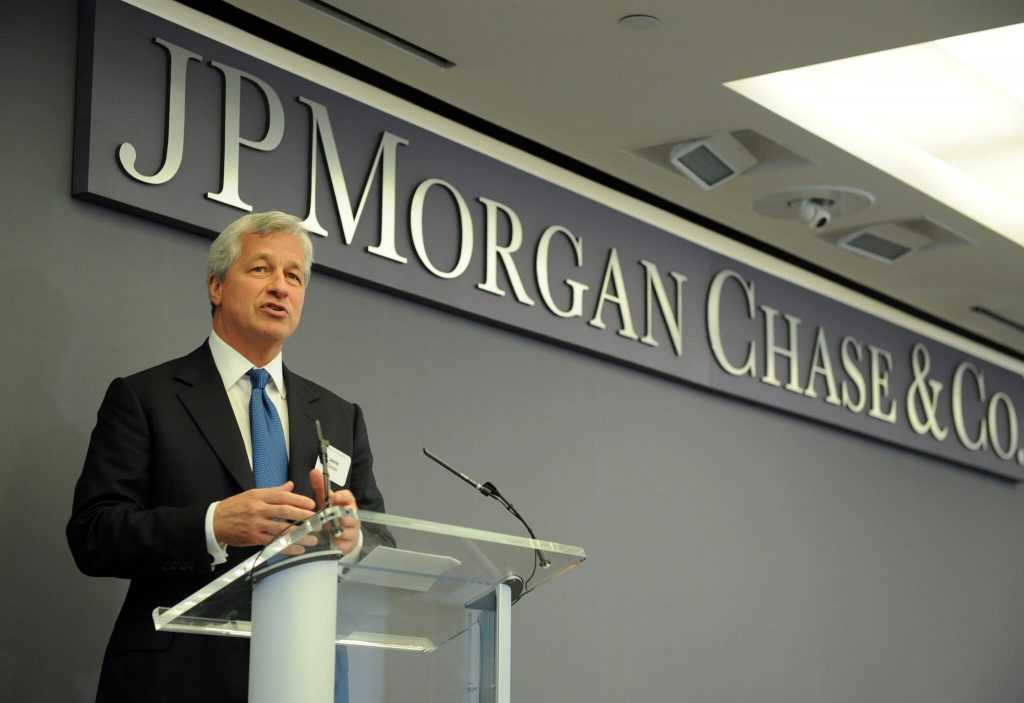 6) Attractive Dividend
In 2016, JPMorgan delivered a dividend of 1.88 USD, a 9.30% improvement year on year.* The forecast is for JP Morgan to deliver dividends of 2.07 USD for the upcoming fiscal year, providing an even greater increase of 9.89% year on year.**
7) US Banking Giants Gain Ground
Driven by improved US economic performance, global investment banking fees climbed to a 10-year high in Q1 2017. Over half of the gains were generated from North America, with US banks topping the league tables. JP Morgan kept its number one spot for the eighth year in a row in 2016, capturing market share from rivals Goldman Sachs, Bank of America Merrill Lynch and Deutsche Bank.
This trend in US investment banking will contribute to enhance financial performance for JP Morgan through 2017.*
8) Increased market share
JP Morgan's investment banking arm has captured increased market share from its key competitors –rising to 6.8% in 2016 from 6.6% and widening the gap over nearest rival Goldman Sachs, whose revenues fell 15% to 5.1USD billion, representing a market share of 6%. JP Morgan has been leveraging this increased market presence to deliver increased returns and we expect this to lead to further improved growth through 2017.
Overall the outlook is strongly bullish for JP Morgan shares –over the short, medium and long term. The bank has the balance sheet, strategic leadership and infrastructure in place to capitalise upon the opportunities 2017 has to offer.
In addition we can expect leaps in performance from JPM if we see a smoothly negotiated Brexit as well as the execution of banking sector policy as set out by Trump's suggested agenda.
NOTE: This article is not an investment advice
* Past performance is not a reliable indicator of future performance.
** Forecasts are not reliable indicator of future performance.