10 min read 
In less than two years, companies have raised almost $2 billion in ICOs, with token prices doubling in a week, and often falling just as fast. Companies have been able to rake in millions with little more than a white paper and a website. Bitcoin, the biggest cryptocurrency, has more than tripled in value this year, raising concern of a bubble.  "The reason most securities aren't on the blockchain is because it's a daunting task; it's opaque, expensive and hard to do, so we're trying to break all that down to bite-size steps," an expert said.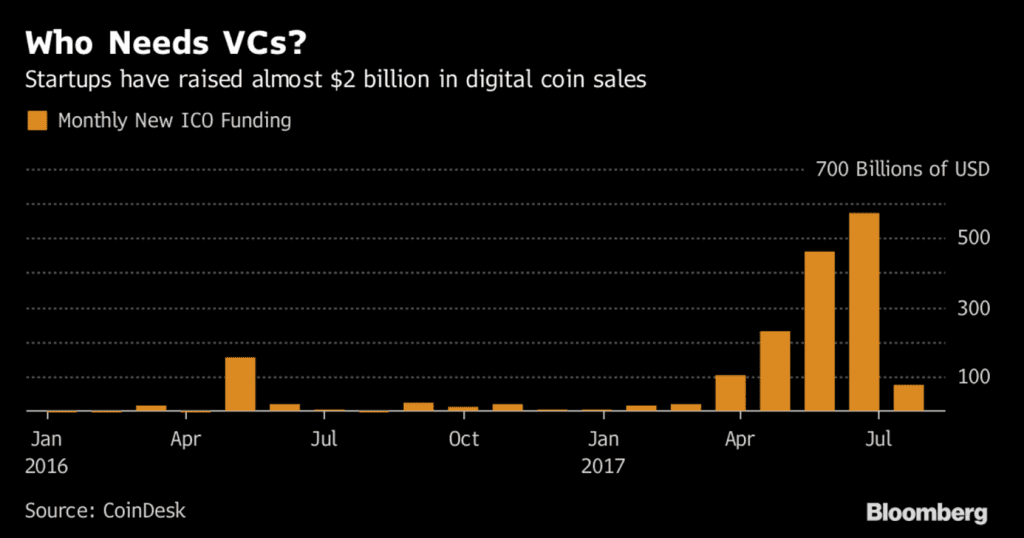 Most tokens issued in ICOs are application tokens, or tokens made to be used inside an application. They're largely based on the Ethereum network, as that blockchain-based platform facilitates building these types of tokens. A tiny fraction of the approximately $160 billion cryptocurrency market are securities tokens. Unlike application tokens, securities tokens represent a stake in a company or fund and directly benefit from earnings or capital appreciation, much like shares do. Securities tokens will help ease concern about the overvaluation of tokens sold at ICOs, an expert said.
Colonial Pipeline to shut fuel lines due to Harvey
Colonial Pipeline, the biggest U.S. fuel system, said it would shut its main diesel and jet fuel line on and its gasoline line because of outages at its supply points from Tropical Storm Harvey and a lack of supply from refiners. The news sent U.S. gasoline prices surging to a two-year high of $1.9350 a gallon, while margins jumped to a two-year high of $24.38 a barrel, as Asia markets opened.
The pipeline connects the refineries of the Gulf Coast to the populous East Coast, transporting more than 3 million barrels of fuel every day. Colonial became the second major fuel pipeline operator with origins in the Gulf Coast to suspend operations because of the storm that brought devastating flooding to the region. The Explorer Pipeline, which has a capacity of 660,000 barrels a day, said on Wednesday it had shut its main fuel line from Houston to Tulsa, Oklahoma, as supplies dwindled.
At least two East Coast refineries have already run out of gasoline for immediate delivery as they scrambled to fill barges to markets typically supplied by the Gulf Coast, two refinery sources said. Others were seen operating at higher rates in order to boost profitability by meeting supply shortages. "I've never seen a situation this bad," said one East Coast market source. "Imports can't make up for this. … This is going to be the worst thing the U.S. has seen in decades from an energy standpoint."
Equities near all time highs
US equity markets rallied on Wednesday as investors continued to buy the dip that pulled the major U.S. indices from their all-time highs earlier this month. The S&P 500 registered its fourth-consecutive victory, marking its longest winning streak in three months, and settled above its 50-day simple moving average (2,451.08). The Nasdaq (+1.1%) outperformed while the Dow (+0.1%) lagged.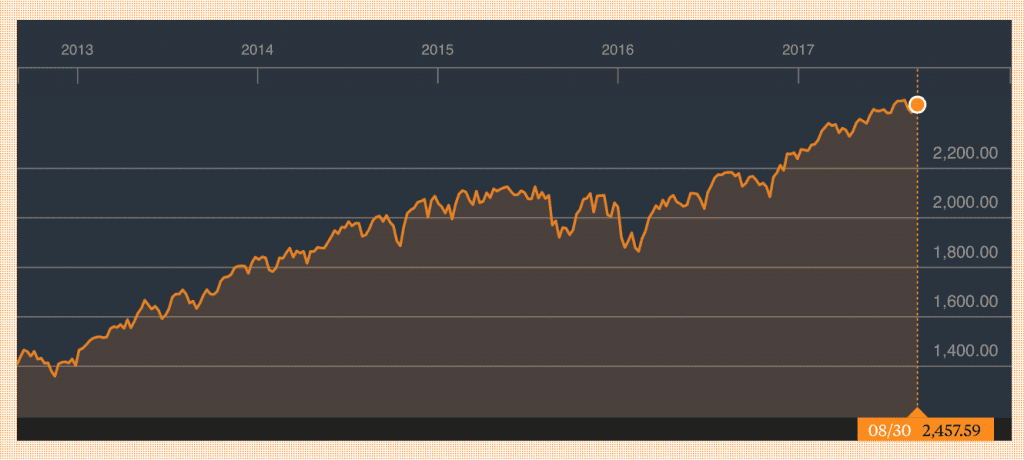 Wednesday's session began in the wake of a strong batch of economic data, which included both a better than expected ADP National Employment Report and an above-consensus second estimate of second quarter GDP. Stocks opened the session relatively flat as investors took a moment to digest the hotter than expected reports–weighing the thought of economic growth against the thought that said growth might help justify a further tightening of monetary policy. The bulls eventually won out and then led a slow and steady climb into the afternoon.
Tech and Pharma lead the market, Utilities loose
The influential health care sector (+0.6%), which houses biotech names, finished a step ahead of the broader market, near the top of the leaderboard. The top-weighted technology sector (+0.8%) also outperformed, as did the consumer discretionary (+0.7%) and materials (+0.7%) groups. Within the tech space, chipmakers exhibited notable strength, sending the PHLX Semiconductor Index higher by 1.7%.
Analog Devices led the semiconductor rally after beating both top and bottom line estimates and issuing above-consensus guidance. ADI shares climbed 5.2% to a fresh three-month high.  On the flip side, select countercyclical sectors underperformed, including consumer staples utilities (-0.4%), and telecom services (-0.6%). The energy sector (unch), which is considered to be a cyclical group, also struggled as the price of crude oil dropped for the fourth session in a row.
In the bond market, U.S. Treasuries finished the midweek session on a flattish note with the benchmark 10-yr yield settling unchanged at 2.14%. Meanwhile, the 2-yr yield climbed one basis point to 1.33% after trading as high as 1.35% in the morning session. Also of note, the U.S. Dollar Index (92.86, +0.59) climbed 0.6% after touching a multi-year low on Tuesday and the CBOE Volatility Index (VIX 11.20, -0.50) dropped 4.3%.
House Commerce Committee delays net neutrality hearing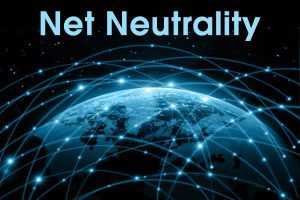 The House Energy and Commerce Committee will delay its hearing on net neutrality that was scheduled for Sept. 7, two sources with knowledge of the matter confirmed on Wednesday. Republicans in the committee had intended to use the hearing as a chance to discuss potential solutions for legislative net neutrality. Currently, policies on the rules have been left to the Federal Communications Commission which approved regulations on the matter in 2014.
President Trump's pick for chairman, Ajit Pai, is moving forward with a proposal to scrap the rules at the FCC. Republicans in Congress say they're interested in a compromise with Democrats but note that they would like to see net neutrality provisions significantly scaled back. C Republicans have been trying to put more pressure on major technology firms to back down from the net neutrality fight. In July, House Republican leadership threatened that if companies remained vocal, it could make negotiations on other policies they care about more difficult, Axios reported.
Important economic events:
2 am – China mfg & non-mfg PMI (August): mfg PMI to fall to 51.2 from 51.4, while the non-mfg figure drops to 54.4 from 54.5. Markets to watch: China indices, CNY crosses
8.55 am – Germany unemployment rate (August): expected to rise to 5.9% from 5.7%. Market to watch: eurozone indices, EUR crosses
10 am – Eurozone inflation (August, flash), unemployment (July): inflation expected to be 1.5% from 1.3% YoY, and core inflation forecast to be 1.3% from 1.2%. Unemployment expected to hold at 9.1%. Markets to watch: eurozone indices, EUR crosses
1.30 pm – US initial jobless claims (w/e 26 August): expected to rise to 236K from 234K. Markets to watch: US indices, USD crosses
1.30 pm – Canada GDP (Q2): expected to be 0.7% from 0.9%. Market to watch: CAD crosses
2.45 pm – US Chicago PMI (August): expected to fall to 58 from 58.9. Markets to watch: US indices, USD crosses
Trade now
NOTE: This article is not an investment advice. Any references to historical price movements or levels is informational and based on external analysis and we do not warranty that any such movements or levels are likely to reoccur in the future.
In accordance with European Securities and Markets Authority's (ESMA) requirements, binary and digital options trading is only available to clients categorized as professional clients.
GENERAL RISK WARNING
CFDs are complex instruments and come with a high risk of losing money rapidly due to leverage.
77% of retail investor accounts lose money when trading CFDs with this provider.
You should consider whether you understand how CFDs work and whether you can afford to take the high risk of losing your money.