9 min read 
Following its remarkable 56% year-over-year jump in Q3 revenue*, Facebook (NASDAQ:FB) has quite the pattern to follow when it reports its Q4 earnings on February 1 after the market close. A year ago earnings report of this social network giant caused quite a stir when the company posted an impressive 44% rearnings jump.* Let's look at the 10 facts standing behind this breathtaking growth.
1) Where is the competition?
Facebook has one of the strongest competitive advantages possible: the network effect. With each person who joins Facebook, those who aren't on the network have motivation to register an account.
The key is moving fast and building a platform that's second-to-none. While MySpace might've had an early lead, and Alphabet (Google-parent company) tried its hand with Google+, Facebook has left the competition in the dust. Currently, there are 1.8 billion monthly active Facebook users.
2) Facebook knows it all
According to Alexa.com, the average user spends 18 minutes per day on the site. That's 110 hours per year of the company recording all of your preferences.
That allows Facebook to offer the type of targeted advertising that only Alphabet can reach. This huge advantage allows the company to charge a premium for its advertising space.
3) It's still on the rise
One could expect Facebook growth to start to slow markedly. But for a company its size, with a market cap of $350 billion, it still shows an impressive growth.* Mind the following:
Daily active users grew 17% during the third quarter to 1.18 billion.
Mobile monthly active users grew 20% to 1.66 billion.
Those numbers are simply breathtaking for a company that's already Facebook's size.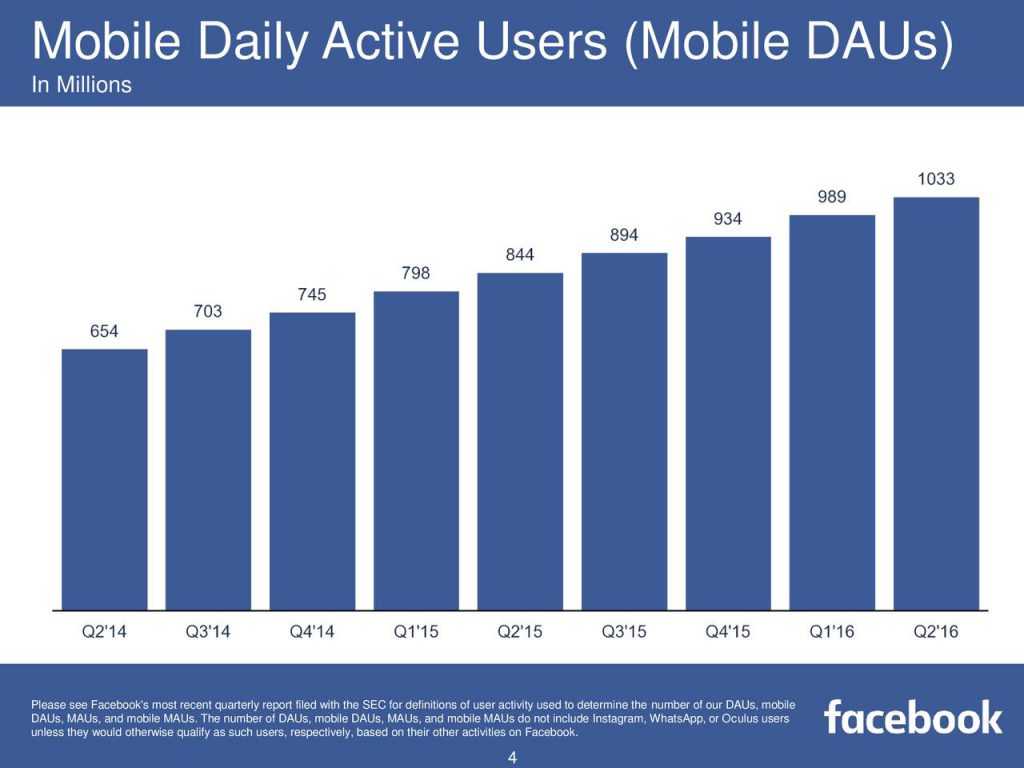 4) WhatsApp and Instagram to add
Instagram has just kicked off with its advertising and we are waiting to see how Facebook plans on monetizing WhatsApp. What is already clear is that both of these subsidiaries are increasingly popular. Statista.com says that Instagram has over 500 million users, while WhatsApp has already surpassed 1 billion.
5) "We don't build services to make money, we make money to build better services."
Companies don't become truly revolutionary unless they have a vision that goes far, far beyond simply profiting. Officially, "Facebook's mission is to give people the power to share and make the world more open and connected."
In his letter to investors, Mark Zuckerberg explains: "Facebook was not originally created to be a company. It was built to accomplish a social mission – to make the world more open and connected." He hopes to change how people relate to their governments and social institutions.
6) Diversity
The company goes much futher with its mission and is eager to test new products to make the world a better place.
One example is the company's development of a solar-powered plane named Aquila. It can provide Internet connectivity to remote parts of the world. These planes can stay in the sky for months at a time, and help some of the most isolated communities connect with others. Another example is Terragraph, designed to improve Internet speed and costs in densely populated urban areas.
" as big as this milestone is, we still have a lot of work to do. Eventually, our goal is to have a fleet of Aquilas flying together at 60,000 feet, communicating with each other with lasers and staying aloft for months at a time – something that's never been done before.»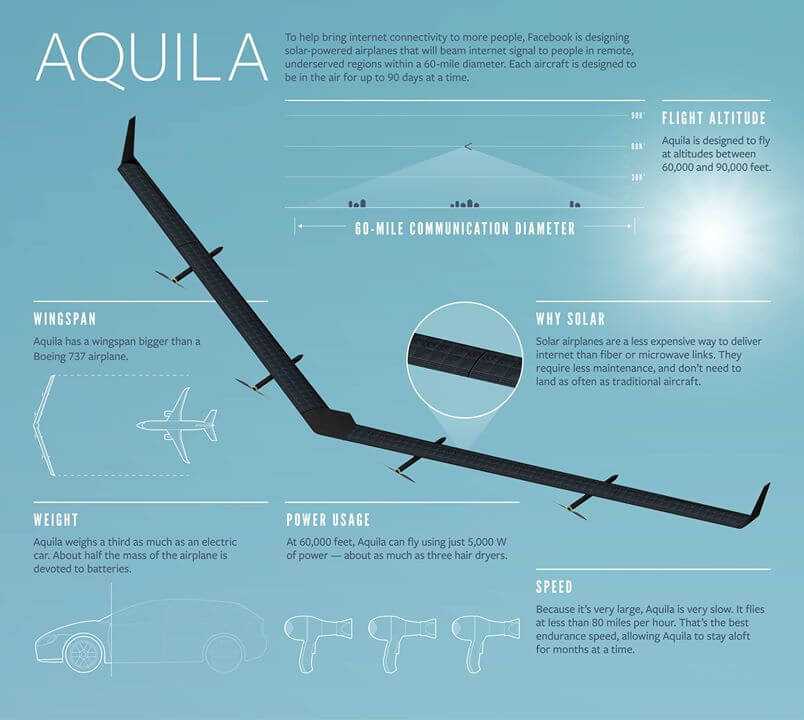 7) VR on the doorstep
Virtual reality is another space that Facebook has been establishing a foothold in – a good sign for long-term investors. When people shifted to mobile devices, Facebook struggled to keep up. However, the firm appears to have learned from its mistakes and expects VR to grow exponentially over the next few years with Facebook's Oculus VR acquisition keeping the site on top of the trend.
8) Facebook can afford these
As of Q3 2016, Facebook has over 6.04 bln in cash on hand and absolutely no long-term debt.* Facebook can use that money to test its long-term projects, make strategic investments in the Instagram and WhatsApp evolvement, buy back shares, or even eventually start paying a dividend.**
This cash gives the company the freedom of choice no matter the economic climate.
9) CEO is in the game
Mark Zuckerberg personally controls over 460 million shares of Facebook. His management team collectively, including himself, own 545 million shares and 61% of the company's voting power. Therefore, it is obvious that Zuckerberg and the team will do his best to ensure the stability of the project.
10) Capitalization mood
Some trade groups estimate Facebook and Alphabet (GOOG, GOOGL) accounted for 103% of ad spending in the first half of 2016 – meaning the rest of the industry was in decline.
Shares of Facebook are up 321% in the last four years, outperforming the 54% returns of the S&P 500 index by nearly a factor of six.*
Shares, which are already up 15 percent in 2017,* will have another chance to surprise us when the company will report its earnings today after the market close.
Analysts expect revenue to jump 45 percent to $8.49 billion.** Wall Street expects the California-based giant to post EPS of $1.31, up 66% from the same quarter a year ago.**
Here is what our mobile app is showing in terms of the monthly fluctuations.
* Past performance is not a reliable indicator of future performance.
** Forecasts are not reliable indicator of future performance.
Trade here